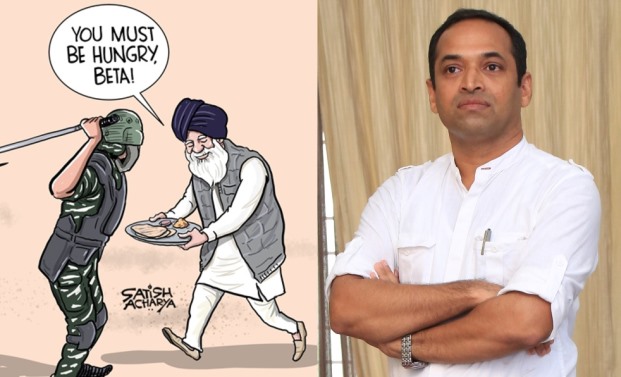 LOK ISSUES
LOK ISSUES
'As A Cartoonist, I Must Question The Establishment'
Satish Acharya, who recently published a collection of his pandemic-related cartoons titled Go Corona Go, says it is his duty to question the rulers of the day; who occupies the chair is immaterial
It is part of my job as a cartoonist to use humour to drive home a point. Cartoons may not lead to revolution in society, but they will slowly and definitely shape the reader's opinion. Cartoons critique, educate, and also throw light on another perspective of news.
Cartooning is my ideology. My belief is, as a cartoonist I have to keep questioning the establishment, the government of the day. Who occupies the chair is immaterial for me. By drawing a cartoon, I might end up offending one section or another. But it's only a side effect of this wonderful profession. Because of social media, the outrage or intolerance against cartoon can be targeted in an organised manner. To survive here without being affected, you need to ignore the negativity.
My book Go Corona Go wasn't planned, just like the life after Corona. The extent of human suffering, the anxiety of the unknown and the scars of the lockdown on human lives resulted in hundreds of cartoons during this pandemic. The book has bundled them together. It is an effort to document this phase of life. Hopefully a few decades later, people will get a glimpse of this scary period, through my cartoons.

I mostly draw on political news, but I'm also fascinated by cricket and filmy news. You keep following news, opinion, perspectives looking for a spark for an idea.
I was fascinated by the art of cartooning since school days, but I never thought of taking up cartooning as vocation. Hailing from a lower middle class family, I knew the importance of education to get into a good job. So, while cartooning remained a hobby, the focus was on studies.
Only after coming to Mumbai with an MBA for a lucrative job, I realised that cartooning can be a professional choice. So, the journey in two boats began, which resulted mediocre efforts, both in my MBA job as well as in cartooning. So, I had to make a choice. I chose cartooning.
It was the toughest phase of my life, even struggling to survive in Mumbai with almost no work. After ten years of struggle to get a break, Mid-Day happened in my life. I began my career with Mid-Day as an illustrator/designer, but gradually my cartoons found place in the paper.
Cartoonist is a demanding profession in India now. Till you establish yourself as a good cartoonist, this profession will keep questioning your choice. Your persistence will be tested. It might even drag you to the brink of giving up.
But if you're ready to support your passion with hard work, there's very little competition. You're your own competition. With the popularity of social media and portals, opportunities are opening up for cartoonists. There's no boundary for cartoons in digital age. Newspaper is restricted to geographical or sometimes ideological boundaries. But on the web, you have an edge. You just need to believe in your ability.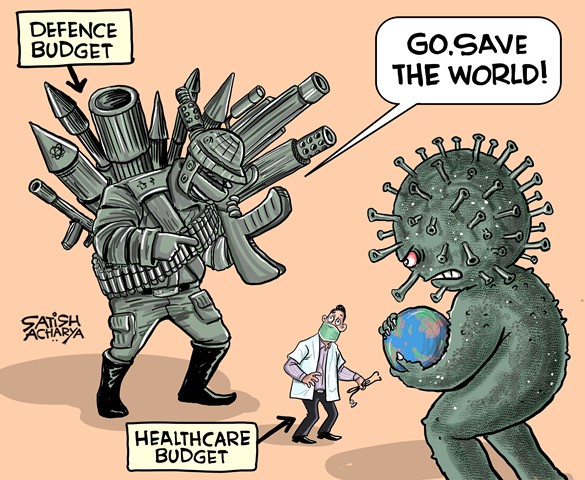 There are many cartoons which I liked. I am always excited about the ideation process. So a great idea fulfills me creatively. I am fond of the cartoon I had done when AAP won second term in Delhi. Also I am proud of the cartoon I had done regarding farmers' protest.
RK Laxman, Mario were my initial idols. I look at my profession as a journey and I keep learning from cartoonists from different generations and different languages. I look to learn from younger cartoonists too.
(As told to Mamta Sharma)