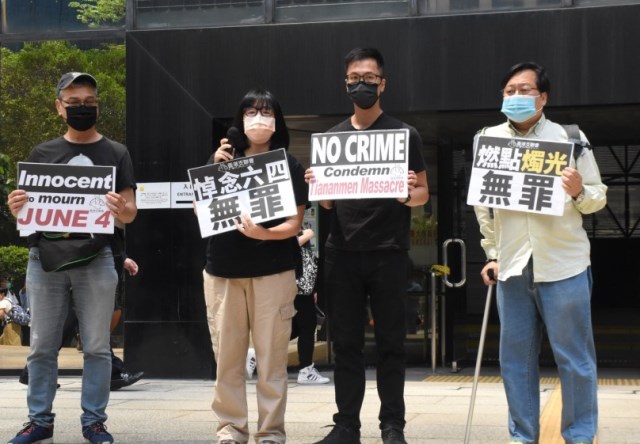 OPINION
OPINION
As Tiananmen Psychosis Reaches Hong Kong…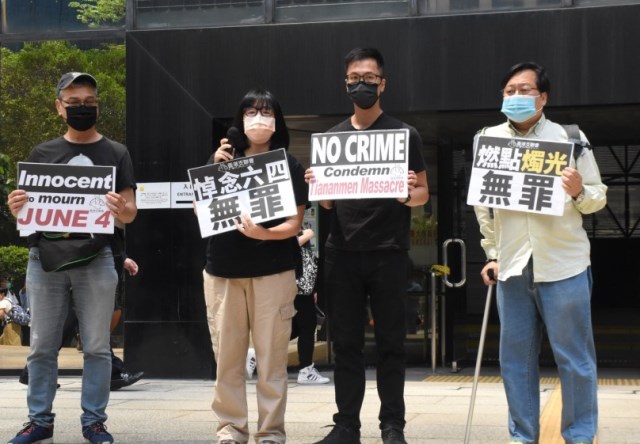 Like everything this year, nothing was the same in Hong Kong on June 4, 2021. And, ironically, it was not because of the deadly second surge of the pandemic!
Certainly, in mainland China, or in the public spaces of Beijing, it is well-nigh impossible to remember even symbolically the anniversary of the Tiananmen Square massacre on June 4, 1989. No one can even utter the word in public. It's abject silence – as if nothing happened!
Nothing happened?
Days before the anniversary falls, in China, the internet, which is anyway totally controlled by the government, is under strict surveillance, and so are university campuses, social media spaces and dissenters' blogs, local or generated from abroad, while streets are sanitized and the official media becomes clinically more patriotic. Those remotely possible of creating dissent are allegedly picked up and packed off to unknown imprisonments, huge security is mobilized, the sprawling Tiananmen Square is virtually under siege, and the whole of China knows that 'Big Brother is Watching You'.
However, the darkest irony is that for the first time in its history, Hong Kong witnessed a similar scenario as in mainland China this year, with exactly the same template of repression being replicated on its main streets and by-lanes, across residential areas and public spaces, outside famous landmarks and metro stations, and most especially in and around the Victoria Park, where tens of thousands would gather every year, since 1989, under the post-colonial British rule or under the 'take-over' Chinese regime later, to mark the anniversary of the Tiananmen Square massacre.
They would all gather, like a sea of humanity, with candles and flashlights, messages and graffiti, placards and posters, street plays and performances, music and songs, speeches and silences, holding hands, shouting slogans, crying in sorrow, and in homage and tribute to the memory of the dead, tortured and jailed, angry and in angst. This collective symphony each year remembered the peaceful protesting young who were slaughtered by the Chinese tanks and guns on June 4, 1989 at Beijing only because they wanted more democracy and freedom of expression, speech and ideas in their country.
More democracy and freedom of expression! Was it such a ghastly crime, then? And why does it continue to remain such a ghastly crime three decades and plus later, for a regime which calls itself 'communist' with its entrenched totalitarian and dictatorial systems of governance, even while becoming one of the most dynamic and undisputed leaders of advanced capitalism in post-modern globalization?
ALSO READ: 'Hong Kong Turning Into China-Run Communist City'
In Hong Kong last year, most key pro-democracy leaders, young and old, were picked up. Some were picked up after the June 4 events last year when they gathered in solidarity. Many of them are still in jail, according to reports.
Many of those who led the protracted movement against the move to make Hong Kong 'embedded' with mainland China, have also been reportedly packed off to prison, even journalists, and one particular dissenting and brave media owner. Independent media outfits have been shut down, and dissent has been crushed.
The pandemic was used to block all acts, even symbolic acts, of solidarity with the Tiananmen Square massacre this year. The pandemic was nothing but a ploy, locals said, because other gatherings have been allowed in the recent past. A solitary old woman, the famous 'grandma' of the earlier Hong Kong protests, who came with a placard in the main square in early June this year, was picked up soon after. A woman barrister linked with the protests was arrested. Thousands of cops were on the streets and road blocks were everywhere. There were open warnings of individual and mass arrests. Hong Kong had not seen any such thing in its entire history under the British or later under the Chinese. This was unprecedented.
Talking to the Guardian, political journalist Ching Cheong, who was jailed in China for three years, said Hong Kong had made it "the conscience of China". "It's very sad to see that, starting last year, authorities have tried to stamp out memorial activity purely for the selfish sake of the CCP to cling to power," Ching said. "I don't think marking the anniversary of the crackdown itself will lead to the collapse of the communist regime, but it is evident proof (that) the regime is extremely afraid of people knowing the atrocities that it has committed."
And, yet, like magic realism, the protests happened. Yes, it did happen, and the global media and social media reported it visually, and in text.
Number 4 and 6, to mark the day and month (June 4), were written on switch boards. Flashlights and mobiles were used to light up neighbourhoods and deserted streets. Some individuals gathered outside the Victoria Park and flashed their mobiles despite the fear of mass arrests and imprisonment. Candles were lit up on balconies and streets. Solitary artists performed in public spaces, often in stark silence. Flowers were offered and candles were lit outside landmarks in university campuses. Zoom meetings were organized online outside China and solidarity protests were held all over — online. And, most crucially, the US consulate and the European Union lighted symbolic candles in their premises on June 4, in the heart of Hong Kong, much to the anger and outrage of the Chinese government.
So what does it finally prove? What are the lessons for dictators and tyrants who compulsively choose to swim against the current of modernity, democracy and freedom, many of them using the pandemic as a ploy?
One, it proves that even one of the most powerful, secretive and repressive regime, which has usurped the entire media into a loyalist mouthpiece and shut down vast networks of independent media, just cannot stop the vast humanity's voice for truth, compassion and justice.
ALSO READ: Journalist Recounts China Escape: 'All Under Watch'
Two, the resurrection of memories is relentless and endless. Memories don't die, recorded and unrecorded memories, integral to the oral tradition of mainland China, Hong Kong and of those dissenters in exile in other countries. Memories still float — as testimony.
Three, tens of thousands of the young in the summer of June at Tiananmen Square in Beijing, next to the forbidden kingdom on one side and Mao's mausoleum on the other, sat on a Gandhian fast, a satyagraha, asking for nothing but more democracy and freedom. They were doing no violence. They were not anti-nationals. They were idealists. They proved that truth was on their side. That is why they can never be forgotten, whatever be the nature of the clampdown.
Fourth, the sound of the tanks moving in, and automatic guns, and bullets pumped all over, the dead piled up, and blood scattered all over — while the Deng Xio Peng regime unleashed its brutish death machine. This was a massacre and no organized censorship can deny this.
Fifth, the total clampdown on 'news'. Nothing happened on June 4, 1989, at Tiananmen Square in Beijing. There were no dead bodies. Nobody was killed. Nobody was arrested and tortured. Nobody disappeared never to be found again!
This censorship or 'fake news' just did not succeed. The massacre became banner headlines across the world next day and much after, sparking global outrage and protests, including in India.
Indeed, even as the clampdown blocked all symbolic or collective protests in Hong Kong this June 4, one man apparently walked by on the street with one loud message written on the back of his shirt: "There is nothing to say."
Another wore a T-shirt with only one word: 'Conscience'.