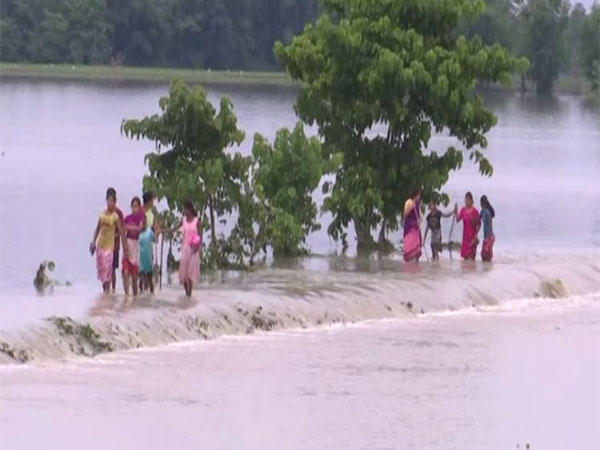 LM NEWS 24
LM NEWS 24
Assam: Flood Situation Gradually Improving
The flood situation in the Barpeta district of Assam is improving but nearly 88,000 people in the district are still affected by the deluge.
Many flood-affected people are currently taking shelter in relief camps set up by the district administration on roads and embankments.
In the Kayakuchi area in the Barpeta district, around 100 families have taken shelter at the Paka Betbari Development Block campus after the flood waters submerged their homes.
According to locals, they are facing many problems including food, clean drinking water, medicines, etc due to floods.
113 villages of the district are still under water. The flood waters submerged 312.75 hectares of cropland in the district.
Meanwhile, the flood situation in Assam has marginally improved but it has damaged the homes and household items of various people leaving them to take shelter on embankments.
One of the locals identified as Gagan Talukdar said that he along with his four family members are now taking shelter on an embankment for the last five days after the devastating flood completely damaged his home and other household items.
Gagan is a resident of Doloigaon Shantipur village in Assam's Bajali district.
Speaking to ANI, he said, "In the wee hours of June 23, I along with my family members were sleeping when the flood waters breached a big portion of the embankment. The flood waters immediately entered our house and I called my children and alerted other fellow villagers," he said.
"We immediately rushed to the embankment to save our lives and also asked other villagers. We weren't able to get out my household items, and stuff. The flood waters washed away many household items and damaged my home. There was about 4 feet of water inside my home," he added.
He also said that he is a daily wage labourer and his entire family is dependent upon him.
He further said that they received relief materials for 1-2 days from the government and some other NGOs helped them.
The flood situation in Bajali district and other parts of the state is improving, but nearly 1.56 lakh people in 11 districts are still affected.
According to the flood report of Assam State Disaster Management Authority (ASDMA), 87232 people have still affected alone in Barpeta district followed by 44617 people in Bajali district, 17086 people in Lakhimpur district, 5909 people affected in Nalbari district.
563 villages under 23 revenue circles and 3801.63 hectares of cropland are still underwater.
48 villages in the Bajali district are currently underwater.
In the last 24 hours, two children drowned in flood waters in Barpeta district taking the death toll to five.
As many as 2,915 flood-affected people are still taking shelter in 29 relief camps in five districts set up by the district administration. (ANI)
Read More: http://13.232.95.176/