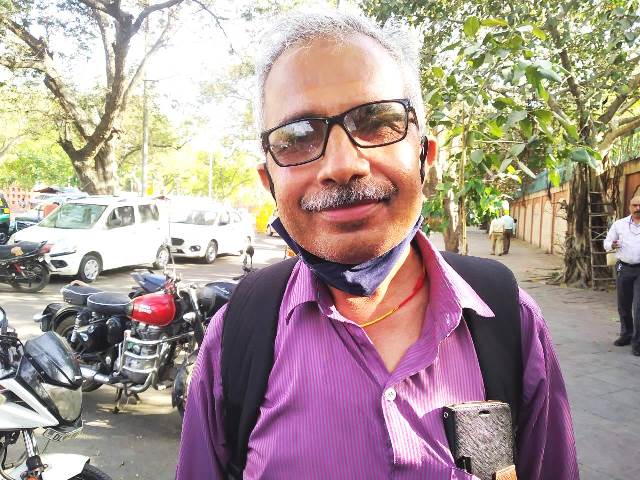 LOK ISSUES
LOK ISSUES
'At 55, I am selling credit cards on the streets, but won't lose hope'
Amod Kumar, 55, has faced a number of ups and downs in life. But the consecutive Covid lockdowns of 2020 and 2021 have come down heavily on him. The only breadwinner of his family, Kumar was jobless since the lockdown was imposed. Now since last month, he is back on the streets, trying to sell credit cards but business is poor.
I still remember some months when I earned nearly Rs 1 lakh. Now those month are like dream. I was a banker till 2017, and then I left my regular job and started doing freelancing with banks to sell credit cards. Business was going really well till the lockdown was imposed. Since there were no people in the offices, there was no one to sell a credit card. My business nosedived to nil. I was jobless for nearly a year with two college-going sons. I had to pay their tuition fees and feed my family. It was a nightmare.
I come from a middle class family, and people like us, who are in plenty, suffered a lot during the lockdown as they cannot go out of the streets like the daily wage labourers asking for help. The mental trauma of being jobless at this age, was unparalleled. My family had never suffered such kind of a situation. There was a time when my elder son, who is a college student, earned some money by working part time at a firm to pay his college fee. It was a terrible feeling, but at the same time, I felt really proud of my son.
I live in Faridabad and I used to travel all the way to Noida to sell credit cards of certain private banks. Business was going good so I didn't mind the travel time and the pain. For the last two months, I have been back on the streets to sell credit cards, but there are not just enough people. I tried my luck at many places like Nehru Place in Delhi, Film City in Noida and many other hotspots, but all in vain. Now I am focusing on government areas of Lutyen's Delhi but here too, the number of buyers is very less; negligible to be honest.
The biggest challenge I found during this period was to maintain the middle class lifestyle. We shrunk our expenses, but due to the social obligations, we couldn't live like those who live in lower strata of the society. Paying college fees, feeding the family, getting the bare minimum to continue in the lifestyle and the society we live in, is still a challenge.
But I am not losing hope. My family is my strength. At this age, I am still roaming on the streets meeting people and trying to convince them to buy a credit card. I will continue till my boys get a job. But, after that, I will have to continue for some time to have some savings. Maybe then I will try my hand in some other business, which is less painstaking. But for now, this is what I am going to do.