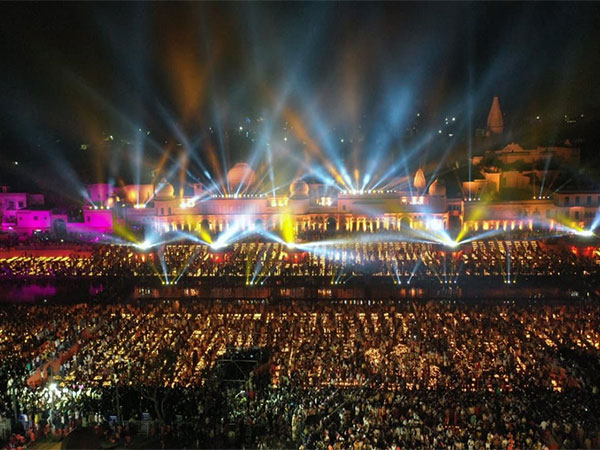 LM NEWS 24
LM NEWS 24
Ayodhya Decked Up For Grand Diwali Celebrations
Like every year, Ayodhya is decked up this year also ahead of Diwali celebrations. Banners and posters of Lord Rama installed at various places have become the centre of attraction.
"The grand Deepotsav will be celebrated in Ayodhya before Diwali and this time 21 lakh lamps will be lit, which is more than last year. During this ceremony, Ramlila will stage a laser show and fireworks will also be lit. Grand preparations have started in Ayodhya for all the programmes. Big posters and banners have been put up at some places and work is going on smoothly" said one of the residents of Ayodhya.
Many incidents from Lord Ram's life and the Ramcharitra Manas have also been depicted in the banner posts put up at various places. Information about the Sunderkand, Ayodhya, and all such incidents has been shown through banner posters at various places. Along with this, the work of underground lighting on the roadside is also going on in full swing. No scattered wires will be visible anywhere on the road in the coming days.
"Ayodhya city has always been the land of gods and like every year, this year too, we are eagerly witnessing the preparations for the festival of lights and are waiting for the festival to start. It is a proud day for us and for the entire country" said another Ayodhya resident.
The residents say that the way the state government had executed the grand construction of the Ram Mandir and the Deep Utsav programme being organised here every year is a very pleasant experience for them.
This year the Deep Utsav is of greater significance as it comes on the eve of the consecration of the Idol of Lord Ram which will take place on January 22, 2024.
Earlier, General Secretary of Shri Ram Janambhoomi Trust Champat Rai said that the idol of Lord Ram will be installed at Ram Temple in Ayodhya on January 22, 2024. The Ram Janmabhoomi Trust has invited Prime Minister Narendra Modi for the consecration of the Temple.
PM Modi, Uttar Pradesh Chief Minister Yogi Adityanath and Rashtriya Swayamsevak Sangh (RSS) chief Mohan Bhagwat are among the other dignitaries who will attend the Ram Temple consecration ceremony in Ayodhya on January 22, Champat Rai, General Secretary of Shri Ram Janambhoomi Trust said. (ANI)
For more details visit us: https://lokmarg.com/