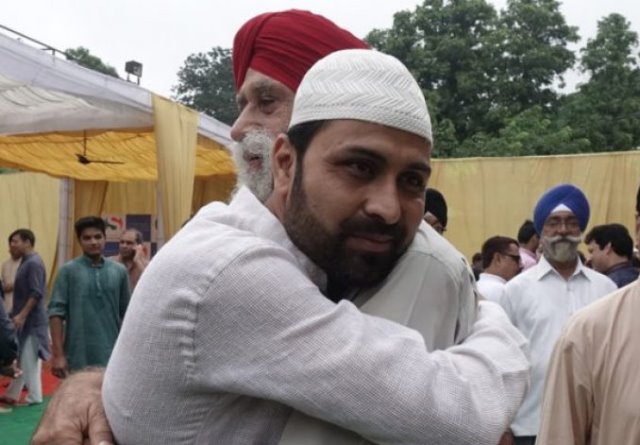 OPINION
OPINION
Azan From Gurdwaras In Gurgaon
The Sikhs and the Gurdwaras have yet again shown the way, and not only at the borders of Delhi where they are still camping, along with the resilient and non-violent farmers of Punjab, Western UP, Haryana and other states, with their prayer spaces for all communities, shared living and collective kitchens open to all. In the big business hub of Gurgaon, they have shown the way to universal path to prayer, peace, humanism and God. That all spaces on earth can belong to prayers for all communities, and that God has not divided the earth under the sky into sectarian enclaves of hostility and hate.
And this is not the first time that the nation has looked up to them with boundless gratitude and good faith. Indeed, they shine like a revelation amidst the relentless and vicious tyranny of hate politics unleashed by assorted groups of the hydra-headed parivar of miscellaneous xenophobes currently running amok in some parts of India. Apart from the shining moments of dogged optimism, they also remind of, for instance, those difficult days during the Kerala floods, when the churches opened their doors for the Muslims to offer their prayers.
It has been going on since the last few years in Gurgaon – unprecedented and concerted attacks on Muslims offering prayers, leading to the politics of communal polarization and hate-mongering, vitiating everyday life in the civil society. This seems to be the only, eternal and final trump-card of the politics of Hindutva. It has yet again intensified recently with Hindutva groups led by the Sanyukta Hindu Sangharsh Samiti, upping the ante, objecting to Muslims offering Namaaz in open and public spaces, which were hitherto undisputed, as all communities lived in peace and harmony.
We have grown up with people across communities praying and meditating in all kinds of public spaces. Including Muslims, who would spread a newspaper or a mat, and pray at the designated time, inside a moving train, in a railway platform, in an airport or a market place. This has been integral to our secular, shared and existential upbringing in all parts of India. So why is this sudden paradigm shift being celebrated so diabolically by a handful of hate-mongers?
Eight of the 37 sites, where the Muslims would offer their Friday prayers, were, therefore, not allowed by the Gurgaon administration, citing objections from local residents and RWAs. Meanwhile, BJP's Kapil Mishra, along with others, performed Goverdhan Puja at Sector 12A, where the Muslims used to offer prayers, while Muslims were denied permission to pray at the same site.
Under all circumstances, this would have been construed as an extreme and crass act of provocation. But, in contemporary India, the extreme and the crass have become both, post-truth, and the new normal. Indeed, it has become the unwritten law of the land.
Mishra, as is well-known, made an inflammatory speech in North-east Delhi during the anti-CAA protests, in the presence of a top police officer. This neighbourhood was consequently rocked by violence, bloodshed, arson and looting. People were killed. While scores of brilliant scholars and students are in prison for months under a draconian law, on what is widely seen as fake charges with no evidence after the massive non-violent nation-wide protests against the NRC/CAA, he, along with a Union minister, who also made a highly inflammatory and violent public speech, have remained scot free – respectable citizens of 'New India'. And as is the trend, and since this particular regime cares two hoots for public perception or protocol, the minister has now been given a plum portfolio in the Union Cabinet. (Besides, the bad-mouthing Union minister from UP, whose son's vehicle crushed the farmers at Lakhimpur Kheri, has not even been asked to resign, despite the national outrage!)
Meanwhile, while this hate lava was being unleashed as a nasty public spectacle in Gurgaon, the Sikhs stepped in. Let us not forget that large number of Sikh farmers and others from Punjab had joined the peaceful Shaheen Bagh protests led by mothers, daughters and sisters against the anti-secular and anti-constitutional provisions of the CAA. Not only that, a Sikh gentleman had sold his house to offer 'langar' to the protestors at the site for days, even while the food was being prepared and shared by all communities across religion, caste and class.
Indeed, five gurdwaras offered their premises for the Namaz. Speaking to The Indian Express, Sherdil Singh Sidhu, president of the Gurdwara Sri Guru Singh Sabha, Sabzi Mandi, Gurgaon, said: "A gurdwara is the house of the Guru. People from all communities are welcome to come here and pray. If the Muslim community is facing problems in praying at designated sites, they can offer prayers in the gurdwaras. The doors of gurdwaras are open to all."
Sherdil Singh added: "A few people are trying to spread hatred for their political agendas. All the communities — Hindus, Sikhs, Muslims, Christians — made sacrifices during the freedom struggle. There should be no objection to people offering prayers."
In another life-affirming and brave gesture, Akshay Yadav, 40, who runs a wildlife tour and travel business, offered his vacant shop at Sector 12 in Gurgaon to Muslims for prayers. He said he is a businessman, and has no political links. Around 15 people offered prayers in his shop, and his doors are open for them on all Fridays. "My family said that if our place is being used to offer prayers to any God, it is a good thing. I have lived in Gurgaon for decades and it has always been a place of harmony and brotherhood," said Yadav.
Indeed, when tens of thousands of emaciated migrant workers and their families were rendered jobless, homeless, hungry and thirsty after the sudden lockdown declared by the prime minister on the night of March 24, 2020, and when the central government had refused to help one inch, the Gurgaon Nagrik Ekta Manch, with its collective of local citizens, students, schools, and even Swiggy, among others, and the gurdwaras, pitched in wholeheartedly, feeding thousands of workers every day — without fail. And they did it out of love and compassion for humanity – and because that is what all human beings should do in times of such heart-breaking crisis.
This legacy of universal love is longstanding. For those who were beat reporters at the Boat Club in Delhi during the 1980s would remember that for all protesters, be it heat, rain or cold, food, tea and water would inevitably arrive from the nearby gurdwaras. JNU students would remember it distinctly during the protests after May 1983, when the students went to jail after the police action in the campus ordered by Indira Gandhi. Even the thousands of farmers from Western UP, then led by Mahender Singh Tikait, father of current farmers' leader Rakesh Tikait, who were under a virtual siege and blockade by the police, were provided food and water by the gurdwaras.
In recent times, Jantar Mantar has witnessed the same phenomena as a beautiful pattern even as peaceful protests are celebrated as a fundamental right in a democracy. When Medha Patkar and her satyagrahis from the Narmada Bachao Andolan sat on an indefinite fast in the summer of 2006, thousands of protestors who joined in solidarity from the Narmada valley and elsewhere, would be given food from the gurdwaras, day after day.
This reporter has seen it during the devastating earthquake in Gujarat in 2001. At Anjar, Sikhs in their white lungis and long shirts would get down from a row of trucks loaded with foodgrain and huge utensils, travelling all the way from Punjab. Their presence itself would inspire confidence amidst the ravaged landscape. How many people can you feed, I asked. So, a tall and big Sikh, would speak, almost in a whisper: "We can feed 10 to 20,000 people, even more, two healthy meals every day."