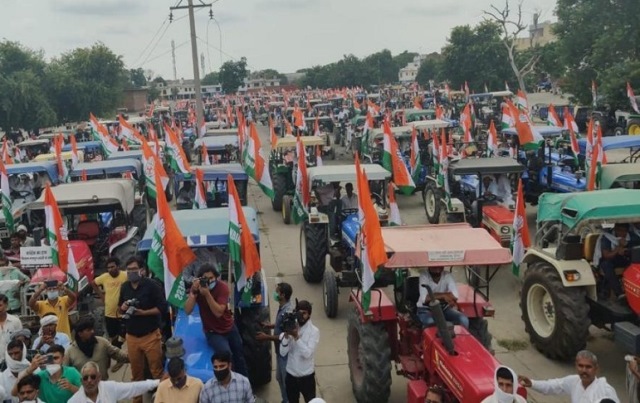 THEBUZZ
THEBUZZ
Baishakhi 1699 — The Understated Revolution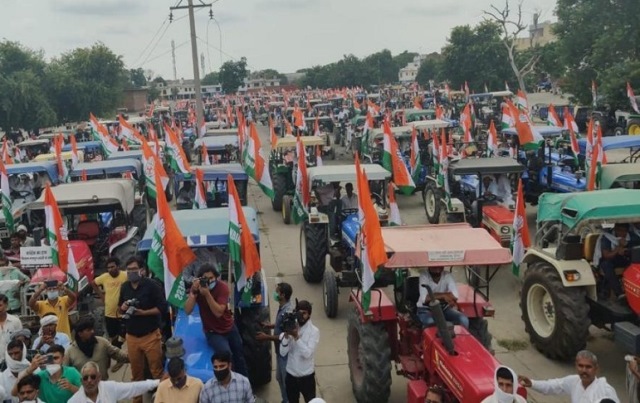 This week, Sikhs around the world celebrated Baisakhi on 13th April and some on 14th. Perhaps as a legacy of colonialism, the world and most Indians know about the 1788 French revolution and attribute human rights, republican government, and equality to it. Yet nearly a century before that another profound and wider revolution on human rights, fight against tyranny, the end of hereditary leadership, the emergence of republican order, and a truly democratic polity based on ancient Indian ideas took place on Baisakh 1699 on South Asian soil without the reign of terror that accompanied French Revolution. Few Indians know it and only a rare Indian academic recognises its significance.
On Baisakh 1699, the tenth Guru of the Sikhs, Guru Gobind Rai called a large gathering at Anandpur Sahib. His father, the Ninth Sikh Guru, Teg Bahadur Ji had been beheaded in 1675 on orders of the Mogul Emperor, Aurang Zeb, for refusing to convert to Islam. Guru Teg Bahadur wanted to show others by example that freedom of conscience comes at a price. Unfortunately, the message was lost on most Indians.
Guru Teg Bahadur went to the Mogul Emperor to argue for pluralism after Kashmiri Pundits pleaded with him to help them as persecution of 'nonbelievers' had taken on the new drive.
On Baisakh 1699, in a gathering of some 80000 followers, Guru Gobind instituted the order of the Khalsa, an ethical community of saint soldiers who served humanity rather than a ruler or an elite or a single religion.
A ceremony took place. Amrit was prepared, called Khande Ka Pahul. The first five came from different regions of South Asia and from different Varna Jaatis (castes) representing the diversity and regions of South Asia. They drank from a common bowl breaking the taboos of Varna Jaati (caste).
These were Daya Ram, a Khatri from Lahore district, (now Pakistan). Dharam Das was a Jaat from Hastinapur, Meerut (now UP, India). Himmat Rai was a water carrier from Puri, a town in modern-day Odisha (India). Mohkam Chand was the son of a cloth printer, a Kamboj from Dwarka, (in modern day Gurjrat). Sahib Chand was a barber or Nai who is generally considered to have been from Bidar (in modern-day Karnataka)
They were called Punj Pyare (five venerated). Guru Gobind gave them the surname Singh. After taking Amrit, they became Daya Singh, Dharam Singh, Mohkam Singh, Himmat Singh, and Saheb Singh. He then asked them to give him Amrit and became Guru Gobind Singh.
Thousands took Amrit. The men took the surname Singh while women became Kaur. They were asked to live a disciplined life and wear five Kakkars of which two well-knowns are keeping unshorn hair and a Kirpan (small sword). They were to treat all humanity with respect, fight for justice against tyranny, practice no discrimination, share their wealth, and govern by consensus. Any five Amritdhari Sikhs would constitute the five venerated and they would make final decisions after consultation with the masses. There would be no absolute leader and no hierarchy of power and no hereditary privileges.
Baisakhi and taking Amrit is generally characterised as a religious ceremony. Looked from a different perspective, Guru Gobind Singh overhauled the very structures of political power and society, making them horizontal rather than vertical.
Secondly, by taking Amrit from the five, the Guru broke another tradition, the idea of infallible power in a single holy or privileged person. He submitted to the five and during his life, they often persuaded him to change decisions.
He further uprooted the entrenched discrimination of women as lower than men. He armed them along with men and did not give them a different set of Kakkars, or different services or duties. Many did lead Sikh armies and became leaders.
Further by handing the power of ultimate decision in the consensus of the masses, the idea of a few privileged men deciding laws, economics, and rules for everyone else was overturned as an institution of political power.
Indian society was transformed on that day. There was no scope for Kings, male dominance, religious hierarchy, caste, or privilege. The roots of what is called the republic in modern times were born. Democracy was instituted on the principle of almost total consensus called sarb samti.
Under him, the Sikhs ended up going to war several times against the forces of Aurangzeb. But it wasn't simply the Sikhs. The revolution had spread and many people associating with the Khalsa were also Hindus and Muslims. They were not seen as religious wars but a war against tyranny and a fight for freedom, dignity, and a new idea of consensus politics. Guru Gobind Singh passed away in October 1708.
In that year an ascetic, Lachman Das joined the Khalsa, becoming Banda Singh Bahadur. Banda carried the revolution forward. His lasting legacy in the short time he led the Khalsa, was to decimate the foundations of Mughal rule in northwest India and strip feudal lords of the land, end serfdom and grant land rights to the tillers of the land. This memory runs deep in the regions of Punjab and Haryana. Hence the determination of farmers to resist possible corporate take over which they see as a modern form of feudalism.
After Banda Bahadur followed disparate Sikh groups called Misls who finally routed the Mughals and started ruling different regions. Eventually, Ranjit Singh became the so-called Maharajah in 1801. Yet he called his Empire Sarkar-E-Khalsa, Government of the Khalsa, and signed treaties under that. Ranjit Singh had a golden throne that he avoided sitting on. Instead, he sat cross-legged on the floor, knowing the Khalsa does not like hierarchy.
Ranjit Singh's rule is also renown for inclusiveness, with Muslim and European Generals and Hindu Ministers. He gave grants to all communities to build their religious and community centres. This was a state that practiced no discrimination based on religion, caste, background, or nationality.
In 1843, after Ranjit Singh had died, his wife, Rani Jinda, led the negotiations for the treaty that followed the last Anglo-Sikh war. The Harding brothers sat in disbelief having to negotiate with a woman.
Once Colonialism sank deeper, the revolution started in 1699 was given a 'religious' characterisation by European colonialists as a baptism service, despite the fact that no new spiritual and other metaphysical revelations or commitments were made on Baisakh 1699. British colonialists did not want to encourage an Indian version of the French revolution to spread through the region as a republican form of governance that would challenge British Crown rule. They preferred to rule directly as Crown land or through compliant Maharajahs.
The portrayal of Baisakhi as a religious event has also been internalised by Sikhs and unfortunately appropriated as such by the rest of the Indians, particularly academics trained in the western instituted education system. The event was a seismic transformation in the way polity started moving in South Asia. It fought the tyranny of both Mughals and Hindu Rajas until colonialism put a stop to that. The Sikhs had unfortunately not put together an institutional structure that reflected the principles established in 1699 and one that could have lived unscathed through western hegemony. Now the event is too marginalised as a religious one to be unpacked for its real significance in the history of political ideas and influences.
It is possible that it might take a western academic to flip the narrative and interpret Baisakh 1699 as the movement for inclusivity, of inversion of power from a divine Raja to the sovereignty of the masses, the end of discrimination and hierarchy based on gender, caste, religion, etc and welfare of all.