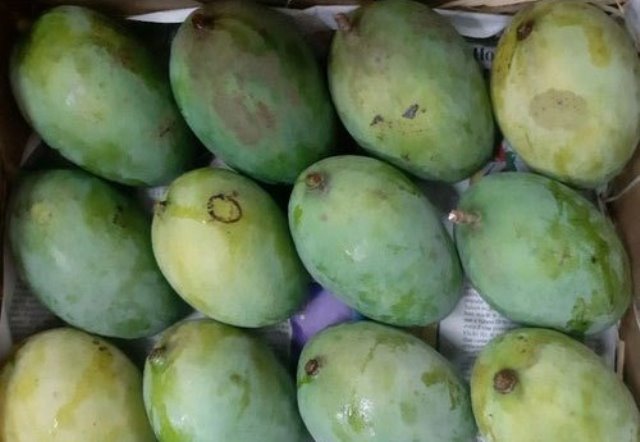 LM NEWS 24
LM NEWS 24
Banarasi Langda Mangoes To Reach UAE With GI Tag Soon
Banarasi Langda mango with new GI tag, a product of Purvanchal soil, will fly directly from Kashi to UAE's Sharjah for which the Uttar Pradesh government has built a pack house in Varanasi.
Uttar Pradesh Chief Minister Yogi Adityanath will flag off a perishable food product prepared according to international standards and send it abroad for the first time.
"The government is working to remove middlemen from among farmer entrepreneurs and make them exporters. Due to this, the income of the farmers will be doubled. For this, the Agricultural and Processed Food Products Export Development Authority (APEDA) is making continuous efforts," an official statement said on Saturday.
There will be single window clearance for export from the pack house.
Perishable food products will be prepared here according to international standards and the equipment engaged in integrated pack house for food and vegetable export are indigenous.
"The pack house is accredited by APEDA for export as per international standards," it added.
Vegetables and fruits of Purvanchal will now be exported directly from the pack house of Varanasi.
The integrated pack house is well-equipped to handle exports by sea, land and air. Pack house has been completed in about 4461 square feet area at a cost of 15.78 crores.
Here farmer entrepreneurs will also be given training to prepare products according to the demand of the international market.
This will be the third integrated pack house in Uttar Pradesh's Varanasi after Saharanpur in Lucknow.
APEDA's Deputy General Manager Dr CB Singh said that for the first time flagged off by the Chief Minister from the pack house, 4 to 5 metric tonnes of Banarasi Langra mangoes will go to Sharjah from Varanasi Airport.
"30 to 35 metric tonnes of green chillies will be sent to Dubai and Doha via Mumbai via a 40 feet reefer container by a water vessel. Apart from this, preparations are on to send other products including okra," he added.
Notably, the most important work of the pack house is to prepare the product according to international standards and as the different countries have different demands, the pack house works to meet their demand.
APEDA is active for export to double the income of farmers in Purvanchal.
"Fruits and vegetables have to go through many processes in the Integrated Pack House to prepare the product of international standard. Due to this, their freshness, taste and other properties remain intact. Special care is taken that these products do not contain pests or any kind of disease. The equipment engaged in Integrated Pack House for Food and Vegetable Export is indigenous. Especially, Banarasi Langda mangoes have to go through vapour heat and hot water treatment process, only then the Langda mangoes will be able to be sent abroad," CB Singh said. (ANI)
Read More: http://13.232.95.176/