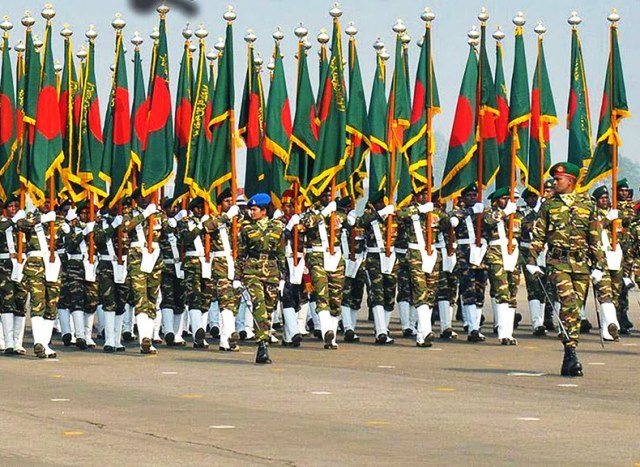 OPINION
OPINION
Bangladesh – A Long And Firm March Towards Prosperity
Preparing to hug the half-century milestone, Bangladesh this month celebrated with aplomb its 49th Bijoy Divas or the Victory Day. On that day in 1971, over 93,000 Pakistani soldiers surrendered to the Joint Command of India and Bangladeshi Mukti Bahini forces, permanently altering the world map.
That slice of history may mean many things to many people today. But to succeeding generations of those who went through political turmoil followed by ten months of organised violence, and ending in a decisive military victory, remains and shall remain forever an extraordinary moment.
The parade marking the occasion showed a confident Bangladesh. Military hardware was proudly displayed on the ground and in the sky. That combined with floats and tableaux of projects, programmes and achievements made for an impressive show.
Indian veterans led by Lt. Gen. (rtd.) R S Kadian marched and so did a contingent and band of the National Cadet Corps (NCC). It struck Muhammad Iqbal's musical note, "Saare Jahan Se Achha," that harks back to an undivided South Asia.
Bangladesh has assigned itself a two-year tryst by which time it will complete 50 years of independence. It wants the world to notice its rise from being dubbed the "international basket case" in initial years to become, at annual 8.5 percent gross domestic product (GDP) rise, one of the world's fastest growing economies.
Putting its cheap work force to good use and with many plus points that have eluded most others among the least-developed countries (LDCs), Bangladesh has all the makings of a developing nation. Out of the food scarcity rut, it is diversifying farm and industrial output and even exporting surplus.
It aims to leap into the cyber-digital era with come-hither calls to anyone who cares to respond. With its good debt servicing record, Bangladesh is an attractive investor's destination. Both regional giants, China and India, are wooing and being wooed.
At independence, over 90 percent of its annual budget was foreign-financed. Two decades later, it was 70 percent and was 50 percent a decade back when Prime Minister Sheikh Hasina returned to power.
The figure has now reversed. Ninety-two percent of the budget is being funded internally. Booming garment exports, some to marquee global brands and remittances from its 10 million working abroad contribute generously.
Bangladesh has long seen itself as a bridge between South and south-east Asia. With Cox's Bazaar beach and Royal Bengal Tigers in the Sundarban, its tourism pitch is rising. People are warm and hospitable. But much needs done to improve infrastructure.
Many of Bangladesh's human development indicators are better than others in the region. The economy is already the best-performing in South Asia, outdoing in proportional terms larger neighbour India and certainly, Pakistan, from which it violently separated.
Due to this past, Pakistan's image remains negative in official and much of the popular discourse. India figures high despite the current concerns over two Indian laws with bearing on its east and northeast that encase Bangladesh. If persisted, they could have political fallout.
Sheikh Hasina cherishes India ties and has diligently worked to nurture them. For one, she has ended Indian militants' run. She appreciates India's contribution to Liberation and thereafter. She is trying hard to keep the current political and diplomatic discourse triggered by Indian laws, to the bare-minimum, so far. This reflects self-confidence and maturing of a nation of 165 million people.
There are other signs of a young nation with young people having the highest proportion in South Asia of women in every field. Farms and garment factories are ample proof of that. Exuberant crew members want to get photographed with passengers as part of the PR effort as more and more privately run airlines fly passengers in and out.
On political front, Hasina remains firm on punishing killers of Sheikh Mujibur Rahman, the country's foremost leader and her father in a 1975 military-led coup, and most of her family. The West is critical of the process employed and the Islamic world is unhappy. But both can't ignore Bangladesh.
Ethos of the Bengali language stir of the 1950s and the freedom movement remains strong in the face of religious extremists. When these forces inflicted violence in 2013, Muslims and Hindus together fought back at Dhaka's Shahbag Avenue. This conflict remains a constant challenge.
Bangladesh is, uniquely both. An Islamic nation that, thanks to its culture, is also broadly secular. (Secularism as basic principle remains part of its Constitution). The society as a whole remains conservative, respectful of elders and displays overt religiosity.
This complex amalgamation ensures co-existence and diversity. With that comes a high measure of political stability, due principally to Hasina's continuance in office for a third consecutive term. She looms large over the country's horizon. Forbes' ranks her 29th among the world's most powerful woman.
As investors get attracted, she has forced Western governments to ignore her hard line on political opponents, especially the Jamaat-e-Islami. Her arch rival and two-term former premier, Begun Khaleda Zia, is ailing, ageing and denied bail, currently imprisoned for graft.
There are negative indicators, too, when it comes to transparency, sanitation, ease of doing business and media freedom that, as in the rest of South Asia, should hopefully improve with longer spells of political stability.
Contradictions seemingly persist and are growing with changes in other spheres. The pristine riverine scape of the boatman and his folk songs as one read in Tagore and Nazrul literature is slowly yielding place to increasing urbanization.
A provincial capital at Independence, Dhaka has become unbearably chaotic with 24×7 traffic snarls around high-rise buildings. As bridges and fly-overs struggle to make movement faster, a rapid mass transport system now under construction shall continue to add to the chaos, till it is completed.
These are but brief, broad-brush impressions, of one who has witnessed Bangladesh for over 45 years. Handicapped by inadequate knowledge, of language in particular, they are compensated, hopefully, by best wishes for bright future for its people.
The writer recently visited Bangladesh at the invitation of the Ministry of Foreign Affairs. He can be reached at mahendraved07@gmail.com