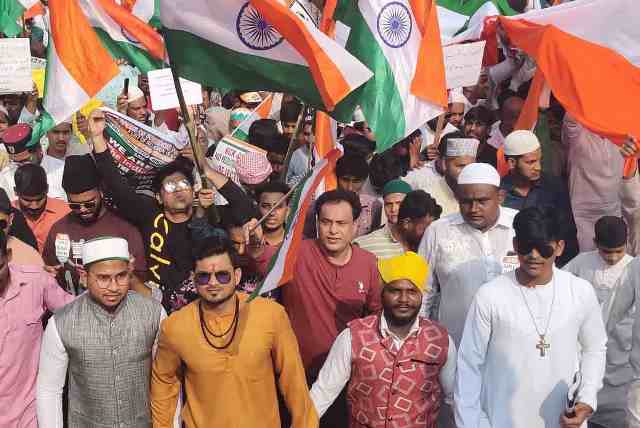 OPINION
OPINION
Bharat, India or Hindustan?
PM Modi wants to use the word Bharat for India. It is a progressive step. But will India become Bharat? When the British left India in 1947, they called it 'Transfer of Power'. Nehru called it Independence. But virtually nothing changed on that day except the white man left and the brown man took office. All else, the Constitution's framework, the police force, the ethos of the Army and its institution, the Justice system and most importantly the Indian Civil Service was intact, not only for a short period, but 75 years later, it is still intact as if in a time warp. The Indian intellect didn't change.  Even the name India remains. Top white officials in the services were phased out and Indians taught by them were phased in.
This is what happens in the USA. When one administration or President loses, the winner doesn't just walk into the White House but replaces the top brass in many departments. The new President appoints new heads of civil service etc.
Prime Ministers came and Prime Ministers went but the system is essentially British India without the white British. India has effectively been promoting western civilisation in one way or other, adopting its ethics, human rights, democratic system, judicial system curried with a bit of Indian mentality of Indian ethics, cronyism and corruption where it can work, etc etc. This was Lord McCauley's intention. He dismissed indigenous knowledge, literature and philosophies as worthless, 'not worth a shelf of European Books' and set about setting up an education system to train the Indian to be English in temperament and Indian in colour, forever to serve 'us'.
ALSO READ: Independence Day For A 5,000-Year-Old Civilisation
Under Modi, there is growing awareness of this dilemma. 'Whence independence'? When did India, if ever it did, become independent. Gandhi's rhetoric was, 'we need to get rid of this 'foreign culture' and recover our wisdoms. 75 years later, there is no evidence of it.
India was a British creation and Nehru's inheritance from them. In his autobiography, he says, 'what they can do, we can do better, why do they think we are uncivilised!' His and the Congress party started post 1947 with a great sense of inferiority complex and worshipping the superiority of western civilisation. India was to remain India in the image of the British of 1947 and proceed in Nehru's world to show the west, Indians can reach the levels of 'civilisation' that the west had.
I have written before asking why 'India'. Its genesis is European. It was finally stamped on the region by the British. The word has all the baggage of colonialism. Why not free the chains and first call yourself with the name that you have always been known indigenously to get on the road to true freedom from colonialism.
The choice of course is between Hindustan and Bharat. Hindustan is a name that is packaged with the history of Mughal rule. It is they who coined the word. The word Hindu, despite many 'Hindus' stretching etymology with convoluted explanations about evolution from Sindhu etc, is essentially gifted by Arabs and then the Afghani and Persian rulers. It became a 'stan' of Hindus and thus Hindustan. Hardly a statement of self discovery.
ALSO READ: Tiranga Nationalism In The Shadow of Islam, Hobbes, French Revolution
So at last, the BJP is moving towards recovery of self-confidence, self-respect and dignity by officially adopting the name Bharat. Bharat is as indigenous as it will get.
Bharat is not perfect but it is a better statement of self identity than Hindustan (Mughal) or India (British). Bharat was a middle sized Kingdom in the past, but it is a name that has long pedigree, emotional sentiment and intricately weaved into the region's literature, political history and indigenous languages.
Prime Minister Modi's official renaming of India as Bharat on the world stage will be one of the far reaching statement of post-colonial self-assertion. But a name isn't enough if the content or character doesn't also change.
If Nehru embarked on one of the biggest social engineering projects in history by trying to change 5,000 years of civilisation into a European secular imitation and failed, the BJP is no less a villain. It reworked the 1920s European nationalism projects mimicking France, Germany and other nationalisms to create a land of Hindus and Hindutva, one nation idea. That too is failing.
France has an interesting idea of civilisation. It is secularism, French and One France. It went about marginalising all religions, decimating all regional languages and then crushing all indigenous ethnic nationalities under the banner of 'one nation, one identity' It maintains this with perpetual blood-letting every two to five years with riots.
The nation is not an idea from the old wisdoms of South Asia. It is a European idea borne after the Westphalian Treaty of 1648. After many bloody wars over ethnic dominances, Europe has finally started to become pluralist like ancient South Asia. The BJP ironically has taken the regressive route, taking the country towards an ideology that was developed and now discarded by Europe. Where is the originality in that, one asks BJP. Where is Bharat in that?
ALSO READ: India's Fissiparous Politics In Today's Worldview
The BJP is destroying the most valuable asset and contribution of South Asian civilisation, that of plurality and coexistence. It is also in fact choking the essence of Bharat and taking out the uniqueness of ancient Bharat which followed the Vedas, ekaṁ sad viprā bahudhā vadanti ' (Truth is one but the learned know it by many ways or names) . This doesn't just mean diversity in traditional belief systems but also coexistence with Muslims, Christians, Sikhs etc.
Most people in the country wont mind being called Bharatiya Shivaite, Bharatiya Vishnuite, Bharatiya Bengali, Bharatiya Muslim, Bharatiya Christian etc and be able to maintain their cultural, civilisational and regionally evolved identities.
PM Modi needs to be applauded for taking the initiative to rename India as Bharat, but he needs to go further and convince his party that it needs to return to the long held indigenous concepts of coexistence, pluralism, multinational and multi-cultural rule that was Bharat. Only then the name Bharat will truly resonate with its contextual meaning.
The BJP has already distorted the meaning of the word Rashtra to mean nation in a European context instead of country or State. It should not completely fulfill McCauley's dream by changing the context of Bharat to mean one nation one people.
The question to BJP is, 'Name Bharat is fine but whence Bharat?'