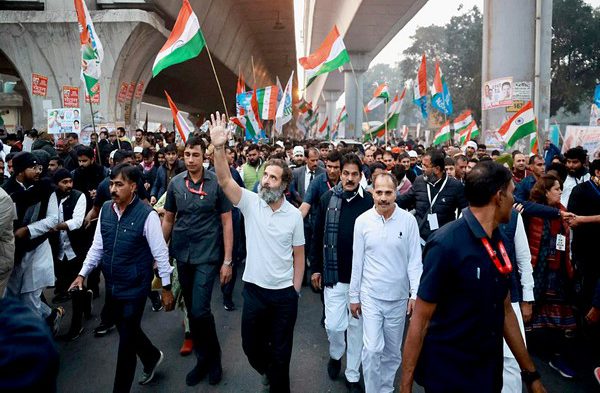 LM NEWS 24
LM NEWS 24
Bharat Jodo Yatra Enters Jammu From Kathua Region
Congress's Bharat Jodo Yatra led by Rahul Gandhi entered Jammu on Thursday evening.
The Yatra entered the region at Kathua's Lakhanpur area. Supporters were seen carrying party flags and torch lights as the Yatra marched ahead later in the evening (Thursday).
Earlier party leaders had said that the Yatra will reach Jammu's Kathua at 6.45 pm on Thursday.
After that, the Yatra will halt in Kathua's Lakhanpur for the night, the party said.
Former Chief Minister Farooq Abdullah, Peoples Democratic Party (PDP) president Mehbooba Mufti, National Conference (NC) vice president Omar Abdullah, Shiv Sena (UBT) MP Sanjay Raut, and CPI (M) leader Mohamad Yousuf will also participate in the yatra at the different locations, Congress leaders said.
Former Jammu & Kashmir Chief Minister Omar Abdullah said that a few politicians should not use Bharat Jodo Yatra to whitewash their past on Kathua Rape accused Lal Singh joining the Yatra.
"The INC has to make sure that the Bharat Jodo Yatra is not being used to whitewash their past," said Abdullah.
In view of the Bharat Jodo Yatra entering Jammu, the Jammu and Kashmir police authorities have also announced to ensure all the possible security arrangements. The Yatra is to conclude in Srinagar on January 30.
In another similar development, Jammu and Kashmir Congress spokesperson Deepika Pushkar Nath has resigned from the party after its state unit "allowed" former BJP leader and minister Choudhary Lal Singh to join Rahul Gandhi's Bharat Jodo Yatra. (ANI)
Read more: http://13.232.95.176/