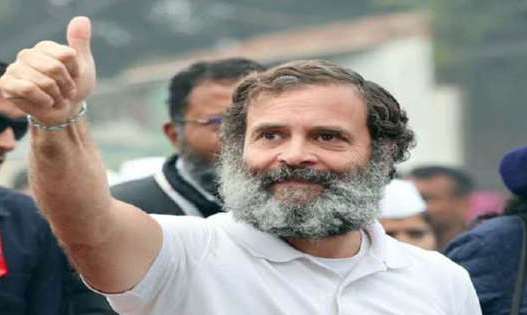 LM NEWS 24
LM NEWS 24
Bharat Jodo Yatra To Enter J-K On Jan 19
Bharat Jodo Yatra led by Congress leader Rahul Gandhi will enter Jammu and Kashmir on January 19.
J-K Congress Incharge of Bharat Jodo Yatra Rajni Patil said that Farooq Abdullah, Omar Abdullah Sanjay Raut, MY Tarigami, Mehbooba Mufti will join the yatra at diffrent locations.
"On January 26 the National Flag will be hoisted," said Rajni Patil.
Rahul Gandhi will also address a public rally and meeting delegations in Lakhanpur and Udhampur.
"On January 30, a big gathering is planned at 'Sher-e-Kashmir' Stadium we have invited 23 Party leaders and other leaders will join. We will hoist the National Flag in our office in Lal Chowk," said Rajni Patil.
She further said that hoisting the national flag in Lal Chowk is a narrative set up by the RSS while a flag will be hoisted at the Congress office located in Lal Chowk.
"We have been hoisting the national flag in Srinagar for many years," she said.
Meanwhile, a security breach emerged at Congress leader Rahul Gandhi's Bharat Jodo Yatra when an unknown man came out of the crowd and embraced Rahul in Tanda in Punjab's Hoshiarpur district.
Congress' Bharat Jodo Yatra resumed at Jhingar Khurd village of Hoshiarpur's Tanda in Punjab on Tuesday. During the yatra, an unknown man rushed in and hugged Rahul Gandhi.
IGP GS Dhillon, Law and Order Wing, Punjab told ANI that it looks like a security breach prima facie.
"It looks like a breach. The video I have seen looks like a security breach. I have walked 100 kms with Rahul Gandhi and we have 300 security men in the ring," said IGP Dhillon to ANI.
However, the Wayanad MP said the incident should not be termed as a 'security lapse' as there is a lot of enthusiasm among the people over the march.
"I could see a person who came to hug me. I do not know why you are calling it a lapse. There is a lot of enthusiasm in this Yatra and it happens. Security people checked him and he was just excited," Rahul Gandhi said. (ANI)
Read More:http://13.232.95.176/