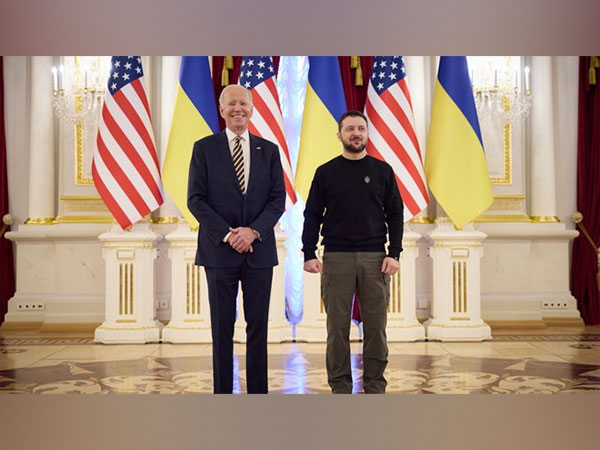 LM NEWS 24
LM NEWS 24
Biden Pledges $500MN Military Aid For Ukraine
US President Joe Biden who made an unannounced visit to Kyiv today, days before the first anniversary of Russia's full-scale invasion, pledged a USD 500 million military aid package for the country.
Addressing a joint briefing alongside Ukrainian President Volodomyr Zelenskyy, Biden said, "We will announce USD 500 million in aid to Ukraine. This will consist of javelins, howitzers, and artillery ammunition. Later, we will announce additional sanctions against companies which are trying to back Russia."
Biden said the package would be announced on Tuesday and that Washington would also provide more ammunition for High Mobility Artillery Rocket Systems (HIMARS) in Ukraine's possession.
Meanwhile, Ukraine's president has lauded Biden's visit to Kyiv as the first anniversary of Russia's invasion approaches.
"Joseph Biden, welcome to Kyiv! Your visit is an extremely important sign of support for all Ukrainians," Zelenskyy said in a post on Telegram.
The US leader's visit comes at a crucial moment in the war as Biden looks to keep allies unified in their support for Ukraine with the war expected to intensify in the coming months as both sides prepare for anticipated spring offensives.
Zelenskyy is pressing allies to speed up the delivery of pledged weapon systems and is calling on the West to deliver fighter jets to Ukraine – something that Biden to date has declined to do.
Biden declared from Kyiv on Monday that a year after invading Ukraine, "Putin's war of conquest is failing."
"Putin's war conquest is failing. Russia's military has lost half its territory once occupied. Young, talented Russians fleeing from Russia because they see no future in the country. Russia's economy is isolated and struggling," said Biden.
"Putin thought Ukraine was weak and the West was divided. He thought he could outlast us. I don't think he's thinking that right now, " Biden said standing alongside Ukrainian President Zelenskyy.
"He's just been plain wrong," Biden said of Putin. "One year later, the evidence is right here in this room. We stand here together."
"One year later Kyiv stands, Ukraine stands, and Democracy stands. America and the world stand with you. Kyiv has captured a part of my heart. Freedom is priceless, it is worth fighting for. We are going to be with you for as long as it takes," said Biden.
President Biden's trip to Kyiv on Monday was shrouded in secrecy, a reflection of the steep security concerns of visiting an active war zone.
Biden is travelling with a relatively small entourage, including national security adviser Jake Sullivan, deputy chief of staff Jen O'Malley Dillon and personal aide Annie Tomasini, reported CNN.
Zelenskyy said negotiations between his and US President Biden's teams in Kyiv were a major boost to his country.
"This conversation brings us closer to victory," Zelenskyy said, speaking alongside Biden on Monday.
"The results of this visit will surely be seen, and will surely have repercussions on the battlefield in liberating our territories," he added.
The Ukrainian leader also called Biden's surprise visit the most important in the "history of the Ukraine-US relationship."
"Ukrainians remember the focus, attention, the attitude that President Biden and the US have given to Ukraine," Zelenskyy added.
"I thank you for this level of US-Ukraine cooperation," he said.
Zelensky said he had discussed the supply of more advanced Western weapons to Ukraine, and cited the recent decision by the US to send Abrams tanks to the country as another defining moment.
"The decision of the US on Abrams tanks has already presented a foundation for establishing a tank coalition and is of historic importance," he said.
"We've also talked about long-range weapons and the weapons that may still be supplied to Ukraine – even though have not been supplied before," added Zelenskyy. (ANI)
Read More:http://13.232.95.176/