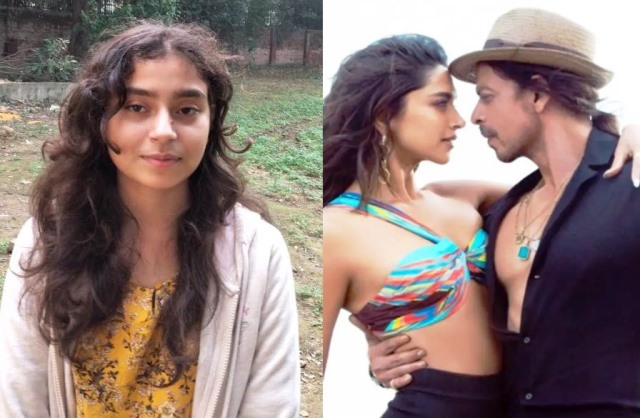 LOK ISSUES
LOK ISSUES
Bigotry Is Being Passed As Religious Sentiment
Yusra Naqvi, a student of history in Jamia Millia Islamia University, says Shahrukh and Deepika have been targeted for not pandering to the powers that be
Amid the catastrophic rise in poverty and hunger index, inflation, violence, mass unemployment, delinquency and many more disturbing and important issues longing for public attention, the Indian media has been flooded of late with bigotry and frivolous claims over a song controversy in the film 'Pathaan'. Some Right-wing politicians and religious leaders have demanded that the movie should be banned and boycotted, owing to the saffron-coloured bikini worn by actress Deepika Padukone in the song, Besharam Rang, which, literally, means 'shameless colour'. The song is accused of disrespecting the colour saffron which they reportedly consider as a symbol of the Sanatan Dharma.
The argument is apparently vague and unnecessary with a clear intention of spreading hatred by the religious appropriation of a universal colour which can be used by people of any community at their own will. The diffusion of cultures by intermingling of various sects and communities is indicative of a historically 'shared' Indian culture. Saffron is considered auspicious in many Islamic as well as other religious occasions and practices, hence, it cannot be symbolic of one religion in particular.
These claims represent a narrow and sectarian understanding of religion, as a whole, while reflecting, yet again, a sense of growing intolerance which aims at strengthening communal biases and hate politics.
ALSO READ: 'Boycott Calls Won't Work, Nor Will Vulgarity'
This 'cancel culture' has become a repetitive phenomenon in recent times, where certain titles, scenes or songs of movies have been called out for hurting the religious sentiments of people. However, in the present case, a female, and her exposed body, is being regarded as 'obscene', linking it to the prestige of saffron.
Such statements targeting women's clothing in today's world are deplorable and retrograde. Instead, why do we not vent our annoyance for films and songs promoting violence and the objectification of women? Indeed, the dogmatic justifications of meaningless claims are thus filled with bigotry and misogyny in the name of religious sentiments.
This can be seen as an attempt by the Right-wing ultra-nationalists to assert their ideological dominance in every sphere of public life and to impose their opinion by encouraging this forcible pattern of 'cancel culture'. For this, they tend to choose specific celebrities who are seemingly easy to target based on past controversies.
For instance, no objection was meted out when a BJP supporter danced on a hit Bhojpuri song, wearing saffron robes. But, on the other hand, Shahrukh Khan, being a Muslim celebrity, is targeted for wearing a 'green' shirt.
Three years ago, just before the release of her movie Chapaak, Deepika Padukone was defamed as a 'sympathiser of the Tukde-Tukde Gang' when all she did was stand in solidarity with JNU students against the violence inflicted upon them by Right-wing masked goons inside the campus. This had barely anything to do with the theme of the film which was based on acid-attack survivors.
Similarly, the movie Pathaan has been dragged into controversy serving no other purpose than feeding the political interests of a particular group of people. In recent times, Indian cinema, always deeply secular and celebrating pluralism, was established with the sole purpose of entertainment while reflecting certain social narratives of contemporary India. It is now being misused as a means of spreading feelings of bitterness and contempt within the masses. We, as a society, need to condemn this practice and look beyond narrow horizons which restrict social harmony.
As told to Amit Sengupta
Read more: https://lokmarg.com/