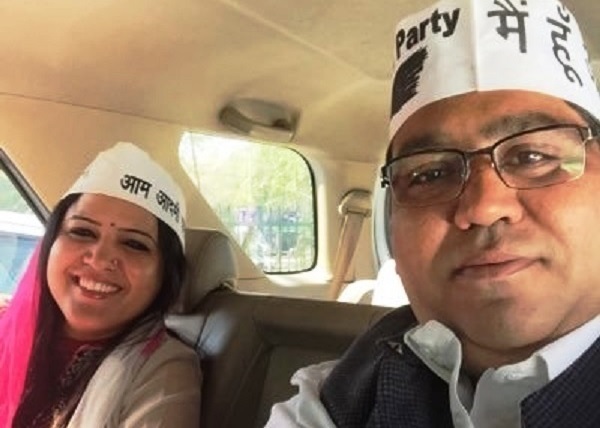 LOK ISSUES
LOK ISSUES
BJP Can't Buy AAP Leaders With Money or Muscle
Dheeraj Kumar Tokas, a member of Aam Aadmi Party in Delhi, says BJP's attempts to break away AAP councillors will never be successful
The voters of Delhi have given a clear mandate to the Aam Aadmi Party in the Delhi Municipal Council elections. After 15 long years, AAP has wrested away the BJP bastion in the National Capital. The BJP had expected that it would gain from the unification of three municipal bodies but that was not to be. Now they are saying the Mayor's election is still an open game, clearly showing their intent to get the Mayor seat by hook or crook. But they will never succeed.
All our party workers, Members of Parliament and Legislative Assemblies as well as ordinary workers are loyal to the party as they firmly believe in its core values. We are confident that they will not switch loyalty nor fall into the trap of BJP party managers.
AAP leader Manish Sisodia recently indicated that a desperate BJP may try its dirty politics to lure away party councillors. He was speaking from his experience, as the BJP did try to break him by first raiding his house and later intimidating him with false cases. The people of Delhi saw through this foul tactics and have rewarded the Aam Aadmi Party for staying firm. We are confident that BJP's plans to get Delhi's Mayor's seat will also be frustrated similarly.
BJP always cries hoarse when it is defeated in the elections, but let them know they are not invincible. Horse trading attempts by BJP will not work with AAP representatives. We believe in an ideology that is not for sale. BJP does not have the capability to buy us.
ALSO READ: 'Punjab Will Not Forgive AAP If It Fails To Deliver'
We had sought support from the voters on the basis of development work that the Delhi government has done in all these years. We had sought votes in the name of education and health, which are fundamental to development. You can see this in Gujarat too where despite being an entirely new player in the fray, we never resorted to dirty politics. Now, with more than 12% votes in our kitty, we have opened our account in Gujarat. Aam Aadmi Party can now proudly boast of being a national party.
Now our priority in Delhi is to make it a garbage-free city. This is the ground we contested for. In the last 15 years of its rule, BJP has made Delhi a dumping ground for the trash of all kinds. We promise to clean it up. We fulfilled the promises made to the people of Delhi in the past; we shall keep our word in future as well.
Kejriwal ji has said in his address that we do not do politics of abuses. We are honest and civilized. We do politics of public issues. We are taking this Delhi Model to other states so that we can make our country the foremost in the world. This is not AAP's victory. People of Delhi have won this time. This mandate needs to be respected. Let BJP know this.
(The narrator is the husband of AAP legislator Parmila Tokas)
As told to Nityanand Gayen