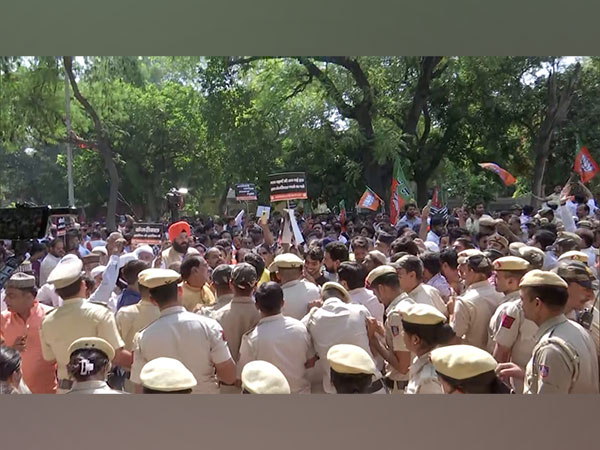 LM NEWS 24
LM NEWS 24
BJP Holds Protest Against AAP Over Delhi Liquor Scam
Delhi Police detained Bharatiya Janata Party workers and leaders as they staged protest in the national capital on Thursday against the Aam Aadmi Party government over the Delhi Liquor Policy case.
The visuals from the scene showed a huge number of BJP members staging protests and raising slogans against the AAP government and Delhi CM Arvind Kejriwal.
The visuals showed several BJP workers being detained along with BJP Delhi president Virendra Sachdeva.
"Our struggle is against the corruption of Arvind Kejriwal and this battle of ours will continue," said Virendra Sachdeva during the protest.
The Delhi liquor scam or the excise policy case pertains to allegations that the Arvind Kejriwal-led Delhi government's excise policy for 2021-22 allowed cartelisation and favoured certain dealers who had allegedly paid bribes for it, a charge that has been strongly refuted by the AAP.
The ED and the CBI had alleged that irregularities were committed while modifying the Excise Policy, undue favours were extended to licence holders, the licence fee was waived or reduced and the L-1 licence was extended without the competent authority's approval. The beneficiaries diverted "illegal" gains to the accused officials and made false entries in their books of account to evade detection.
As per the allegations, the Excise Department had decided to refund the Earnest Money Deposit of about Rs 30 crore to a successful tenderer against the set rules. Even though there was no enabling provision, a waiver on tendered licence fees was allowed from December 28, 2021, to January 27, 2022, due to COVID-19.
This allegedly caused a loss of Rs 144.36 crore to the exchequer, which has been instituted on a reference from the Union Home Ministry following a recommendation from Delhi Lieutenant-Governor Vinai Kumar Saxena.
The Enforcement Directorate (ED) arrested AAP leader and Rajya Sabha MP Sanjay Singh on the evening of October 4, 2023, in connection with the Delhi excise policy case.
Sanjay Singh was arrested following a day-long questioning session by ED officials at his Delhi residence.
In February 2023, AAP leader Manish Sisodia was also arrested by the CBI for alleged irregularities in the framing and implementation of Delhi's new excise policy. The policy was withdrawn amid allegations of foul play by the Opposition. (ANI)
Read More: https://lokmarg.com/