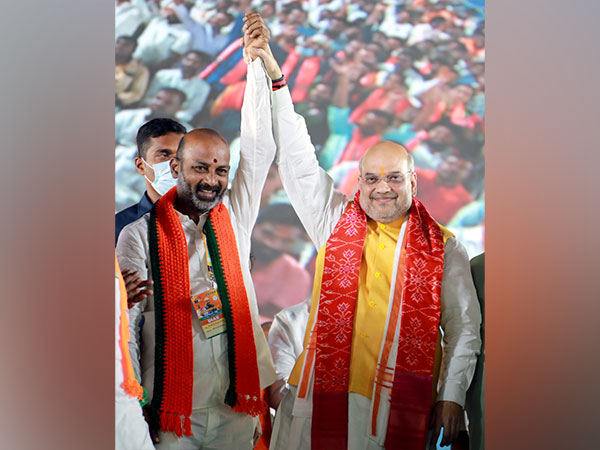 LM NEWS 24
LM NEWS 24
BJP Intensifies Telangana Plan Of Holding Rallies In 119 Assembly Constituencies
Ahead of the Telangana Assembly polls which are scheduled to take place later this year, Bharatiya Janata Party president JP Nadda, Union Home minister Amit Shah held a crucial meeting to deliberate on poll preparedness and it has been decided to intensify party campaign as central leadership will hold meetings in all 119 assembly constituencies starting next month.
Bharatiya Janata Party's central leadership including party president JP Nadda, Union Home Minister Amit Shah, Defence Minister Rajnath Singh and others will hold public meetings.
Telangana BJP chief Bandi Sanjay on Tuesday urged Union Home Minister Amit Shah to hold a meeting with freedom fighters, doctors and engineers who influence society on March 12 during his visit to the state.
According to Sanjay, around 3000 important people from various fields will gather at Shah's meeting.
Sanjay urged Shah during a meeting chaired by BJP national president JP Nadda with Telangana leaders to chalk out a strategy for poll preparedness. The Union Home Minister was also present at the meeting.
Nadda and Shah presided over the meeting and reviewed the organisational activities in Telangana.
"We approach Amit shah to hold a meeting with freedom fighters, doctors and engineers who influence society in Telangana on March 12 as he is coming for an official meeting in Telangana," said the Telangana BJP chief.
The meeting which was held at Nadda's residence in the national capital lasted for around 4 hours.
The Telangana BJP chief briefed both the tall leaders on the successful completion of 11,000 Street Corner Meetings under the program named "Praja Gosa BJP Barosa" covering all 119 Assembly Constituencies.
The Party High-command was immensely pleased with the outcome and cohesiveness of the teamwork of the State Unit and shared its mind and thoughts with State leadership and directed them to undertake steps to strengthen the organization further. They have advised the State leadership to intensify the struggle against the KCR- led Telangana Government which is in the middle of corruption.
Sanjay said that the party will soon start public meetings in all 119 assembly constituencies.
"As Praja Gosha BJP Bharosa completed 11000 public meetings today, the BJP will soon start 1-1 public meetings on all 119 assembly constituencies. After that big meetings will take place in ten districts and senior central leadership like JP Nadda, Amit Shah, Rajnath Singh and others will hold them. After that big massive public meeting will be organised where Prime Minister Narendra Modi will address the public of Telangana," he said.
Sanjay further said that said he will definitely raise all corruption issues of Telangana Chief Minister K Chandrashekar Rao and his family.
Addressing the media in Delhi, he said, "The Mood of the Telangana people tilted towards BJP as it is the only political party in Telangana responding in no time to the needs and issues of people so collectively and it is quietly established fact that BJP has emerged as an alternate to the BRS with firm and committed support of people as BRS is evidently involved in every scandal and corruption leading to looting of the state resources."
He said that the economy of Telangana is on the verge of collapse due to wrong policies pursued by BRS and the vibrant syndicate of corrupt deals in every activity.
"It is an officially known fact that State has to pay Rs 3000 crore monthly interest on Rs 5.5 lakh crore external debt without any evidence of physical assets being developed. Hence, people in Telangana understood the gravitas of impending economic crisis is openly in support of BJP," he added.
He said that BJP will contest on its own in all 119 assembly constituencies and it is a clear signal from the ground that BJP will bound to come to power in the 2023 Assembly Elections with the blessings of people.
Bharat Rashtra Samithi (BRS) realizing the emerging popular trend in favour of the BJP became jittery and panicky. Kavitha daughter of CM KCR is already charge sheeted in Delhi Liquor Scam hitting the image of BRS and KCR in particular," said Sanjay.
He also said that BJP in Telangana state exposed the cosy nexus between BRS and Congress.
"We have successfully rebutted the campaign that BJP doesn't have candidates in all constituencies- which was a ploy of both BRS and Congress," he said.
While answering a question, he made it clear that BJP has no role in fixing the Bharat Rashtra Samithi (BRS) MLC and Telangana Cheif Minister KCR's daughter, K Kavitha and other AAP leaders as there is substantial evidence against them which will stand before the scrutiny of law.
"KCR failed to come up with reasonable argument and denial of his own daughter Kavitha in the infamous liquor case and whereas, he issued a public statement against the arrest of Manish Sisodia-is certainly ridiculous as he is still answerable to the People of Telangana. He reiterated that no such discussion took place in this regard with High command," he added.
Telangana in-charge Tarun Chugh said that today's meeting was fruitful.
"As today we completed our Praja Gosha BJP Bharosa 11,000 meeting, the high command appreciated our effort and also discussed the party's further plan and strategy for upcoming polls," he said.
P Sudhakar Reddy, Tamil Nadu CO- incharge, NEC member said that the agenda which take place at today's meeting was the plan and strategy for upcoming polls.
"Public meetings, rallies and the booth strengthening programmes were discussed. At the meeting we also discussed how to bloom lotus in every Telangana house and also how to defeat the hitlershahi of KCR," Reddy added.
BJP Telangana president Bandi Sanjay, BJP national Organization General Secretary BL Santhosh, National vice president of BJP DK Aruna, Nizamabad MP Arvind Dharampuri, Sudhakar Reddy-TN Co-incharge, K Laxman, G Kishan Reddy, Vijay Santhi, Vivek Venkatswamy, NEC member Etala Rajendran, G Mohan Rao and Muralidhar Rao and others were present at the meeting.
As per the sources, the first round of the meeting was held with Nadda, Shah and Sanjay for around 2 hours and after that, the second round of meetings was held with all the state leaders.
"The agenda which was discussed at today's meeting was the plan and strategy of upcoming polls like big and small public meetings and rallies and the booth strengthening programme were discussed," said the source.
At the meeting, the tall leaders also reviewed earlier important programme feedback like "Praja Gosa BJP Bharosa" and "Praja sangrama yatra".
The party is running several programmes to connect with the people and increase its reach to the grassroots such as "Praja Gosha BJP Bharosa" and "Praja Sangram yatra" and through these campaigns, the party is getting massive positive responses from the public and as per the source, the party will discuss how to strengthen the party on booth level.
BJP has successfully undertaken 11000 public meeting outreach programmes in the state under Bandi Sanjay.
According to the sources, a state presidential election will be held soon as the BJP president Sanjay Bandi's term is going to end in the first week of March, but another source from the party speculated that his term as the party President would be extended.
Earlier in the national executive meeting, Sanjay was the centre of attraction as Prime Minister Narendra Modi praised the "Praja Sangram Yatra" and asked all the states to learn from his journey and appreciated his struggle and hard work. (ANI)
Read More:http://13.232.95.176/