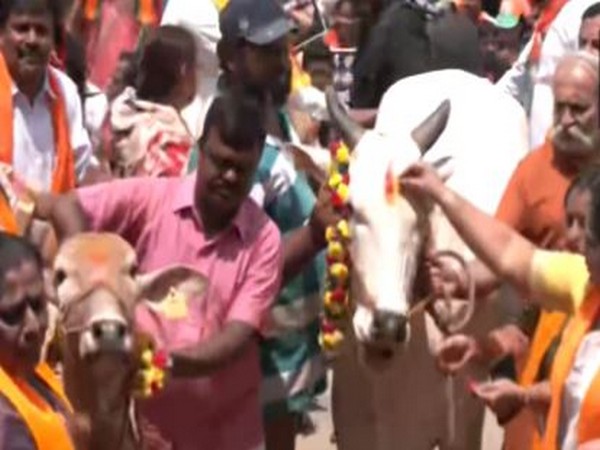 LM NEWS 24
LM NEWS 24
BJP Protests With Cows Against Karnataka Min's Statement
BJP workers in Karnataka staged a unique protest with cows against the Siddaramaiah-led Congress government following State minister K Venkatesh recent remarks on cow slaughter that sparked a row.
https://twitter.com/ANI/status/1665967464012976129
Venkatesh had on Saturday said that if buffaloes can be slaughtered, why not cows. This did not go down well with the BJP who came down heavily on the Siddaramaiah government.
On Monday, Siddaramaiah defended Venkatesh claimed there was lack of clarity in the cow slaughter scheme brought by the previous BJP government and it will be discussed in the upcoming Cabinet meeting.
The Karnataka BJP also alleged that the State government is not delivering on its five poll guarantees.
Siddaramaiah has said that the BJP has no moral right to protest against the Congress' poll guarantees. Siddaramaiah was speaking to mediapersons here after garlanding former Karnataka Chief Minister Devaraja Arasu's statue in the Vidhana Soudha premises.
"BJP is an anti-people party," he said adding that when the opposition party was in power they had looted the State. The BJP stopped giving benefits under Indira Canteen, Shoe Bhagya and cycles to students.
Siddaramaiah said that the State government will provide 10 hours of free electricity to the people and will also waive off loans.
These five 'main' guarantees promised by the Congress during the poll were, 200 units of free power to all households (Gruha Jyoti); Rs 2,000 monthly assistance to the woman head of every family (Gruha Lakshmi); 10 kg of rice free to every member of a BPL household (Anna Bhagya); Rs 3,000 every month for unemployed graduate youth and Rs 1,500 for unemployed diploma holders (both in the age group of 18-25) for two years (Yuva Nidhi) and free travel for women in public transport buses (Uchita Prayana). (ANI)
Read More: lokmarg.com