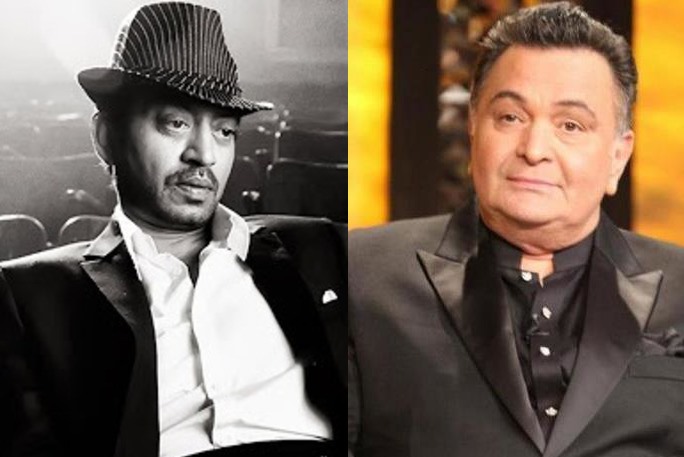 OPINION
OPINION
Bollywood In Red Zone
The loss in a single day last week of two Bollywood stalwarts, Irrfan and Rishi Kapoor, compels us to worry about the health and well-being of those on whom billions ride.
Equally important, and more urgent, is the need to see the potential impact of Coronavirus, or Covid-19 that is the new game-changer. Will India's cinema/entertainment industry, especially Bollywood, dependent on crowds, survive and rise to entertain again with the same verve even as it suffers from stars dying, cinemas closed and filming stopped?
The worldwide pandemic is unlikely to leave soon. Having humbled societies and wrecked economies, it has imposed conditions that have already begun to influence our – including those who entertain us — behaviour, individually and collectively.   
My own perceptions are limited and the space here, even more so. But I am not alone when I ask how world's largest cinematography, making 2000-plus feature films annually, that is estimated to have touched $3.7 billion this month, can respond to this mix of complex circumstances.
Not all of India's film-making centres follow the Bollywood model and not all have money-spinning stars. But all of them depend upon viewers in cinema theatres, on television and now, increasingly through streaming.
Covid-19 is only the latest health-scare. None asked "Was it Corona" about the two stars. It was well known they were cancer survivors back after being treated in the United States. Bollywood's list of cancer patients/survivors currently includes Manisha Koirala 49, who has returned to the screen.
Precisely two years ago, Vinod Khanna had succumbed. With Rajesh Khanna, Bollywood's "first superstar" who too died of cancer in 2012, Vinod strode the Bollywood scene in the 1970s.
Cancer is a killer. One of Rajesh Khanna's most memorable roles was in and as 'Anand' (1971). Smiling his winsome smile he hid his agony instead of being overwhelmed by cancer, poking fun at "lymphosecoma of the intestine". The last line was an ode to life amidst pain: "Anand maraa nahin; Anand martey nahin" (Anand is not dead – Anands do not die.) This was a significant departure from the suffering protagonist, staggering with eyes half-closed, do-gooding till the end, winning audience sympathy.
A social media post in the wake of Irrfan/Rishi deaths lists so many marquee names suffering from one complication or the other and offers a thought. Well-off, these stars hit the gym even before they debut, eat special diet and work hard to maintain their physique. They live well. They go abroad to relax and get the best treatment money can buy. What they can get is not available to the common man. Yet, they suffer like any ordinary being and go when their time comes, leaving their fans in tears. Disease and pain are great levelers.
Covid-19 has made everyone feel more vulnerable than ever. Bollywood appears to have responded well and fast, surprisingly, without waiting for a political diktat. All cinema theatres are closed. All indoor and outdoor shootings are off. Paparazzi are out-of-job since the stars are strictly indoors. Very few attended the two funerals. Some Award Nites are cancelled. There's no way Bollywood can shoot crowd scenes, anywhere. Lockdown is complete and like other film-making centres, Mumbai remains in Covid-19's "red zone."
All this means losses in man/days, gate-money revenue, ad earnings and services worth billions. With the overall economy in doldrums and production jeopardized, the impact on entertainment business, public's ability and inclination to spend on it and perhaps, the utility of the stars we adore remains uncertain.
The stars seem to realize their own vulnerability. They use Twitter, Facebook and Instagram to stay in public eye every single day. Their unease is discernible the way some of them called cameramen to film their doing "jharoo-ponchha", doing yoga and for a change, cooking their own frugal but healthy meals. This may have killed some of their glamour and closed the enormous gulf they maintain, both physically and in their lifestyle, from the public.
Everyone fears that not all jobs lost may return. Covid-19 is changing basic norms that may stay substantially, if not fully. It has already forced us to work from home, to go digital in business and banking, to keep fit without gym and outdoor sports and to shop and be entertained without visiting malls.
The irony of empty roads that can't be traversed and clear skies but no flying cannot be lost. How much of the present can be retained and how much of the past shall remain relevant is uncertain.
But I remain optimist about Bollywood's ability to adapt. Hence, on a different note altogether, I am tempted to explore the past and wonder: can Bollywood make a disaster film on Covid-19?
Frankly, there is not much to go by. Of man-made disasters, Burning Train (1980) showed journey of a brake-failed passenger train. Kaala Patthar (1979) sought to reenact mining disaster at Chasnala Colliery. Multi-starrers, they were essentially entertainers, with some serious moments.
In Aman (1980), a rare health-related disaster film, the mandatory entertainment quotient was high with love songs. It highlighted perils of a nuclear disaster Japan has suffered. But that came only in the second half. Even then, alas, the focus shifted from nuclear radiation to the dead hero's journey back home.
To be fair, the hero saving fishermen caught in a nuclear zone was not about disaster, but about suffering that radiation victims endure and long-term damage caused by atomic weapons. This anti-war film featured a rare cameo by Nobel laureate Bertrand Russell. To its credit, Aman did not treat disaster as an amoral affliction.
Dr Kotnis Ki Amar Kahani (1946) took political/ideological route while India was still under the British rule. It was about an Indian doctor's role in Chinese resistance to Japanese invasion during the World War II. It was filmed immediately after that war.
Producing, directing and playing the doctor, V Shantaram enacted a real-life story of Dr Dwarkanath Kotnis who responds to appeal by Jawaharlal Nehru and Subhas Bose to join the medical mission. While other Indians return sick, Kotnis, married to Chinese assistant, continues and eventually dies of epilepsy.
Kotnis' sacrifice and Shantaram's film have been India's strongest bridge to Sino-Indian relations, winning praise from Mao Dzedong to Hu Jintao. Till she died in 2005, Guo Qinglan, the real Mrs Kotnis, was unique to the cultural ties between the two distrusting neighbours. The glow endured despite the numerous fluctuations, including the 1962 conflict. Alas, old memories are fading.
Wuhan figured in Kotnis' journey — the same Wuhan where Modi met President Xi Jinping in 2018 — the same that is supposed to be the cradle of Covid-19. Described as heavenly then, the world now calls it hell.
After 9/11 happened spiking Islam-phobia, Bollywood produced My Name is Khan. Does it really need a disaster like Covid-19 to make its presence felt? It will rise again in its full glory from this ashes as it has done many times before because it knows how to. Its creativity is its resilience.
The writer can be reached at mahendraved07@gmail.com