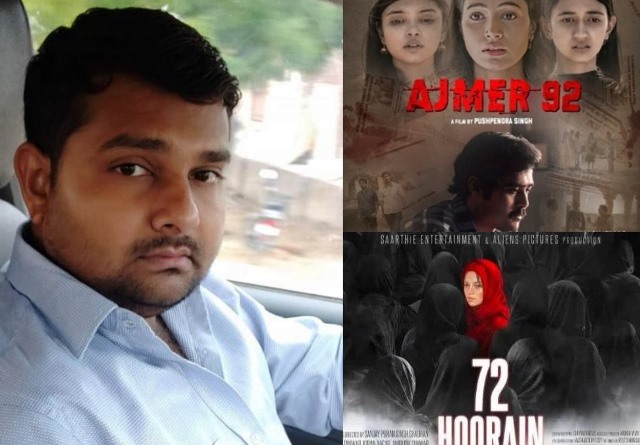 LOK ISSUES
LOK ISSUES
'Branding a Movie Islamophobic or Propaganda is The Easy Part'
Gaurav Pandey, a social activist from Lucknow, says one may critique the handling of a cinematic work by a certain director, but one cannot shut one's eyes to the reality. His views:
After the stunning success of The Kashmir Files, a movie based on the plight and forced displacement of Kashmir Pandits, many filmmakers felt there was a need to revisit similar injustices in the country. The movie thus sparked off several movies, like The Kerala Story, Ajmer 92 and 72 Hoorain, which the liberals were quick to brand as Islamophobic. However, I feel these movies hold the mirror to our society. Calling them Islamophobic is the easy part.
Cinema is but reflection of our society. If it fails to fulfil that objective, it becomes meaningless. Can one deny that Kashmiri Pandits were brutally killed and forced to leave their homes? Or scores of girls were blackmailed in Ajmer? Or innocent, impressionable minds are brainwashed to take up arms in the name of jihad? These are harsh realities. You may disagree with or critique the handling of these issues by a certain director, but you cannot shut your eyes to what has happened or is happening around you in the country.
These films do not target a person or a community, they expose the blot on our society and culture. This difference needs to be understood. After all these film did pass muster with the Censor Board, which screens every film before release! If at all these films had misrepresented facts or a faith, or were seen as promoting communal disharmony, the board would have objected to such scenes or the entire film.
Also, the filmmakers, for the past decade or so, have also been taking the liberty to choose topics that portrays what has been under-represented in popular culture. That is why a wide range of 'bold' films are being made and released on silver screen or OTT format. These themes speak of Dalit repression, women empowerment, alternate sexuality… and what not. So why object only to movies that unravel the misdeeds of a few criminals who took shelter behind religion?
ALSO READ: 'Propaganda Movies Distort Facts Selectively'
Today's 'realistic' films remind one of early Bollywood era, when cinema portrayed harsh realities, not stars who would be singing and dancing in foreign locales. Now, the filmmakers have become more 'liberal' in exploring all the avenues more freely.
Take for example Ajmer 92, which revisits a horrific real incident that deeply impacted the city of Ajmer in 1992. It portrays how more than 200 college girls were systematically blackmailed and raped by influential individuals connected to a political party. It tactfully avoids the perpetrators' ties to the Sufi Dargah. It also embraced the cause of women empowerment, igniting a powerful message in its own unique way.
Similarly 72 Hoorain delves deep into the concept of terrorism with the intent to address the root cause of the problem and exposing the driving force behind it. It also beautifully portrays the `brain washing' tactics used to lead the youths up the garden path.
Despite the controversies, such films are important in revitalizing Indian cinema and restore its former glory and can be useful in preserving our regional identity. The films which blindly follow a formulaic approach that dilute the distinct regional flavours and the distinctive depth of our society are no longer carry an appeal. No doubt commercial success is the most important aspect of filmmaking, but it should also not overshadow the need for innovative storytelling and thought provoking narratives. These films push the envelope, explore unconventional themes and dare to challenge society norms.
As told to Rajat Rai
Read More: http://13.232.95.176/