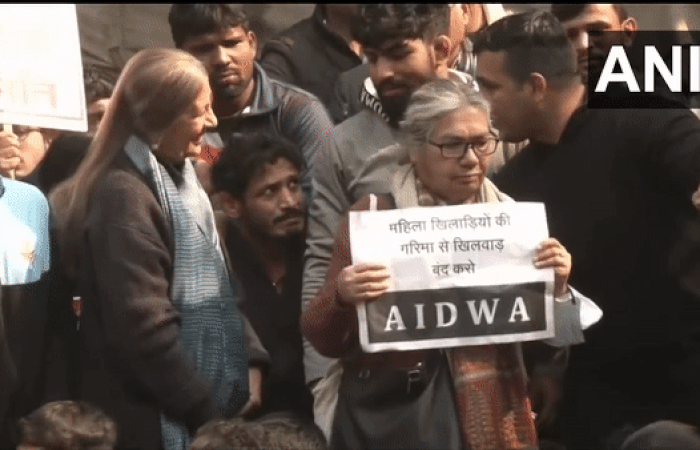 LM NEWS 24
LM NEWS 24
Brinda Karat Asked To Step Down From Stage During Wrestlers' Protest Against WFI
Senior Communist Party of India (Marxist) leader Brinda Karat who on Thursday arrived to express her solidarity and join the protest of wrestlers against the Wrestling Federation of India was asked to step down from the stage.
"Madam mike kisi ko nahi milega (we won't give the mike to anybody)," said Olympian and 2022 Commonwealth Games gold medalist Bajrang Punia when he saw Karat and AIDWA Delhi President on the stage.
"Neeche uttar jayee (Please step down)… Request you to please step down from the stage and please do not make this into a political issue," Punia who was addressing the wrestlers said after interrupting his speech.
He repeated the request a couple of times again.
Wrestlers have been sitting on a protest since yesterday against the Wrestling Federation of India (WFI) chief and other officials alleging several grapplers have been sexually exploited for several years.
Karat accompanied by a colleague had arrived at the protest site to express her solidarity with the wrestlers.
Earlier in the day champion wrestler Babita Phogat who is now a part of the Haryana government had met the protesting wrestlers with a message from the Centre.
"I have assured them that the government is with them. I will try that their issues are resolved today," Babita Phogat said after addressing the gathering.
Reacting to her remarks, Punia said, "Babita Phogat has come from the government's side for mediation. We will speak with her and then give more details."
He said that the wrestlers are fighting for their honor and right and added if they can fight for the country then they can also fight for their rights.
WFI President and BJP MP Brij Bhushan Charan Singh, however, has refuted charges of sexual exploitation leveled against him.
The protest began on Wednesday shortly after Commonwealth Games gold medallist Vinesh Phogat alleged that the WFI President and other officials had been sexually exploiting the wrestlers for years.
Other prominent wrestlers including Sakshee Malikkh are supporting Phogat and gathered for the protest.
"If we can fight for our country, then we can also fight for our rights. First of all, I thank all the players who have come here. And the statement that was given yesterday that only 3 per cent players are sitting here, but according to me all the players are here. You can imagine how strong the players are. And we raised our voice for our rights and are not going to bow down when we do not win," Punia said.
"We wish that someday if any child comes in wrestling then he should not practice under some pressure," Punia added.
Delhi Commission for Women (DCW) chairperson Swati Maliwal issued a notice to Delhi police and the Union Sports ministry on the matter.
The Union Sports Ministry had asked the Wrestling Federation of India (WFI) to respond to the allegations made by the wrestlers within 72 years. (ANI)
Read more: http://13.232.95.176/