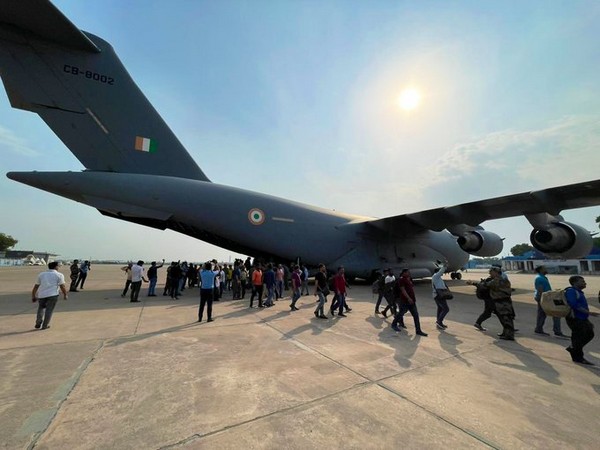 LM NEWS 24
LM NEWS 24
C-17 Flight Carrying 392 Passengers Reaches Delhi From Jeddah
Another flight carrying 392 passengers evacuated from battle-torn Sudan landed today in Delhi, External Affairs Minister S Jaishankar said.
Taking to his Twitter handle, the EAM wrote, "#OperationKaveri update. Another C-17 flight carrying 392 passengers reaches New Delhi."
The Indian Air Force C17 Globemaster took off from Jeddah airport earlier today(local time) under MoS Muraleedharan, who saw them off at Jeddah.
"Glad to see happy and energetic faces of 392 of our nationals returning to Delhi from Jeddah on IAF C17 Globemaster after evacuation from Sudan. Saw them off at the aircraft. They will be with their beloved ones in India soon," the MoS tweeted.
Meanwhile, another batch of 362 Indian evacuees from Sudan took a flight for Bengaluru from Jeddah on Friday (today), in the presence of Minister of State for External Affairs V Muraleedharan under ongoing Operation Kaveri.
"Bon voyage! Delighted to see off 362 Indians evacuated from Sudan on a flight bound for Bengaluru from Jeddah. Good number of these are from Hakki Pikki tribe," tweeted Muraleedharan.
Updating about the same, Jaishankar tweeted today, "India welcomes back 362 Indians as another #OperationKaveri flight touches down in Bengaluru."
Earlier, the tenth batch of 326 Indian evacuees from Sudan reached Jeddah by INS Tarkash.
IAF C-130J flight evacuated the 10th batch of 135 Indian passengers from Port Sudan to Jeddah after the Sudanese army and the paramilitary Rapid Support Forces (RSF) agreed to extend their ceasefire amid ongoing violence in the capital Khartoum and the western Darfur region.
"#OperationKaveri progresses further. 10th batch of evacuees with 135 passengers onboard IAF C-130J flight departs Port Sudan for Jeddah," tweeted the spokesperson of the Ministry of External Affairs, Arindam Bagchi.
This comes after the army said it would extend the ceasefire "for an additional 72 hours" following mediation efforts by Saudi Arabia and the United States in the final hours of the repeatedly broken three-day truce, due to end at midnight (22:00 GMT) on Thursday.
The RSF also said it approved the extended truce, adding that the proposal came from two diplomatic groupings: the US, Saudi Arabia, Norway, the United Kingdom and the United Arab Emirates.
On Thursday, warplanes patrolled over the capital's northern suburbs as fighters on the ground exchanged artillery and heavy machine-gun fire.
The previous ceasefire has not stopped the fighting but created enough of a lull for tens of thousands of Sudanese, as well as, foreign nationals to leave for safer areas. (ANI)
Read More: http://13.232.95.176/