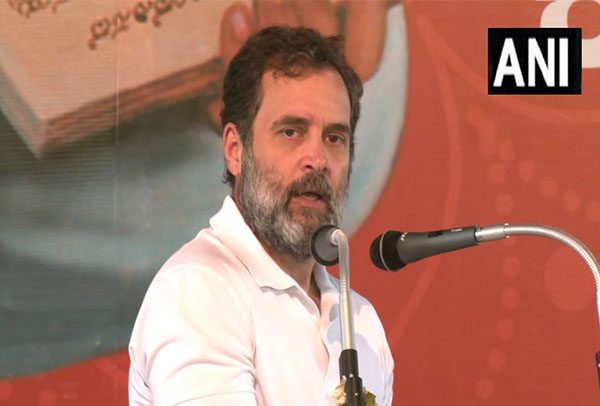 LM NEWS 24
LM NEWS 24
Call Us Whatever You Want…We Are INDIA: Rahul
Congress leader Rahul Gandhi on Tuesday responded to Prime Minister Narendra Modi's jibe at the newly-formed INDIA alliance of opposition parties and said he can call them by any name but they will "help heal Manipur" and "rebuild the idea of India" in the state which has seen ethnic violence.
Rahul Gandhi said in a tweet that parties of INDIA will bring back "love and peace" to the people of Manipur.
"Call us whatever you want, Mr. Modi. We are INDIA. We will help heal Manipur and wipe the tears of every woman and child. We will bring back love and peace for all her people. We will rebuild the idea of India in Manipur," Gandhi said.
The Congress leaders' remarks came after Prime Minister Narendra Modi took a jibe at the emerging alliance of opposition parties in his remarks at the meeting of BJP Parliamentary Party on Tuesday.
Twenty-six opposition parties including Congress, which met in Bengaluru earlier this month, decided to name their alliance – INDIA (Indian National Developmental Inclusive Alliance).
BJP leader Ravi Shankar told the media after the BJP Parliamentary Party meeting that PM Modi had said in his remarks that "something on face value could be different from something that is really true".
"PM Modi has said that Indian National Congress, East India Company was founded by a foreign national. Today people are using names like Indian Mujahideen and Indian People's Front. Something on face value could be different from something that is really true," Prasad said.
"We are proud of our PM. We are coming back to power in 2024," he added.
Congress President Mallikarjun Kharge also reacted in the Rajya Sabha to PM Modi's remarks.
"So many representatives are giving notices under 267 in Parliament. We are talking about Manipur. Manipur is burning but the Prime Minister is talking about East India Company," Kharge said.
Sources said parties of INDIA are planning to move no-confidence motion against the BJP-led government in the Lok Sabha.
They said that the floor leaders of Congress and other like-minded parties discussed the proposal to bring a no-confidence motion in their meeting held on Tuesday morning. (ANI)
Read More: http://13.232.95.176/