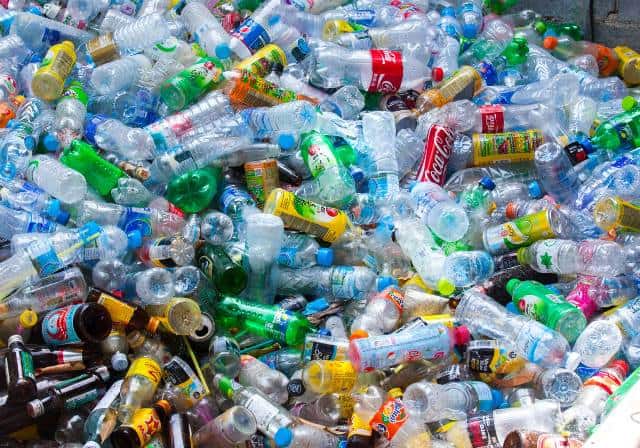 OPINION
OPINION
Can India Implement Ban On Single-Use Plastic?
<![CDATA[
Plastics manufacturers are trying to find fixes of popular concerns but the petrochemical industry has a strong lobby and this is why violations of environmental norms happen with impunity
It is not a day too soon there is promise of India coming down with some force on the single use plastic, which the quintessential bottle holding still water principally represents. In the available order in the country, hardly anything of importance will move till the prime minister himself will herald a campaign. For example, the Swachh Bharat Abhiyan, a five-year mission launched with great fanfare in 2014 coinciding with the 150th birth anniversary of Mahatma Gandhi took wing nationally because Narendra Modi made it his signature policy. Even then, we will be far from a 'clean India' by this yearend because of citizenry apathy. Hopefully, he will do better with putting a stop to the use-once-and-discard plastic items.
On the Independence Day speaking from the ramparts of Red Fort, Modi said: "Can we free India from single use plastic? The time for implementing such an idea has come. May teams be motivated to work in this direction." Earlier on the World Environment Day in 2018, the then minister for environment, forest and climate change Harsh Vardan said attempts would be made to phase out use of single use plastic by 2022. Not unexpectedly, nothing worth telling has happened since the minister spoke. Except for a good number of states notifying full or partial ban on single use plastic.
But as is not uncommon in India, the state level fiat is respected more in violation than in observance. What is to be remembered is that the petrochemical industry has a strong lobby and this is the reason why violations happen with impunity. Is it any surprise then that the country's leading retailers such as Big Bazaar, Reliance Retail and V Mart are far from being environment friendly as they continue to give buyers the bought items in plastic bags? An example of the triumph of convenience and consumer preference over keeping the environment clean.
Plastics, the emblem of postwar consumerism are described as the workhorse of modern economy. They are finding a wide range of applications because of their light weight, robustness, easy formability and price advantage over competition. Riding on these strengths, global annual production of plastics advanced from 15m tonnes in 1964 to over 350m tonnes presently. Consulting firm McKinsey says in case the present rate of demand growth is sustained, albeit defying the spasm of popular disgust against the harmful effect on environment and health, then plastics output will take a leap to 600m tonnes by 2034. Confidence about demand growth is high among producers, particularly in the US. The North American market is seeing record amounts of capacity in the pipeline.
Not surprisingly green activists and others are alarmed by the development. The concern is because not only are there emissions of enormous quantities of greenhouse gases in the course of production of plastics, the environment suffers further damage as overwhelmingly large portions of used plastics go into landfills, or are burnt or are left to litter everywhere from city streets to seashores to foothills of mountains. We do this without realising that plastics escaping the established waste collection system will be floating on the earth for centuries, all the time causing harm to the environment. The intended life of single use plastic products is not even a year but for the laxity on the part of administration in India and elsewhere they virtually get an infinite life.
A report co-authored by McKinsey, Ellen MacArthur Foundation and the World Economic Forum estimates the negative externalities of plastics at $40bn, including pollution impact and that is more than the industry's annual profits. The report gives the warning that if the future demand growth for plastic products remains at the current rate then the global plastic-waste volume will climb to 460m tonnes a year by 2030 from 260m tonnes in 2016. The present waste volume is already a major environmental concern. But the waste size forecast for the future will take the problem to "a whole new level," says the report. A chart prepared by culling information from multiple sources shows the recycle rate of plastics at lower than 40 per cent compares poorly with steel at 80 per cent, aluminium cans and glass at 78 per cent and beverage carton at 43 per cent. What particularly raises despair is the rate of recycling rate at a pathetically low of 10 per cent for polyethylene, which is the most commonly produced plastic.
As against the growing public discontent over the poor rate of plastic recycling, the World Steel Association and International Aluminium Association are upholding the virtues of circular economy under which not only the end of life metal products are collected and shredded for recycling but facilities have been built in production systems for optimum reuse of water and energy. Public anger besides that is forcing more and more governments to take action against single use plastics – as many as 127 countries have either banned or levied taxes on disposable plastic bags – the industry will have to contend with competition emerging from alternative biodegradable products such as wood fibre bottle, recently unveiled by brewer Carlsberg. Is it not time for jute goods makers to put their house in order to regain the market lost to plastic bags used in packing foodgrains and sugar? Unfortunately, ownership of jute mills, except for a few, has moved from respectable corporate houses to traders who lack foresight.
Modi hasn't spelt it out in any detail, but his angst must be occasioned by almost a third of all plastic packaging leaks amounting to more than 8m tonnes a year finding its way into the oceans polluting waters. No wonder we read frequently reports of marine species such as whales, turtles and fishes perishing due to their unwittingly ingesting plastics thinking these to be food and choking themselves to death. To everyone's horror, microplastics have been found in the remote reaches of the Arctic. Not only in tap water, but plastic fibres are found in more than 90 per cent of bottled water.
No wonder then plastics manufacturers are finally trying to find fixes of popular concerns. Some independent companies are working on breaking down plastics into their components for conversion into new materials. Scientists say waste polyethylene is a potential carbon source that could be made into value added polymers. Noticeable progress has been made in laboratories to turn waste plastics into a pliable wax like substance to which then is added other elements resulting into bioplastics. We don't have at this point any estimate of how much of waste plastics in India could be recycled. But developed countries are targeting 70 per cent recycling by 2030. McKinsey has recommended decoupling of plastics from fossil feedstocks by way of exploring and establishing renewably sourced feedstocks. But this will be a journey which will meet with serious opposition from the powerful oil industry.