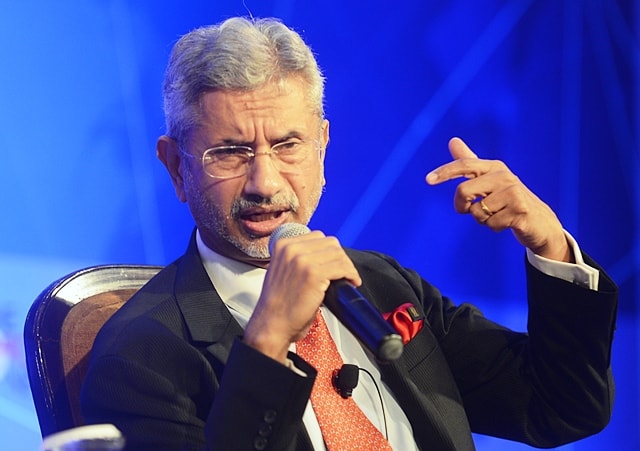 OPINION
OPINION
Can Jaishankar Pass Muster As A Politician?
<![CDATA[
As Subrahmanyam Jaishankar joins a select group of diplomats-turned-politicians, a bigger challenge awaits him on the political front
It is fascinating the way the world forms a significant part of an Indian's life, despite a vast terrain and diversity of its own. Having sailed and traded in the past, sent soldiers in the two World Wars and huge diasporas have helped in developing this worldview. Despite the traditional curse on crossing the seas, 'Vilayat' not necessarily the West, has always ignited aspirations.
Post-independence, it is equally fascinating that although foreign policy as such has rarely impacted domestic political/electoral discourse, foreign affairs players, including retired diplomats, belonging to one of the smaller central government services, have participated in it, rather disproportionately when compared to, say, lawyers and farmers who have dominated the political scene.
Prime Minister Narendra Modi's choice as External Affairs Minister of Dr Subrahmanyam Jaishankar, who retired as Foreign Secretary last year, is the latest move. It will majorly help in foreign policy formulation in very challenging times.
As India led the de-colonization process, first prime minister Jawaharlal Nehru, deeply conscious of its place in the comity of a post-war world, was his own foreign minister. His successors did have cabinet rank external affairs ministers, some of them really erudite, but the PM and the PMO have had the final word on policy matters.
Inputs coming from foreign office and their contributors have always been crucial irrespective of the PM and his/her personality. Indira Gandhi had P N Haksar as her principal secretary and Rajiv Gandhi had three bright diplomats in his PMO. Narasimha Rao piloted an India without the friendly Soviet Union and launched the Look East Policy. I K Gujral was a diplomat-politician first before becoming the premier and Manmohan Singh worked the economy at home and at global conferences before taking up the big post. He was heard with respect during the 2007-2008 global economic slowdown.
Let it be stressed that in this politician-officer combine, most officers have left final decisions to politicians. With valuable insights and inputs coming from foreign affairs practitioners, the final say, as in military affairs where men in uniform matter, has always rested with the political leadership. And that is how it should be in a democracy where the politician, unlike the official, is elected and answerable.
In that sense, Jaishankar's task will not be very different. The difference will be in deeper, bolder foreign office inputs.  
Jaishankar joins a select group of diplomats-turned-politicians. At the top is K R Narayanan. A Nehru-pick, he moved from diplomacy to academics (Vice Chancellor, Jawaharlal Nehru University) to be a minister, then as the Vice President and finally, the President.
Hamid Ansari's trajectory was similar, as vice president via vice chancellorship of Aligarh Muslim University. Incidentally, he held office when Meira Kumar, a middle-level officer in the foreign office, was the Lok Sabha's first woman Speaker. She has won and lost the Lok Sahha seat her father, Babu Jagjivan Ram, represented.    
Arguably though, the PMO route to politics is discernible. A solitary M L Sondhi, groomed in Nehru's PMO, chose to join the opposition. Kunwar Natwar Singh, once in Nehru's PMO, was external affairs minister in Manmohan Singh's government along with Mani Shankar Aiyar, who was in Rajiv's PMO. Some who did not join politics, got key postings post-retirement.
Although a complete 'outsider' at the foreign office, Shashi Tharoor was groomed at the United Nations. He fought Ban-ki-Moon valiantly before losing the Secretary General's post. A junior minister supervising foreign office under Manmohan Singh, he has been re-elected to the Lok Sabha for the third time.
Close to foreign office but in many ways more powerful has been the position of the National Security Advisor (NSA) — because there is only one such office! Former diplomat Brajesh Mishra, the first NSA enjoyed proximity with then premier Atal Bihari Vajpayee. He overshadowed ministers Jaswant Singh and Yashwant Sinha.
The post was ably held by two other retired foreign secretaries, J N Dixit and Shivshankar Menon. Indeed, it has alternated between retired diplomats and intelligence sleuths for good reasons. M K Narayanan held that post. Jaishankar will work in tandem with Ajit Doval, the NSA who has just got a five-year extension and cabinet rank.
New to national arena and to diplomacy when he became the PM, Modi has since befriended many world leaders, not without crucial inputs from his envoys. He also placed his faith in another retired ace diplomat, Hardeep Singh Puri, a minister in his government.
His foreign office choices during the first tenure included Jaishankar, recalled as ambassador to the US to be the Foreign Secretary, even sacking incumbent Sujata Singh in the process. Navtej Sarna moved briskly from the high commission in London to Washington and Syed Akbaruddin, the ministry spokesman moved to the higher post of Permanent Representative at the United Nations.
As the first retired foreign secretary to head the same ministry, Jaishankar will be on familiar turf and will be Modi's chief foreign policy executioner. His USP is being son of and having learnt baby steps and more from late K. Subrahmanyam, doyen of India's national security community.
His global perspective can be judged from the languages he knows. Besides English, he speaks Tamil, Russian, Hindustani, Mandarin, Japanese and Hungarian. His first posting was at Moscow. He worked the US as Joint Secretary (Americas) negotiating the civil nuclear treaty. When Donald Trump's victory alarmed the world and even diplomats turned undiplomatically abusive of him, as India's Foreign Secretary, Jaishankar advised that it was essential to "understand and assess" Trump.
He should help Modi to consolidate and further deepen Indo-US ties, something his father would have approved. He has already hit the ground running what with Trump ending India's preferential trade concessions.
Jaishankar is also a solid China hand, having been the ambassador in Beijing and worked with other China hands, Shivshankar Menon and Nirupama Rao. With Vijay Gokhale, the current foreign secretary and one who succeeded him as ambassador to China, he should make a formidable team.
With his appointment, Modi has sent a clear signal to both Washington and Beijing amidst a fierce trade war. Jaishankar's stints in Prague and in Singapore and at some stage, in Tokyo, should help India play its cards well in a complex world.
Along with proximity to the US and a careful balancing act with China. India will continue to stay away from Beijing's signal Belt and Road Initiative.
The Quad framework derives its geopolitical validation from India's association and presents a unique opportunity for India to be an active participant in shaping regional security architecture with global undertones. This emphasis on Indo-Pacific is expected to be strengthened in his second term.
Surely, the other regions will also receive his stamp. The 'Neighbourhood First' and 'Act East' policies are expected to continue with greater vigour.
As for Pakistan, Modi in his second term is bound to continue with a muscular approach. He may mend relations only if there is visible change in its current policy of exporting terrorism to India. To prevent Uri, Pulwama and Pathankot, and respond if they do recur, is the challenge for the Jaishankar-Doval duo.
In political terms, Jaishankar, the only minister not elected to either house of parliament, will need to get elected to one. And lacking political experience, will have to face the Opposition. But more important is his place in the Cabinet Committee on Security, the core policy making body that Modi chairs.
The writer can be reached at mahendraved07@gmail.com