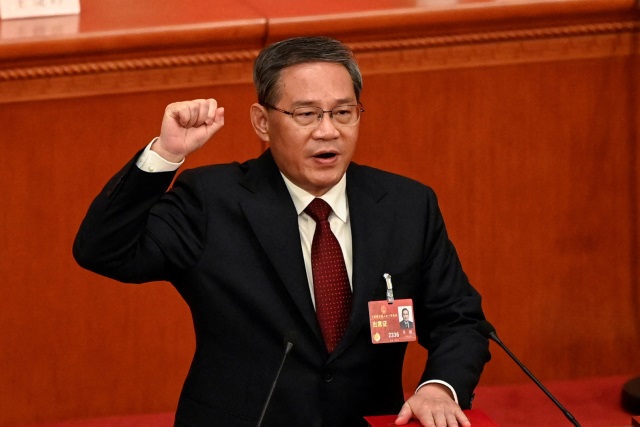 LM NEWS 24
LM NEWS 24
Can Li Qiang Deliver On Chinese Economy Front?
President Xi Jinping named Li Qiang, a close confidant, as the country's next Premier, nominally in charge of the world's second-largest economy, now facing some of its worst prospects in years. He takes on the job even as the authority of the Premier and the State Council, China's Cabinet, has been steadily eroded by Xi as he shifts more powers to bodies directly under the ruling Communist Party.
Qiang Li is known for overseeing Shanghai's harsh COVID-19 lockdown, which had major economic consequences. His promotion shows that loyalty to Xi now seems to matter more than competence in economic governance. Moreover, unlike previous Premiers, Li has had never held office at the national level before being elected to the Chinese Communist Party's top leadership. Questions are being raised over his experience in running China's vast economy, given that he skipped the traditional intermediary step of serving a term as Vice Premier before becoming Premier.
Chinese Premiers have traditionally been in charge of the Chinese economy, but this position has been weakened under Xi, who centralized power over the past decade. As Premier, Li oversees the State Council, Xi has deprived him of substantive powers by, for example, strengthening the party's Central Committee for Financial and Economic Affairs.
Many overseas analysts believe that Li, who was Xi's de facto chief of staff in Zhejiang province from 2004-07, will mainly play the role of implementer, rather than be tasked with reshaping the country's development course. In the long run, few expect Li to be able to resurrect the strong reformist premierships of the past, such as those of Wen Jiabao under Xi's predecessor Hu Jintao, or Zhu Rongji under the late president Jiang Zemin.
Xi, ever careful about his position at the head of the party, is expected to keep Li on a tight rein. The potential for unpredictability is going to remain a chronic risk with Xi in charge and especially with a leadership team comprised entirely of his allies. China's economy grew just 3 per cent last year, and on the opening day of the NPC, the Government set a modest growth target of about 5 per cent for 2023, its lowest goal in nearly three decades.
Li's top task this year will be beating that target without triggering serious inflation or piling on debt. While China has not signalled plans to unleash stimulus to jump-start growth, potential setbacks such as a collapse in exports or persistent weakness in the property sector could force Li's hand. Li can make some repairs here and there, but he is not expected to tear down the wall and build something new. It is unlikely that Li Qiang would serve as a counterweight to Xi's efforts to control the economy.
It is very doubtful whether Li himself will have the authority to further develop Deng Xiaoping's reform and open door policy, the decades-long process of opening up that has appeared to be threatened under Xi. Historically, Li has shown himself to be a pragmatist with a strong business-oriented mindset. Still, his relatively low profile until recently has left the market scrambling for signs or indications of how he would manage far more sophisticated domestic issues while countering US decoupling pressure at the central-government level.
Questions remain over how he is likely to reconcile his policies with Xi's long-term targets of self-reliance and shared prosperity, and how far he could push the reform of the fast-ageing and debt-ridden economy to bring back sustainable growth in the face of external headwinds.
All eyes would be on how Li will shape the economic policy as the economy navigates a growing array of challenges, including sluggish consumption, rising unemployment, a downturn in the housing market, lack of business confidence, local governments' debt distress, an ageing population and increasing tension with the US over technology sanctions. In addition to lingering economic headaches, he will face an urgent need to prevent overseas orders from falling, while also considering contingency plans if relations keep deteriorating with some of China's top export destinations and sources of technological expertise.
Xi's new term and the appointment of loyalists to top posts underscores his near-total monopoly on Chinese political power, eliminating any potential opposition to his hyper-nationalistic agenda of building China into the top political, military and economic rival to the US and the chief authoritarian challenge to the Washington-led democratic world order.
Xi's choice of appointees indicates that China's economic prospects increasingly depend more on politics than supply and demand dynamics. Party cadres and officials at all levels of government will likely prioritize loyalty to Xi rather than the commitment to reform and opening up initiated by China's last transformational leader, Deng Xiaoping, in 1978.
The weakened position of economic expertise is readily apparent in the new Politburo and its Standing Committee. There is actually precious little systematic economic knowledge among the members of the Standing Committee. (ANI)
Read More Article: http://13.232.95.176/