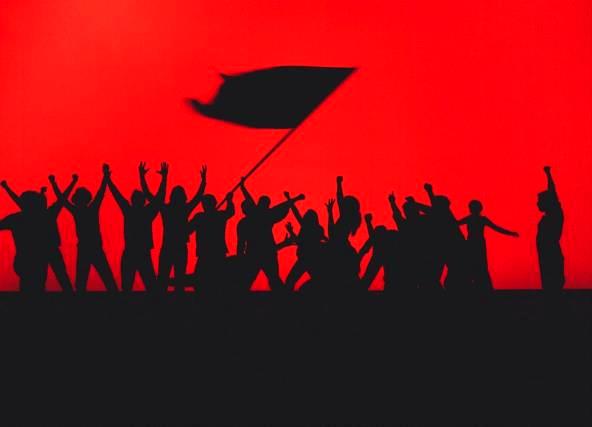 OPINION
OPINION
Can Socialism Find Its Feet?
After President Donald Trump, Republican Party candidate for next month's presidential election has used the term 'socialist' to demonize his vice presidential adversary Kamala Harris, it is time to ponder over what has become, and future role of the socialists, and not just in the United States.
It is not that the rival Democrats are pushing the world's biggest capitalist powerhouse towards socialism. Even Bernie Sanders was edged out of the race for fear of annoying among others, the business and industry, the multinationals and the arms and energy exporters.
Any debate on democratic socialism or such other ideological issues has been overshadowed by a myriad day-to-day issues about the American people and their place in the world affairs. We will know which way they will vote next month, and hope Vox Populi prevails – peacefully and smoothly.
While this is the state of the world's 'greatest' democracy, the 'oldest' set the trend earlier with thrashing the Labour under Jeremy Corbyn received in the last British elections. People rejected Corbyn's democratic socialist platform.
The two powers have, however, often combined forces to thwart the rise of any socialist leader or party with centrist or left-of-centre leanings in the vast developing world. Many nations remain under their thrall, gaining little, and some that they have intervened in, directly or through proxies, are virtually ungoverned, or are ungovernable. Western democratic yardsticks are applied to judge them. But a demagogue/dictator is okay if he is pliable and buys arms and technology.
To my poser last year about end of the era of liberals, I add socialists, although it's not that all liberals are socialists and vice versa. And they have themselves to blame. But consider socialist republics that have adopted the capitalist course for economy while retaining political controls. Or, the growing number of 'nationalist' leaders who take the democratic course to win elections and then trample upon political opponents, civil society and media. They justify their actions, varyingly, in the name of "popular will," 'mandate', "national security" and call their critics 'traitors'.
If the 'greatest' and the 'oldest' are working on their agendas, what about the 'largest'? This, again, is pertinent to ask. India has baffled the world with its long tradition of socialists of various hues deeply embedded in its body politic. Even before the socialists, the communists have also held sway for a century now, if the 1920 textile mills' strike is considered their beginning.
Both are on the back-foot today even as a communist-led government runs Kerala state. The Left Front ruled two other states, West Bengal and Tripura and had 60 in the Lok Sabha alone till only a decade back. They are now reduced to three in the Lok Sabha, five in the upper house and roughly a hundred state legislators.
As for socialists, the only party flaunting the 'Samajwadi' label has five members in the Lok Sabha and eight in the Rajya Sabha, but is out of power in Uttar Pradesh, its only bastion, and its numbers will dwindle.
The rest, their legislative strength ebbing or non-existent, have got themselves embroiled in caste-driven politics. Whatever work on the ground, as with the communists, is being done by dedicated individuals and bodies that are about the last hope for the poor, but have no role and with their cadres fleeing, no say in the electoral game.
But then, India's socialists had been a spirited lot, displaying a bohemian streak, living austere lives, wearing home-spun khadi without the laundry-washed starch unlike the Congressmen and interested more in agitating than seeking power.
They had a bright place under the political sun in the early years post-independence. The 'progressives' of both the communist and socialist variety held sway over the cultural world, contributing some of the best literature in ink, on political platforms and on celluloid. They influenced the minds of generations of people across South Asia and wherever Hindi/Hindustani/Urdu was understood. They ignited minds, but as time passed, do not win votes, if that is the yardstick of their success. They failed to offer electoral options or political alternatives in policymaking.
As a political force, the socialists have always been badly organised and remain divided, often fighting each other. The political lore in the last century was that they cannot stay united for more than two years — and cannot stay divided for over three.
They began as part of the Congress during the freedom struggle against the British, but moved away from it under Jayaprakash Narayan and Ram Manohar Lohia. They became disillusioned, even angry, with Congress' Prime Ministers Jawaharlal Nehru and later Indira Gandhi. Visceral anti-Congressism became the fulcrum on which much of the socialists' politics evolved.
Yet, hundreds of them, like George Fernandes, must be credited for fighting the Indira-imposed Emergency (1975-77). Fernandes' railway strike call shook India. Chandra Shekhar who could have compromised with Indira, refused and went to jail with fellow-socialists like Madhu Limaye and Madhu Dandavate. They are all gone, leaving behind lesser leaders.
When the Janata experiment failed, those of the right-wing orientation consolidated and are now in power. But the socialists got embroiled, happily, in caste-driven politics. And to survive, joined the Bharatiya Janata Party bandwagon – if only to spite the Congress and bypass the communists.
Mulayam Singh Yadav, ageing and ailing and side-lined by son Akhilesh, is one of the last of this lot. Bihar's long-time chief minister Lalu Prasad Yadav is imprisoned for graft. His wife and squabbling sons are conducting the current election campaign in Bihar.
Dalit leader Ram Vilas Paswan routinely switched sides to survive and be a minister in most governments in the last two decades. He died this month, leaving the Bihar fight to son Chirag. The common ally-turned-adversary of them all, Nitish Kumar, is fighting to retain his chief ministership of the state. There was nothing socialist about his opposing Modi and then switching to his side.
Although with socialist roots struck deep during the movement led by Japrakash Narayan (JP), none of them is text-book socialist. They are all dynasts who have done well for themselves. Hindi-speaking India remains poor, backward, and lawless – no matter who rules.
Their gambit of forging vote-winning caste-combinations failed in Uttar Pradesh and is now under test in Bihar in the face of the BJP's Hindutva onslaught. Their wooing other backward castes (OBCs) has also been neutralised. Their Muslim support base also stands impaired, despite vigilante-led violence and government apathy.
Sharad Yadav who sought to strike a different course is ill. He had scored a shock Congress defeat way back in 1974 and shot to national fame. Today, Subhasini, his daughter and political heir, is contesting on the Congress nomination. The circle is complete for at least this socialist.
Can a Biden-Harris victory in the US or a Nitish/BJP defeat in Bihar bring the socialists back on the track? Perish the thought.
The writer can be reached at mahendraved07@gmail.com