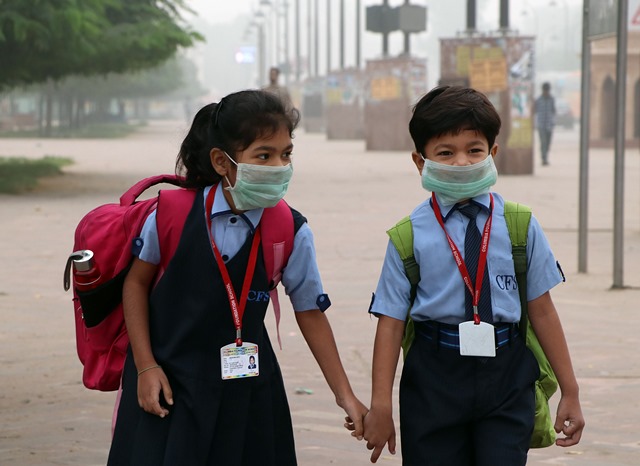 OPINION
OPINION
Capital Smog: Why Aren't Delhi Citizens Rising Up?
"Before you talk about ease of doing business, please do something about ease of living", this comment on twitter aptly sums up the plight of Delhi residents who have been exposed to a serious public health crisis in the Capital with the air quality touching dangerously high levels of toxicity in recent days.
The Indian Capital and its surrounding areas are enveloped in a blanket of thick smog every year. But the situation has been getting progressively worse. This year, pollution levels hit a three-year-high, converting the Capital into a veritable gas chamber.
The smog in Delhi starts thickening around Diwali time when the lingering smoke from the firecrackers burst during the festivities, local emissions, and stubble burning in the neighbouring states of Punjab and Haryana contributes to the worsening air quality. It is estimated that as many as 25,000 fires are lit by farmers in a short span of a fortnight in Delhi's two neighbouring states who are in a rush to destroy the straw on their fields so that they can prepare for the next sowing season. This results in the emission of carbon monoxide and other such deadly and poisonous gases.
This season, the air quality indices hit a three-year high. Exposure to this polluted air left Delhi residents wheezing, choking and sneezing. After a days of battling highly toxic air, there was some respite on November 4 but the damage wrought over the past ten days could not be undone. Doctors estimated that there has been a 25 percent increase in the number of patients suffering from respiratory problems during this period. This forced the government to declare a public health emergency and shut schools so that young children were not exposed to the spiking pollution levels.
On November 4, the Arvind Kejriwal-led Delhi government introduced its odd-even scheme for vehicles, hoping that its decision will help improve the Capital's air quality as vehicular emissions are also a major contributor to the rising pollution levels. However, there is all-round skepticism that this move will have any major impact as two-wheelers, a major source of vehicular pollution, have been exempted from this scheme. Kejriwal's announcement is, at best, being viewed as a gimmick in the run-up to next February's Delhi assembly elections.
The Indian media, which is normally fixated on Kashmir and Pakistan, has been forced to take note of this serious health crisis. There has been extensive coverage about the pollution menace but surprisingly, the people have not reacted as strongly as they would be expected to in view of the enormity of the problem. It is true more people are buying investing in air purifiers while many more are seen wearing protective masks but the city, by and large, appears to have accepted the high pollution high levels as an annual feature and a passing phase.
It is primarily because of this lack of urgency or anger displayed by the people that the political class has not dealt with this problem with the seriousness it deserves. The truth is that political parties will not be pushed into taking note of a public health issue like air pollution unless it can win or lose them an election.
Consequently, politicians have been making bizarre statements which only reflects their insensitivity to this pressing issue. While health minister Harshvardhan has suggested that people eat more carrots to fortify themselves against the debilitating effects of poor air quality, an Uttar Pradesh minister has advised Delhi residents to organize yagnas to clear the air.
Politicians have also been busy indulging in a blame game. Delhi chief minister Arvind Kejriwal first charged that the Punjab and Haryana governments had not taken sufficient measures to put an end to stubble burning in their states but subsequently shifted the blame to the Modi government, saying it should step in at the earliest to deal with this the problem as it involves several states.
A defensive Punjab chief minister Amarinder Singh started off by accusing Kejriwal of spreading lies about Punjab being responsible for the spike in pollution levels in Delhi but, later in a letter to the Centre, admitted that stubble burning in Punjab had led to the smoggy conditions in the Capital. However, he asked the Modi government to come up with a permanent solution to this problem in consultation with the concerned state governments, stating that the Centre had not accepted his government's proposal to provision for a bonus to farmers for stubble management.
"Is it not your government's task, Mr. Prime Minister, to search for that permanent solution, in consultation with all the other stakeholders, including Punjab, Delhi and Haryana?" Singh asked.
While Amarinder Singh may have shifted the blame to the Modi government, it is now an accepted fact that the changing sowing and harvesting patterns in Punjab are the root cause of growing pollution levels in Delhi. Farmers have gone in for large-scale cultivation of paddy which consumes huge amounts of water, resulting in the depletion of the state's underground water levels.
In an attempt to arrest this the alarming decline in its water table, the Punjab government passed a law in 2009 banning the sowing and transplanting of paddy from May-June to later so that the irrigation needs of the farmers are met by the monsoon rains. This means that farmers now burn the paddy stubble in late October and early November when wind speeds in Delhi are slow and the noxious gases get trapped in the atmosphere.
This is not a new revelation and has been known to the Centre and the state governments but neither has initiated any steps to deal with this issue seriously as no political party wants to be on the wrong sides of the farming community. It was after a lot of prodding that the Cabinet secretary Rajeev Gauba conferred with officials from the Punjab and Haryana governments last week but these deliberations ended by merely asking the states to monitor the situation. Meanwhile, it was left to the Supreme Court to intervene in the matter. Describing the Delhi condition worse than an "emergency", the apex court asked the concerned state governments to put an immediate end to stubble burning and warned that those who violate this direction will be hauled up.