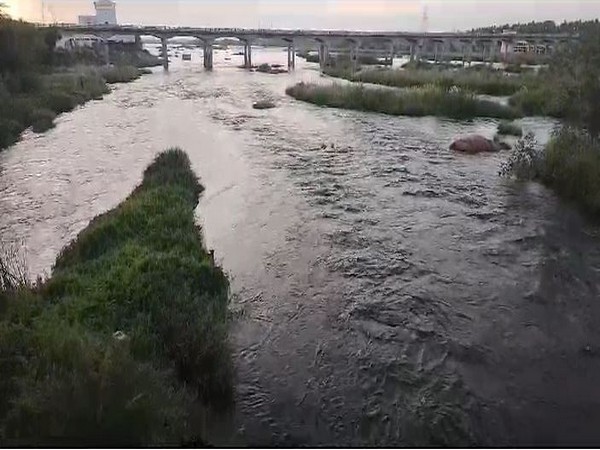 LM NEWS 24
LM NEWS 24
Cauvery Row: CWRC Directs K'taka To Ensure Release Of 3000 Cusecs Of Water By Oct 31
The meeting of the Cauvery Water Regulation Committee (CWRC) has decided that Karnataka has to ensure the release of 3000 cusecs of water starting October 16 till October 31, said a CWRC statement on Wednesday.
According to the statement, CWRC during its 88th meeting today made crucial decisions regarding water allocation and shortages pertaining to the ongoing Cauvery river water dispute between Karnataka and Tamil Nadu.
"After deliberation, the Cauvery Water Regulation Committee (CWRC) reached a decision. Karnataka has been mandated to ensure the release of water from its reservoirs in such a manner that the flow at Biligundlu is maintained at 3000 cusecs. This directive is effective from 8 am on October 16, 2023, and is to be upheld until October 31, 2023," the statement read.
Karnataka in its presentation expressed its inability to release water to Biligundlu, except for contributions from the uncontrolled catchment.
As per the statement, Karnataka presented a concerning report, indicating a substantial 50.891 per cent shortfall in cumulative inflows to its reservoirs up to October 10, 2023. This shortfall was attributed to extreme hydro-meteorological conditions, it added.
While Tamil Nadu, recognizing the severity of the situation, made a formal request to Karnataka.
They urged Karnataka to release 16,000 cusecs of water for the next 15 days, the statement added.
Earlier in September this year, the Cauvery Water Regulation Committee ordered Karnataka to ensure the release of 3,000 cusecs of Cauvery water at Biligundlu starting from September 28 till October 15, 2023.
Karnataka filed a review petition against the order both in the Supreme Court and in Cauvery Water Management Authority (CWMA).
Karnataka government had cited a severe drought in parts of its state to refuse the supply of water to Tamil Nadu. Karnataka Deputy Chief Minister DK Shivakumar on October 5 said that cumulative inflows into the reservoirs in Karnataka's Cauvery basin are decreasing.
Meanwhile, the Tamil Nadu Assembly on Monday, October 9, 2023, adopted a resolution urging the Union government to direct Karnataka to release Cauvery water as per the orders of the Cauvery Water Management Authority. The resolution was passed unanimously.
The governments of Karnataka and Tamil Nadu have been locked in a protracted tussle over the sharing of Cauvery waters. The river is seen as a major source of sustenance for the people in either state.
The Centre formed the Cauvery Water Disputes Tribunal (CWDT) on June 2, 1990, to adjudicate disputes between Tamil Nadu, Kerala, Karnataka, and Puducherry with respect to their individual water-sharing capacities. (ANI)
Read More: https://lokmarg.com/