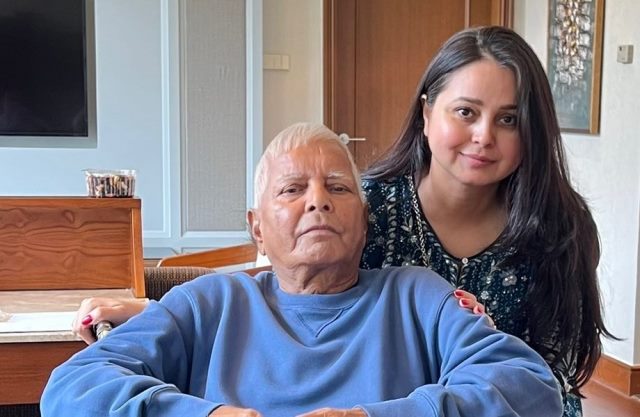 LM NEWS 24
LM NEWS 24
CBI Greets Lalu On Holi, RJD Leader Offers Sweets
By Ashoke Raj
After around six hours of CBI questioning with former Bihar Chief Minister Lalu Prasad Yadav in the land-for-jobs scam, Holi wishes were exchanged between the agency officials and RJD supremo.
When the agency officials were leaving his residence, Lalu Yadav offered Gujiya (Holi festival sweets) to CBI officials who were questioning him at his residence in Pandara park in the national capital.
"However, the CBI officials denied to have Gujiya citing agency protocols," sources told ANI.
He further said that the agency video-recorded the questioning of RJD chief Lalu Yadav.
"However, the exchanges of Holi greetings happened informally after the end of the questioning," he added.
Lalu Yadav, during his tenure as the union minister and also as the chief minister of Bihar, used to host Holi gatherings at his residence where the festival used to be celebrated traditionally and sweets used to be served.
Lalu Yadav is suffering from prolonged illness, especially his kidney-related ailments. After a kidney transplant in Singapore, he returned to Delhi.
Yadav's family had asked CBI officials to maintain adequate distance and use masks during questioning.
"Lalu Yadav has a kidney transplanted recently and it is necessary to maintain sufficient distance and wear the mask because Lalu Yadav is at risk of infection and allergy," the source told ANI.
A day after reaching former Bihar Chief Minister Rabri Devi's residence, the Central Bureau of Investigation (CBI) questioned Yadav on Tuesday in connection with the alleged case.
Earlier, a CBI official had said that the central agency had served notice to Yadav a few days ago and is likely to question Lalu Yadav soon.
CBI had filed the chargesheet in October last year, against former Bihar chief ministers Lalu Prasad Yadav, Rabri Devi, their daughter Misa Bharti and 13 others in the land-for-jobs scam.
The chargesheet stated that during the investigation, it was found that the accused in conspiracy with the then GM Central Railways and CPO, Central Railways engaged persons as substitutes in lieu of land either in their name or in the name of their close relatives.
This land was acquired at prices lower than the prevailing circle rate and much lower than the market rate. It was also alleged that the candidates have used false TC and submitted false attested documents to the Ministry of Railways, said the CBI statement.
The alleged scam occurred between 2004 and 2009 when Lalu Yadav was the Railway Minister. Apart from the Rashtriya Janata Dal (RJD) chief, the chargesheet also includes the name of the then Railway General Manager.
CBI stated that the investigation had revealed that the candidates were considered for their engagement without any need for substitutes and there was no urgency for their appointment which was one of the main criteria behind the engagement of substitutes and they joined their duties much later from the approval of their appointment and they were subsequently regularised.
Recently on February 27, while taking cognizance of the CBI chargesheet, Delhi's Rouse Avenue Court issued summons against Lalu, his wife Rabri Devi and 14 others in connection with an alleged land-for-job scam. (ANI)
Read More:http://13.232.95.176/