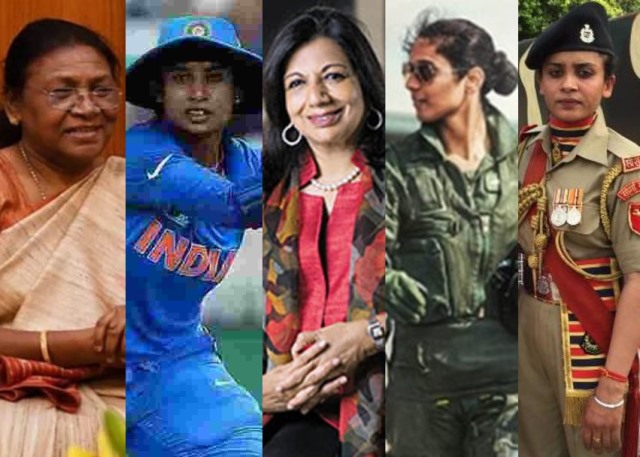 OPINION
OPINION
Ceiling Glass: Half-Full Or Half-Empty
In the week Droudadi Murmu was declared elected as India's second woman President, Delhi's Class XII results were out. As usual, the girls topped. Among the successful students, 95 percent were girls, leaving behind the boys at 91 percent.
That same week, the Indian Institute of Management (IIM), Raipur in Chhattisgarh, scored a remarkable first, even for the reputed IIMs. It admitted more girls than boys to its flagship postgraduate management course for the 2022-24 academic session.
It has 205 girls against 125 boys. Of the students enrolled for its two-year course in the current academic session also, 62 percent were girls and 38 percent boys. The selection process was gender-blind.
At the older IIMs, considered India's best B-schools, for decades, women have had a marginal, almost a token presence. But a silent revolution may be brewing at some of the younger IIMs that are now raising the bar on gender diversity and helping women smash another male bastion. Leading it, not unexpectedly, is Kerala's IIM Kozhikode, says a report.
In the coming years, managers and managements will need to adjust to the idea of being ruled – and overruled – by women. It is not going to be easy given India's deeply patriarchal culture. Even as women's managerial workforce grows, the change in attitude so far remains superficial.
Of course, there are Indian women politicians, astronauts, athletes and writers, who can be role models for young women. But they entirely reflect individual endeavour and in some, family and/or institutional support. Economic (same work, equal pay) and social inequalities still prevent many women from fulfilling their potential.
As the hype goes, India "breathes, eats, drinks" cricket. But it has been confined to men. Now, well-deserved, but much-delayed, recognition has gradually come to women's cricket. A film on Mithali Raj, who captained the Indian women's team at the World Cup, Shabash Mithu has not done too well, though. But evident of recognition is the warm send-off Indian women's cricket team received as they left for the Commonwealth Games 2022 at Birmingham. But this new-found limelight may vanish if the team returns without honours.
Still confined to their traditional homemaker role, women now think for themselves. Indeed, juggling with the two roles is their biggest challenge. This is their litmus test; not so much their managerial or innovative skills. Read any media interview they give.
Pilots, soldiers, film-makers and many more areas see an increase in women workforce. It is more visible in entrepreneurship, and the new buzzword is startup. As of July 19, India is home to 105 unicorns – (each worth one billion-plus dollar, but not listed on the stock exchange) with a total valuation of $338.50 billion.
ALSO READ: Muslim Women Can Positively Impact Indian Indicators
That makes India South Asia's shining beacon of startups. Over 150 unicorns are projected by 2025. The exciting part is the lead being taken by women, either individually, or as husband-wife team. Many, though not all new "startup stars", are women who are not family members of the established ones headed by male entrepreneurs.
These pioneers contribute to women's empowerment and economic growth but also bring their unique set of skills and expertise – different from men – to the work environment.
To the known names like Kiran Mazumdar Shaw (Biocon) and Vandana Luthra (VLCC), add more – Aditi Gupta, Anisha Singh, Shradha Sharma, Upasana Taku, Ghazal Alagh, Neeru Sharma and Sugandha. But the list for the year 2022, about 35, is still modest. On the other hand, this is confined to two cities. Only Bengaluru (rank 40th) and Delhi (at 50th) have made it to the list of the 50 most favourable global places for women to work.
Overall, the movement is still nascent. According to the National Sample Survey, only 14 percent of the businesses in India are run by women entrepreneurs. Most of these companies are bootstrapped and run on a small scale. The global disparity is evident in another report which says nearly 126 million women have their own business across the globe, while Indian women linger around the eight million mark.
When you read all this, you think Indian women can push forward with a bit of encouragement. They are not, if you see the larger picture. It is glass half full. Now, read on what needs done, even if it only bullet-marks the issues.
As per a UNICEF report on India that takes an overall view, there are risks, violations and vulnerabilities girls face just because they are girls. Most of these risks are directly linked to the economic, political, social and cultural disadvantages girls deal with in their daily lives. This becomes acute during crisis and disasters.
What has been prevailing in normal times became more acute during the pandemic that has not gone away. Women at work had to manage multiple fronts, of nursing the families and keeping their jobs, working from home. It is not difficult to imagine the pressure on the lady of the house of being home, and available 24×7, feeding spouse and children, even managing the latter's online studies.
Many women work twice as many hours as men because they carry out most of the household responsibilities as well as working outside their homes. Their household work is unpaid and unrecognised.
Largely exclusive to women is poor availability of toilets. No space will suffice to write about them, although Mahatma Gandhi wrote about it in the last century and Prime Minister Narendra Modi took up eight years ago.
Perceptions about women's place in Indian society vary. As per a March 2, 2022 survey by Pew Research Centre, 23 percent Indians say there is "a lot of discrimination" against women in their country. Sixteen percent of Indian women reported that had they personally faced discrimination because of their gender in the 12 months before the 2019-2020 survey.
Three-quarters of adults see violence against women as a very big problem in Indian society. To improve women's safety, about half of Indian adults (51 percent) say it is more important to teach boys to "respect all women" than to teach girls to "behave appropriately." But roughly a quarter of Indians (26 percent) take the opposite position, effectively placing the onus for violence against women on women themselves.
Overall, Indians seem to share an egalitarian vision of women's place in society. Eight-in-ten people surveyed – including 81 percent of Hindus and 76 percent of Muslims – say it is very important for women to have the same rights as men.
Yet these views exist alongside a preference for traditional economic roles. Indians generally agree that when there are few jobs available, men should get preference to a job than women (80 percent), including 56 percent who completely agree with this statement. Majorities of both men and women share this view, though men are somewhat more inclined to take this position.
First Prime Minister Jawaharlal Nehru said: "You can tell the condition of a nation by looking at the status of its women." Six decades after he said this, the status remains uneven, heavily skewed against women in terms of health, education and opportunities.
The glass remains half empty.
The writer can be reached at mahendraved07@gmail.com