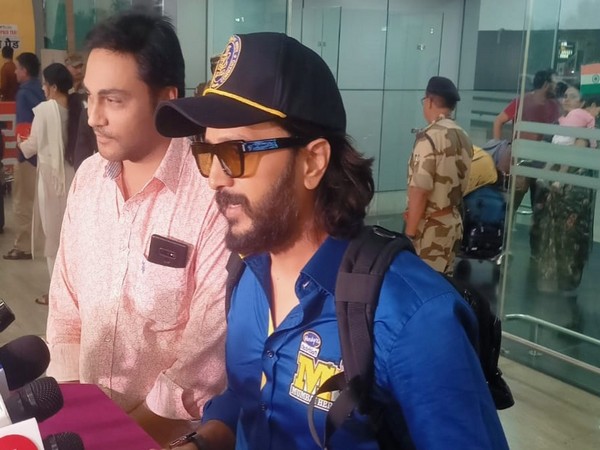 LM NEWS 24
LM NEWS 24
C'garh: B'wood Actors Arrive For Celebrity Cricket League
Bollywood actor Riteish Deshmukh has said that for the first time, the matches of Celebrity Cricket League are going to be held in Raipur and "we are very much excited about the matches"
Exhorting the public to register their presence in the event, the actor while speaking to media persons at the airport here on Friday said that matches are going to be great and people should come to cheer for us.
"Everyone loves cricket and for the first time we actors come here for this game. I hope people will enjoy this new side of their favourite artists," said Bollywood actor Aftab Shivdasani.
"We will be very happy if we get support from people," he said, adding that a better team will win.
As many as four matches of Celebrity Cricket League will be played at Shaheed Veer Narayan Singh Cricket Stadium from February 18-19. The matches will feature the participation of actors including Sohail Khan, Suniel Shetty, Riteish Deshmukh, Sonu Sood, Manoj Tiwari, Ravi Kishan, Nirahua and others.
First match of the cricketing event will be played between Telugu Warriors and Kerala Strikers on February 18 at 2:30 pm while in the second match, Chennai Rhinos will face Karnataka Bulldozers at 7 pm.
On February 19, the first match will be played between Bengal Tiger Vs Bhojpuri Dabanggs while the second match will be played between Mumbai Heroes and Punjab De Sher.
For the first time, Celebrity Cricket League will be held in Chhattisgarh and preparation for this is ongoing at war footing speed, said owner of Bhojpuri Dabanggs Anand Bihari, elaborating that four matches will be played here.
The cricketing event will provide an opportunity for the people here to have a glimpse of their favourite actors, said Bihari, adding that the matches will be very interesting and entertaining.
Bihari further informed that Shaheed Veer Narayan Singh Cricket Stadium has been formed as the home ground of Bhojpuri Dabanggs. Artists of film industries representing different languages are playing this tournament by forming eight teams. The team of Bhojpuri Dabanggs is composed of Manoj Tiwari, Ravi Kishan and Dinesh Lal Yadav while the brand ambassadors are Neelam, Mahima and Amrapali. (ANI)
Read More:http://13.232.95.176/