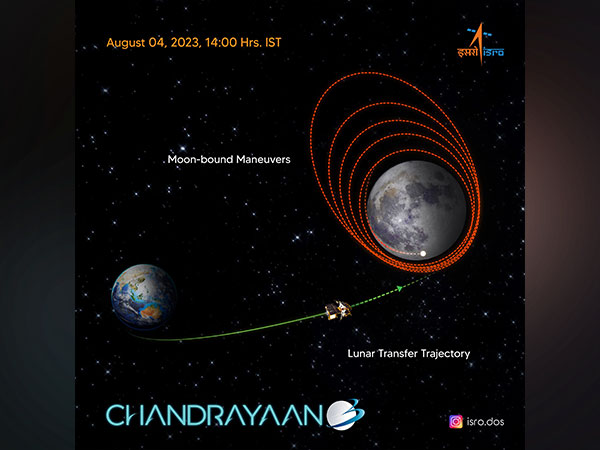 LM NEWS 24
LM NEWS 24
Chandrayaan-3: Spacecraft Covers Two-Thirds Of Distance To Moon
The Chandrayaan-3 spacecraft, which was launched on GSLV Mark 3 (LVM 3) heavy-lift launch vehicle successfully from the Satish Dhawan Space Centre in Andhra Pradesh's Sriharikota on July 14, has covered about two-thirds of the distance to the Moon.
"The spacecraft has covered about two-thirds of the distance to the moon. Lunar Orbit Injection (LOI) set for Aug 5, 2023, around 19:00 Hrs. IST," Indian Space Research Organisation (ISRO) tweeted Friday.
Chandrayaan-3, India's third lunar exploration mission, will make India the fourth country after US, China, and Russia, to land its spacecraft on the surface of the moon and demonstrate the country's abilities for safe and soft landing on the lunar surface.
The spacecraft was successfully launched onboard LVM-3 on July 14, 2023, at 14:35 IST. The spacecraft is currently undergoing a series of orbit manoeuvres with the objective of reaching the moon's orbit.
Chandrayaan-3 will take nearly 33 days from the launch date to reach the orbit of the moon. Upon landing, it will operate for one lunar day, which is approximately 14 Earth days. One day on the Moon is equal to 14 days on Earth.
Chandrayaan-3 components include various electronic and mechanical subsystems intended to ensure a safe and soft landing such as Navigation sensors, propulsion systems, guidance & control among others. Additionally, there are mechanisms for the release of Rover, two-way communication-related antennas and other onboard electronics.
The stated objectives of Chandrayaan-3 are safe and soft landing, rover roving on the moon's surface, and in-situ scientific experiments.
The approved cost of Chandrayaan-3 is Rs. 250 crores (Excluding Launch Vehicle Cost).
Chandrayaan-3's development phase commenced in January 2020 with the launch planned sometime in 2021. However, the Covid-19 pandemic brought an unforeseen delay to the mission's progress.
Chandrayaan-3 is the ISRO's follow-up attempt after the Chandrayaan-2 mission faced challenges during its soft landing on the lunar surface in 2019 and was eventually deemed to have failed its core mission objectives.
The key scientific outcomes from Chandrayaan-2 include the first-ever global map for lunar sodium, enhancing knowledge on crater size distribution, unambiguous detection of lunar surface water ice with IIRS instrument and more. The mission has been featured in almost 50 publications.
Moon serves as a repository of the Earth's past and a successful lunar mission by India will help enhance life on Earth while also enabling it to explore the rest of the solar system and beyond. (ANI)
Read More: http://13.232.95.176/