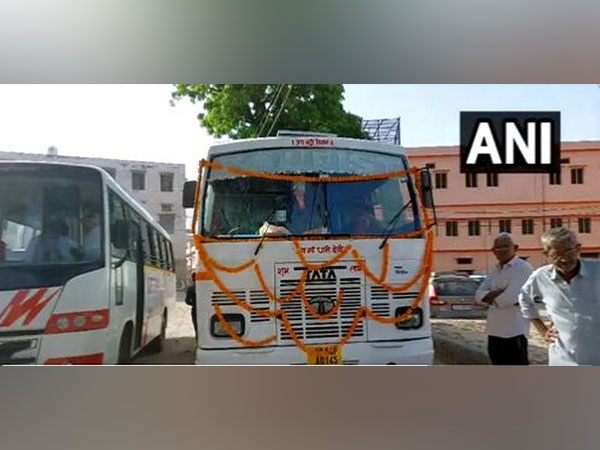 LM NEWS 24
LM NEWS 24
Char Dham Yatra: First Batch Of Pilgrims Leave From Haridwar
The first batch of pilgrims left Haridwar for the Char Dham Yatra on Saturday. The Yatra began today from Yamunotri Dham on the auspicious occasion of Akshay Tritiya.
A huge crowd of devotees gathered at Gangotri Dham as the portals of Gangotri Temple are opening today.
Meanwhile, Uttarakhand Chief Minister Pushkar Singh Dhami participated in the departure of Maa Yamuna's Doli from the Kharsali village.
A helicopter showered flower petals on Uttarakhand CM Dhami and locals as they participate in the departure of Goddess Yamuna's Doli from village Kharsali.
CM Dhami said that the Chardham Yatra began from Yamunotri Dham today and after this, the portals of Gangotri Dham will open today.
"Chardham Yatra began from Yamunotri Dham today. After this, the portals of Gangotri Dham will open today, Kedarnath Dham on April 25, and Badrinath Dham on April 27. The first puja today was held on behalf of PM Modi…Ever since he became the PM, Sanatan culture, religious places, and pilgrimages have enhanced. All of this was done under his leadership. So, the first puja was done on his behalf, because he is a devotee of all the four dams and Lord Shiva," said Dhami.
Each year, the palanquin carrying the idol of goddess Yamuna is taken out amid the chanting of Vedic hymns.
Situated at the heights of the great Himalayas, the four pilgrim destinations Yamunotri, Gangotri, Kedarnath and Badrinath are collectively known as Chardham. These religious centers draw large numbers of pilgrims each year and are the most famous hubs of religious travel across the Northern part of India.
Meanwhile, the Panchmukhi Utsav Doli of Baba Kedarnath left for the Himalayas on Friday after its winter stay in Ukhimath. Thousands of devotees have reached Omkareshwar temple Ukhimath on this occasion.
Baba's Doli reached Gupta Kashi Vishwanath temple on Friday for the first-night stay. The additional stay of this Bardoli is happening in Guptkashi. The Doli will reach Kedarnath on April 24.
On Thursday Pushkar Singh Dhami also participated in the mock exercise program organized by the National Disaster Management Authority (NDMA) for the Chardham Yatra-2023, saying that the state government has made all preparations in this regard.
"On the occasion, Chief Minister Dhami also did a virtual observation of the mock exercise being done for disaster management on the Chardham Yatra routes," an official statement read. (ANI)
Read More: http://13.232.95.176/