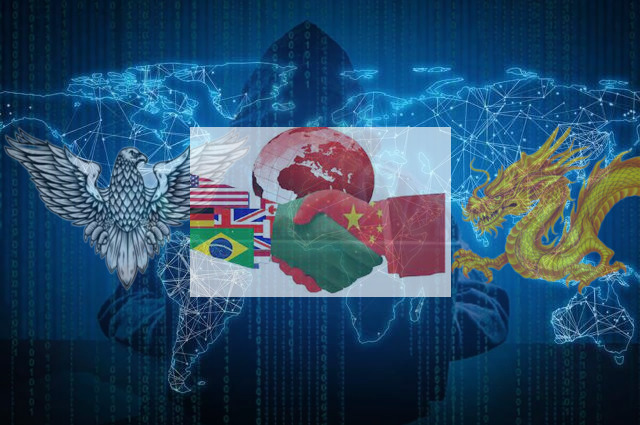 OPINION
OPINION
China And Western World – A Poisoned Relationship
If one will look at China through western eyes, then the world's second most powerful economy would come as turning increasingly authoritarian in its dealings with the citizens. At the same time, Beijing is found more and more "assertive" the way it deals with the rest of the world. The West rightly or wrongly sees manifestation of Chinese belligerence in many of its recently announced foreign relations, strategic and economic policies. All this could not have happened at a more opportune time for India, which is stretched to the extreme to guard its long border, much of it is inhospitable with its northern neighbour.
At the recent G-7 summit at Hiroshima, British Prime Minister Rishi Sunak used the two words "authoritarianism" and "assertive" with great force while likening China as the major "challenge of our age" to telling effect. In the perception of the West and all Quad (Quadrilateral Security Dialogue) member countries, not only does China use national occasions such as Labour Day and National Day to demonstrate its growing military prowess, but at all times use economic diplomacy, which often takes the shape of economic coercion.
Whatever that may be, there are several instances of China buying up resources, strategic and otherwise, particularly in Africa without the major Western countries, including the US, not noticing the development and reacting to that for an inexplicably long time. Chinese focus in Africa taking in its stride the challenges thrown in by political turmoil and serious conflicts between warring groups in several countries has been to progressively expand its role as an energy and resource extractor. As China has thereby secured long-term supply of a variety of minerals from bauxite to iron ore to copper concentrate for its gigantic minerals processing industries, it has been smart to keep on buying huge quantities of farm products from across the world to meet immediate requirements and also to build at the same time large inventories of grains to take care of supply shortfall from domestic sources at any point in future.
In fact for all its investment and trading activities China is becoming the target of increasing criticism that under the veil of global fraternity, China is primarily driven by an ambition to match the US, if not overtake it within a given time frame. The country is also accused of cornering food items to build reserves when millions in many countries do not have enough to eat and food price inflation is menacingly high.
But more often than not China is perceived wrongly is not to be contested. There is a whole set of deep-seated misconceptions about China that feeds its poisoned relationship with the West. By the time, the People's Republic of China celebrates centenary in 2049 it wants to realise the dream of becoming a "strong, democratic, civilised, harmonious and modern socialist country." Michael Pillsbury has said in his book The Hundred-Year Marathon that dream is not a "secret strategy to replace America as the global superpower." There would not have been heightened concern about threat to peace if Beijing is not found to be increasingly aggressive in the South China Sea and its designs on Taiwan and Hong Kong remain an antidote to peace. At the same time, in its defence Beijing says it is imperative for the country to keep the sea lane free and open through which is conducted international trade and undisturbed flow of commodities.
More recently, the West's disappointment with China boiled over as the country failed to come up as an ideal peace-broker in the Russia-Ukraine conflict. In the weeks and months following the Russian invasion of Ukraine on February 24, 2022, some European leaders hoped that Beijing would use its influence over Moscow to end the conflict. Furthermore, Ukraine itself wanted China to broker peace and also play a major role of the reconstruction of the war battered country.
ALSO READ: Saudi-Iran Agreement – A Victory For China
Instead to the disappointment of the West, Chinese diplomats were found campaigning through western capitals that Kyiv should push for peace by laying down its arms. What caused more distress is painting Vladimir Putin acting in self-defence. How much the West disposition to China has hardened since the start of the new phase of Ukraine war became clear at the recent conference of Stockholm China Forum. A participant at the conference captured the disturbed sentiment of Western participants when he said China's collusion with Russia has come as an "electroshock for Western governments."
Kyiv has its compulsions to hope for China playing a positive role in helping finding a solution to the war, considering its capacity to put pressure on Putin. But the Western countries will remain horror struck at any suggestion of China playing role in shaping the future security architecture for Europe. This is largely because of Beijing blaming NATO alliance for triggering the Ukraine war and also as the Economist points out for all its attempts at "promoting a world order in which individual countries seek security via shifting, values-free calculations of their interests."
From growing misapprehensions about China automatically follows the West's deliberations about de-risking its commercial ties with that country. The Chinese fear that the West may be thinking of total decoupling of their economies from it is, however, farfetched. Any steps towards that, while unthinkable are fraught with grave risks to all the concerned economies. What also has to be kept in view is that around two-thirds of the West's overall trade with China have no strategic implications. At the same time European nations are keen to deny China access to high technologies that will help it to build "advanced weapons or tools of repression."
Western investors have considerable reservations about Beijing obsession to go on tightening the security network that go the extent of punishing big ticket investors collecting soil samples before building factories. No less dangerous will be attempts to secure data relating to weather in the Taiwan Strait that should ideally precede investment in a coastal wind farm. In any case, as the world has been witnessing over the last few years more and more US and also European manufacturing groups are cutting their operational size in China in favour of other Asian destinations, including India. What steps Beijing will take to come back in the confidence of Western financial institutions and industries will be keenly watched.