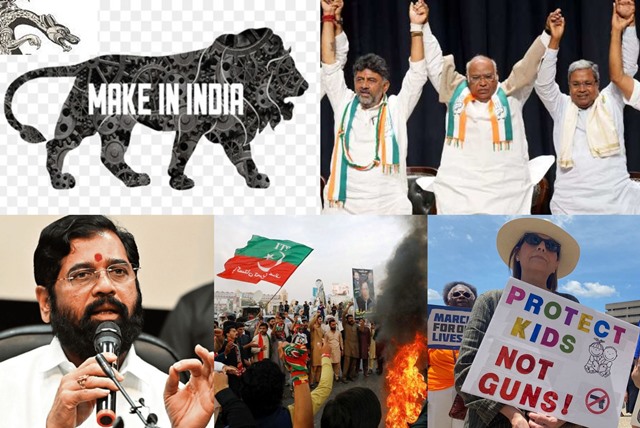 THEBUZZ
THEBUZZ
China Could Help Make the 'Make in India' Dream Come True
China could help the 'Make in India' dream come true
It is easy to slam the Indian government's policies and initiatives, particularly those related to the economy and development. The Modi government's "Make in India" initiative is one that has been the target of several brickbats. Make in India was launched by the Indian government in September 2014, barely four months after the Bharatiya Janata Party (BJP) came to power and Narendra Modi took over as Prime Minister, and it was among the earliest of the major economic policies announced by his government.
Make in India aims at encouraging companies to manufacture their products in India. The initiative is based on four pillars that have been identified to give a boost to entrepreneurship in India, not only in manufacturing but also other sectors: new processes, new infrastructure, new sectors, and a new mindset. The idea was to offer India as a base for manufacturing to both, foreign and domestic enterprises, by simplifying procedures, incentivising investments, and easing regulations.
To be fair, the Make in India model has been successful in attracting foreign direct investment (FDI). If you exclude the extraordinary circumstances during the pandemic period, FDI inflow has increased by 23% post-Covid (during March 2020 to March 2022 it was reported at $171.84 billion) in comparison to FDI inflow reported pre-Covid (during February, 2018 to February, 2020 it was $141.10 billion).
Yet, it doesn't take Indian manufacturing to anywhere near the world's largest factory, In 2022 alone, FDI flows to China reached around $189.1 billion. There is, however, a silver lining for India in what is happening in China.
China is still the world's largest manufacturer of a wide range of products, both consumer as well as industrial. Its surge to the top began in 2001 when its economy opened up and it joined the World Trade Organisation and multinationals made a beeline to invest in the country. But of late, things are changing and companies are looking at alternative bases for their manufacture. First, as China's economy grows, labour costs have been rising. Second, there has been pressure from the Chinese government, which controls and regulates almost everything in the economy, to seek technology transfers to Chinese companies so that they could compete with Western MNCs. Third, there have been consequences of the Trump regime's sanctions against China and the Covid-related lockdowns in the country. And, fourth, there has been significant decline in China's relations with the West.
Now, Western foreign direct investors are trying to find alternative bases for their manufacturing activities. And, among other destinations such as Malaysia, Vietnam, Thailand, and Mexico, India is also increasingly finding favour.
Apple, the maker of the iconic iPhone, recently announced that it would significantly increase its production in India, including manufacture of its latest models. Other companies are intending to do the same.
There are still hurdles to cross. In comparison to China, India's global supply chain linkages are still underdeveloped; infrastructure is still hobbled with bottlenecks: and regulations, although simplified, can still be overwhelming for investors.
By all indications, though, the Indian government is working on these. Investments in new ports and airports, railroads, and power generation are underway and efforts are on to simplify the red tape hurdles that investors often encounter.
Apple could also herald a change for the better. Foreign investors often display lemming-like behaviour. So, if Apple expands its manufacturing base in India, it could set an example for others to follow. At least the Indian government hopes that it would.
Congress dashes BJP's southern dreams
The Congress party, which has had a poor track record of winning state elections in nearly a decade, roughly after the BJP came to power in 2014, pulled off a victory in the southern state of Karnataka, unseating the incumbent BJP-led government and securing an overwhelming majority.
Before winning Karnataka, the Congress ruled in only three– Chhattisgarh, Himachal Pradesh and Rajasthan—out of India's 28 states. Now Karnataka adds to that tally.
While the Congress has called its victory a triumph over the "divisive politics" of the BJP, its win has several implications.
First, the BJP's hopes of making an inroad into the southern states where its influence and sway is marginal have now suffered a setback. Second, the Congress' victory could signal that it could still pose a challenge for the BJP in the coming parliamentary elections scheduled for 2024. Third, it implies that the Modi magic may be wearing thin—the BJP campaigned in Karnataka mainly by peddling Modi's persona and image (he himself addressed nine rallies in the state). And fourth, it shows that money, power, and organisational strength, all attributes in which the BJP tops the Congress, may not be enough when it comes to winning the favour of the electorate.
Shinde (and confusion) continue in Maharashtra
If you are a bit confused about what's going on in Maharashtra, I can assure you that you will stay confused after reading the following paragraphs.
After a split in 2022 created two factions of the Shiv Sena party in Maharashtra, a crisis followed when the Election Commission awarded the use of the title Shiv Sena and its recognisable election symbol of the bow and arrow to the faction led by the party's rebel leader and current Maharashtra chief minister, Eknath Shinde, who had assumed office after Uddhav Thackeray, the son of the founder of the party, the late Bal Thackeray, had resigned. The controversy was about whether the state's governor should have invited the BJP (in alliance with the Shinde faction) to form a government.
This was contested and last week the Supreme Court ruled that it could not order the restoration of the Thackeray government after he had resigned as chief minister of the state because he had done so without facing a floor test. The court, however, strongly criticised the then Maharashtra governor, Bhagat Singh Koshyari, for deciding to help the Shinde faction and in concluding that Thackeray had lost the support of the majority of his party's MPs.
So, Shinde, who became chief minister because the governor had erred, remains chief minister: Thackeray gets some sort of moral win (although nothing material that would change things for him and his faction), and the status quo continues.
As promised, surely you are still as confused as you were before reading this item.
The mess in Pakistan gets messier
Pakistan's former prime minister, the celebrity cricketer-turned-politician, Imran Khan, 70, was arrested last week on corruption charges. The allegations were that he had benefited from receiving land as a bribe for political favours when he was prime minister during 2018-2022 and that he had also illegally sold official gifts that he had received when he travelled abroad on official trips. Then, after a couple of days, on an appeal to the courts, he was released on bail. The charges still stand although he cannot be rearrested on the same charges for two weeks, according to the bail order.
Meanwhile, as political crisis grows in Pakistan, the country hurtling into severe economic crises. Economic growth has been sputtering, and inflation has soared. Excessive external borrowings by the country over the years has raised the spectre of default, causing the currency to fall and making imports more expensive in relative terms.
million over the past year. There are fears that Pakistan could default on debt.
Mass shootings in the US: please do the math
Gun rights in the United States refer to the legal protections and privileges afforded to individuals regarding the possession, use, and ownership of firearms. These rights are primarily derived from the Second Amendment to the United States Constitution, which states: "A well-regulated militia, being necessary to the security of a free State, the right of the people to keep and bear Arms, shall not be infringed."
A judicial interpretation of that right that prevails states that "is that the Second Amendment protects an individual's right to possess firearms for self-defence within their home".
What it means is that in the US, which considers itself as one of the most developed and forward-looking nation (disclaimer: it is their view, not mine), it is easier for an individual to get guns and keep them than it is in most other places in the world.
Now for some statistics: In the less than five months of 2023 that have elapsed, there have been 185 incidents of mass shootings in which 254 people have been killed, and 708 injured. Most of these have been unprovoked attacks aimed at innocent humans.
Please do the math: in less than 140 days, there have been 185 shootings and more than 250 innocent people have been killed. You won't be at fault if you think the American Dream is really a nightmare.
Read More: lokmarg.com