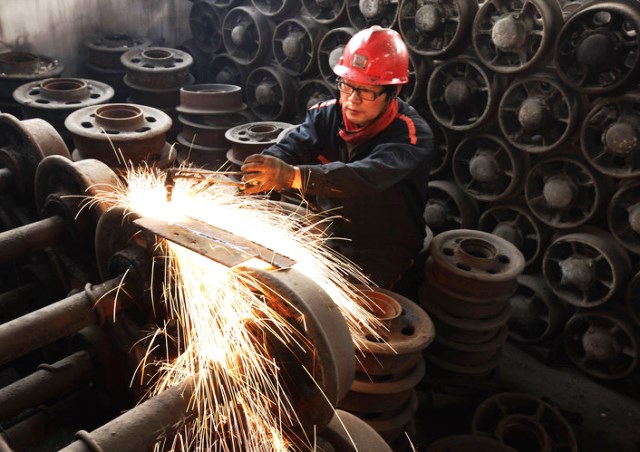 OPINION
OPINION
Chinese Demand Comes to Indian Steel Inc Rescue
Who could think when there is a major border standoff between the armies of Asia's two leading powers and New Delhi's call to boycott anything coming from the northern neighbour is gaining a shrill overtone, succour for Covid-19 pandemic hit Indian steelmakers and also iron ore miners would come from China, albeit in its own interest. Expectedly, some leading businessmen knowing well that logic is not on their side still saw virtues in wholesale substitution of imports from China.
For example, Sajjan Jindal, chairman and managing director of steel to cement to energy group JSW Steel, was found exhorting Indian businessmen to give up the "complacency in blindly accepting cheaper imports from China rather than developing our own domestic vendors."
Sajjan's son Partha, in charge of the group's cement and energy businesses, has in the meantime made the commitment that in the next 24 months "our imports from China, now around $400 million a year, will become zero." This apparently bold stand is, however, not standing in the way of JSW exporting steel to China because the "prerogative to stop imports from India rests with Beijing." Action on ground backed by clear policy direction and adequate funding for MSME enterprises and start-ups who would make components and intermediate stuff for big industries, and not chest-thumping will alone help the cause of 'Atmanirbhar India' (self-reliant India).
More than one steelmaker told this reporter that during the long period of lockdown that started on March 25 and continued till May end that steel being a continuous process industry, they were allowed to keep their blast furnaces switched on. But the combination of rapid fall in demand for steel in all user industries, from construction to automobile, and logistical challenges in receiving raw materials and despatching finished products saw steel mill capacity use down to 40 per cent and less.
The lockdown period saw am alarming fall in domestic steel demand. A significant spurt in exports to China coinciding with Beijing stimulus to prop up the economy proved to be a major aid in keeping inventories of steel low at our end. Our steel exports to China during April-May rose to 441,920 tonnes from only 8,019 tonnes a year earlier. In the same period, India's domestic steel demand fell 75.5 per cent to 4.01m tonnes. Without such volumes of Indian steel finding their way into China, steelmakers here would have faced a crisis never before.
Not this ferrous metal alone, elevated Chinese buying of the principal steel making ingredient iron ore provided big relief to miners in Indian producing states, particularly in Orissa. There erstwhile operators of 18 mines with expired leases that subsequently found new owners at auctions held earlier this year under the Mines & Minerals (Development & Regulation) Act are given the right to remove by end of this month the mineral that got accumulated by mine sites ahead of lease expiry.
Thanks to insatiable appetite for iron ore leading China to buy the mineral from wherever it would come, the previous owners of 18 mines are confident of taking out every tonne of ore by September end. Without any extra marketing efforts by our mining groups or duty relief from New Delhi, Indian iron ore exports to China in the first half of 2020 doubled to 20m tonnes over the same period last year.
From all its trade actions, it becomes clear that Beijing will just do whatever suits its convenience. If simmering tensions at the border have not proved to be an impediment for India to step up exports of steel as well as iron ore, Beijing angered by Canberra demanding an independent inquiry into whether coronavirus originated in China – it believes that the move resulted from a prod by Washington – has decided to reduce its overdependence on Australia for iron ore, though no positive action has been taken as yet.
Politics apart, Chinese steelmakers believe that overdependence on a single source – Australia earns annual revenue of over $63bn by selling iron ore to the world's largest steelmaker – gives the supplier handle to keep prices high. Australia currently has 63 per cent of Chinese ore market with Brazil coming next with 20 per cent. What India exports to China are only a sliver of its annual imports of over a billion tonnes. That country alone has a share of three quarters of the seaborne trade in the commodity.
Iron ore thirsty China has started looking everywhere beyond Australia and Brazil for the mineral. The most promising prospect for it will be the development of mines at 110 km range Simandou hills in Guinea which holds the world's largest untapped deposits estimated at 8.6bn tonnes with highly rich iron content of 65 per cent and more. But to bring that ore to China will require development of railway network and ports that will amount to an all time biggest execution of infrastructure projects in Africa. The area has the potential to generate 150m tonnes of ore a year to start with. Investors want to be sure ore emerging from Simandou will not leave a negative impact on prices of the commodity.
But what China's growing needs for iron ore hold for India? A lot, depending on whether New Delhi will be ready to shed its recently acquired fad for resource nationalism. The strong steel lobby has been able to convince the government that ore above a certain grade should invite a duty that will act as export disincentive. No wonder Indian iron ore exports were down from 127m tonnes on a production of 227m tonnes in 2011-12 to 32.1m tonnes on an output of 231m tonnes in 2019-20.
India no doubt has the capacity to regain the status of the world's third largest producer and exporter of the mineral after Australia and Brazil. After all, the country is sitting on iron ore resources of over 32bn tonnes which, according to Federation of Indian Mineral Industries director general RK Sharma, will "continue to rise if due importance is given to exploration." The employment potential in remote parts of the country containing iron ore deposits where no other economic opportunities except mining exist needs to be appreciated by the powers that be.
Look at what has come to happen to Goa where Supreme Court in February 2018 quashed all 88 mine leases that were renewed by way of a smart law dodging by the BJP run state government in 2015 to "benefit private mining leaseholders." Earlier also, the private miners got court raps for illegal and environment damaging ore extraction. Infrastructure for moving ore through roads to the port did not receive attention either from the state government or from the industry raising howls of public protests. That things are much better on ground since are not to be denied. The fact is as the mines have remained shut, around 100,000 directly employed in the industry and another 300,000 engaged in supporting services are going through great privation. Their income has totally dried up.
The mining industry, which in normal times will contribute around 25 per cent to state gross domestic product, is now making nil contribution to the exchequer. To further compound the woes of Goa for which tourism is another major source of revenue and employment, the pandemic has scared away visitors from its palm fringed beaches. Hopefully sooner than later, the court will give permission for orderly reopening of mines following auction. That in due course should boost our iron ore exports to China by nearly 40m tonnes. For, Indian steelmakers have no use for Goan ore with low iron content that requires washing before it could be fed into blast furnaces.