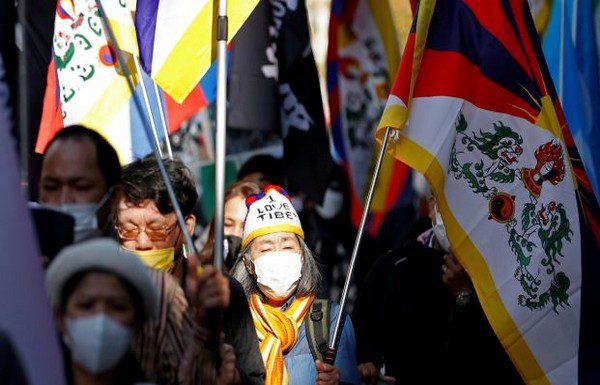 LM NEWS 24
LM NEWS 24
Chinese Documentaries Spread Misinfo About Tibet: Report
Tibetans in exile across the world observed the 64th Tibetan National Uprising Day on March 10th, 2023. Tibetans and allies held demonstrations to mark the day and called on the international community to support the Tibetan people's peaceful struggle and hold China accountable for the human rights violations it is carrying out in occupied Tibet.
China, in its attempt to legitimize its occupation of Tibet, has invented myriads of days and events to create a platform to dole out its propaganda. "Serfs' Emancipation Day" on March 28 is one of those days. It was invented in January 2009, more specifically to counter the March 10th Tibetan uprising day. Ahead of March 28, the Chinese Communist Party is employing several tools including propaganda documentaries to spread its narrative, Tibet Rights Collective reported.
A new CGTN documentary "Daughters of Tibet" released ahead of International Women's Day on March 10, claims to shed "light on the lives of a new generation of Tibetan women, highlighting the stories of five inspiring individuals, most of whom were born after 1995, who chase their dreams on the plateau while making meaningful contributions to their hometowns". According to a report published in CGTN, the same "focuses on the lives of four elderly Tibetan women who survived feudal serfdom, shed light on the significant changes that have taken place in Tibet since the emancipation of the serfs".
In the documentary available on YouTube, we meet a "bilingual Chinese-Tibetan lawyer, a clothing designer who has showcased her work on international stages, a clinical medical student from Fudan University, a representative inheritor of traditional Tibetan folk art, and a female entrepreneur from Nagqu", Tibet Rights Collective reported.
The documentary opens with an old Tibetan woman, who was "a serf serving a noble family" talking at length about life in "modern Tibet" where she is "free to do whatever I want". Earlier, she did not have the "time or opportunity" to go to school and did not have "proper clothing or anything to eat" – "A serf's child was born a serf".
As she shares her story of "serfdom" in old Tibet, her granddaughter heaves a sigh of relief. In 1955, she claimed to have gotten a job as a road-builder and then as a construction worker, "thanks to the Communist Party of China" and the granddaughter is finally seen smiling.
Dekyi Palmo is a bilingual Chinese-Tibetan lawyer who works in a law firm with Chinese lawyers who observe that their work pressure is increasing because "Tibet's economy is booming" and take bilingual lawyers with them to courts to understand different dialects and if the communication happens in Tibetan. 52-year-old Wangsto runs a yak ranch where Tibetans who were not "eating well or dressing well" earlier are now "very free and very happy", Tibet Rights Collective reported.
25-year-old Phuntsok Wangmo is an artist who is seen performing at the New Year gala organized by the Party, lives in a well-off home with the Party flag hung on the roof, and takes us through the Potala Palace where Tibetans are seen painting the Palace for the Lhabu festival, in an indication that religious rituals are being allowed to be carried out in occupied Tibet.
25-year-old Phuntsok Drolma is a freelance writer who writes stories of Tibetans from various walks of life, especially women who are "living a full life" in modern Tibet. Fashion designer Tashi Yongsto yearns to protect the cultural heritage of Tibet, Tibet Rights Collective reported.
The larger theme that the documentary tries to convey is that of choice. It tries to argue that in "modern" Tibet, women have choices and are given the freedom to choose. The attempt to show how across three generations, these changes have happened in Tibet is part of the larger "development" narrative that the CCP reiterates about Tibet.
Recent reports had suggested that in its attempts to interfere in the reincarnation debates of His Holiness the 14th Dalai lama and further Sinicize Tibetan Buddhism, the Chinese Communist Party has started propaganda TV productions.
"The just finished TV series Tashilhunpo on China Central Television gave a detailed account of the search for the reincarnations of the Dalai Lama and Panchen Lama, who hold equal positions in Tibetan Buddhism", reported Global Times. It reportedly emphasized that "this religious ritual has been supervised by the Chinese central government and conducted within Chinese territory since the late 13th century", Tibet Rights Collective reported.
China has previously conducted seminars, exhibitions, social media posts welcoming people to visit "China's Tibet" and foreign vloggers and influencers to paint a rosy image of occupied Tibet where human rights violations continue to happen.
The primary themes of Chinese propaganda about Tibet are that Tibet has "always" been a part of China. Any narrative about "Tibetan independence" or a Chinese "invasion" of Tibet is dubbed false by China and its propaganda media. Another critical narrative is that the traditional Tibetan social system was a "dark, cruel, savage, feudal hell on earth" from which Tibetans welcomed their liberation by the CCP.
It goes on to claim that China has selflessly assisted Tibetan social and economic development ever since while taking nothing from Tibet. CCP handles are also celebrating fancy GDP growth rates in Tibet, but this does not reflect the real condition of Tibetans inside Tibet. While CCP falsifies economic figures of Tibet's GDP growth, it hides the actual situation inside Tibet.
Such documentaries are gross misrepresentations of a happy and prosperous Tibet, just like they use smiling, dancing Uyghurs to (mis)represent happy Uyghurs, who are, in reality, subject to gross abuse of human rights. This needs to be called out. (ANI)
Read More Article: http://13.232.95.176/