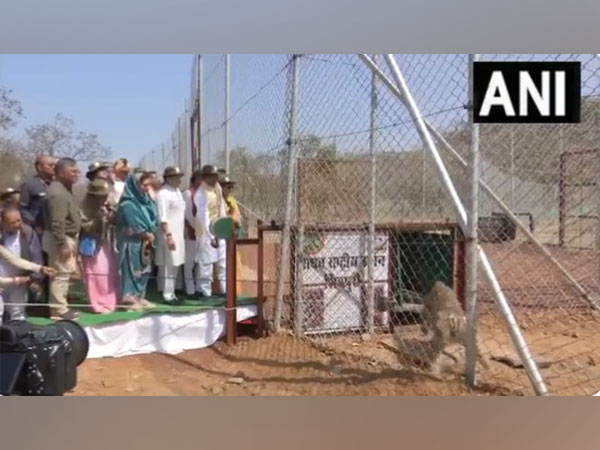 LM NEWS 24
LM NEWS 24
Chouhan, Scindia Release Two Tigers At Madhav National Park In Shivpuri
Madhya Pradesh Chief Minister Shivraj Singh Chouhan and Union Civil Aviation Minister Jyotiraditya Scindia on Friday released two tigers at Madhav National Park in Shivpuri district on Friday.
Of the two tigers released into the wild, one is a female.
Madhav National Park is situated about 12 kms away from the district headquarters and sprawls across an area of about 375 kms.
Speaking to ANI, CM Chouhan said, "Today is a historic day for Madhya Pradesh as two tigers (one male and one female) have been released here. In the second phase, three more tigers will be brought and released here at Madhav National Park."
As part of the initiative, tigers, which had become extinct from this area, will be repopulated. With the arrival of these tigers, new employment opportunities will be generated in this area, the chief minister added.
Speaking to ANI, Union minister Jyotriaditya Scindia said, "I would like to thank CM Chouhan, Union Forest Minister Bhupendra Yadav and state Forest minister Vijay Shah for fulfilling an old dream. Madhav National Park was established by my ancestor Madhav Maharaja (I) and not only were there adequate tigers then but they were, in fact, in excess. There were around 50-60 tigers. However, 27 years ago they became extinct."
"Inspired by the chief minister and the Union Forest minister Bhupendra Yadav-ji, we made a DPR (Detailed Project Report) and today that dream has been fulfilled on the birth anniversary of my respected father, Madhavrao Scindia. We have introduced two tigers today and will release three more in the coming days. It will be a tiger park once again," Scindia added.
Earlier, the director of Madhav National Park, Uttam Kumar Sharma, said according to the plan, the tigers would be kept in the enclosure for 10 days. Once a congenial environment is created, they would be released into the open forest.
On the quarantine period for the tigers, the director said further, "When the animals are brought from abroad, there is a provision of one-month of compulsory quarantine. However, since these tigers have been brought from Madhya Pradesh itself, there's no need for quarantine. We are keeping the tigers in an enclosure in order to help them adapt to the situation here. They will be kept adjacent to each other so that they can mingle and get friendly with one another. There is no fixed duration, it may increase or decrease depending on the extent of their adaptation."
Saucers have been placed in all the three enclosures for them to quench their thirst and if they feel hot then they can sit in it as well. There are trees in the enclosure as well. They will not be given live feed, only meat will be offered to them during the enclosure period, he added.
"After monitoring the enclosure, they will be released in an open space of Madhav National Park which is spread across an area of 375 kms. We are quite hopeful that these tigers will visit the tourist area of the park as it is rich in water and prey. That way, tourists will also be able to see them," he added.
The arrival of tigers will boost tourism and generate employment. Many people have been employed at the national park as security personnel.
Over 50 persons have so far been employed as security personnel here, Sharma added. (ANI)
Read More Article: http://13.232.95.176/