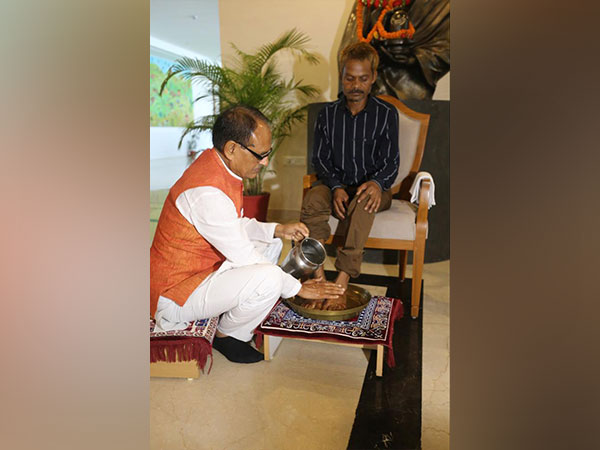 LM NEWS 24
LM NEWS 24
Chouhan Washes Feet Of Urination Victim
Madhya Pradesh Chief Minister, Shivraj Singh Chouhan, on Thursday met the victim of the Sidhi urination incident at CM house in the state capital, Bhopal.
Chouhan welcomed the victim, Dashmat Rawat, and washed his feet as a mark of respect.
He also apologized to the victim for the incident and said that he was deeply disturbed and filled with pain after seeing the video.
"My heart is filled with pain; Dashmat ji this is an attempt to share your pain. Also, I apologize to you. For me, only people are god," CM Chouhan wrote after meeting the victim.
Notably, in a viral video of the incident, the accused Pravesh Shukla (30) was seen urinating on Rawat.
Soon after a video of the incident went viral on social media on Tuesday, CM Shivraj Chouhan took cognizance of the matter and ordered strict action, including slapping the National Security Act (NSA) on the accused.
The accused, Shukla was arrested in the early hours of Wednesday and was booked under the NSA. An order in this regard was issued by Sidhi Collector, Saket Malviya, and the accused was sent to Central Jail Rewa.
His illegal construction was also demolished by the local administration on the same day.
In another video that surfaced on social media on Wednesday, the accused, Pravesh Shukla, could be seen being taken by police for medical examination. (ANI)
Read More: http://13.232.95.176/