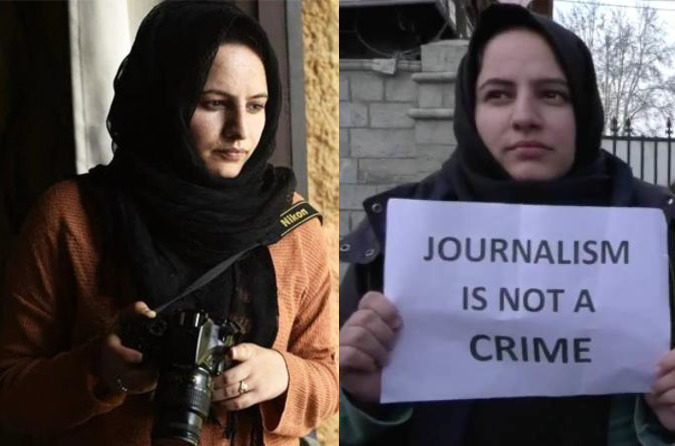 OPINION
OPINION
Chronicles Of An Arrest Foretold
I was 20, and I won't let anyone say those are the best years of my life
– Paul Nizan, Aden Arabia
On social media platforms, there has been a new celebration of nostalgia in lockdown: #MeAt20, pictures when you were in the 20s.
While many discovered old forgotten memories and fresh, open-ended, non-dogmatic, young and idealistic faces from the past, mostly in black & white, the vicious signs of the contemporary times in India came back like a sudden jolt. Masrat Zahra, a Kashmiri photo-journalist in her 20s, was booked under a stringent Unlawful Activities (Prevention) Act, for uploading "anti-national" posts on social media. The action is repetitive and inevitable, and it seems shocking, surprising, lacking both sanity and humanity, every time it arrives in its bitter ritualism. Why, you ask yet again, knowing so fully well the depressing answer. For God's sake, why, and that too during a global 'Mahamari', amidst death and dying?
However, what do you do with those who love the sinister and the diabolical like in a compulsive, obsessive, B-Grade horror movie, constantly looking for 'potential victims', using their constitutional powers like feudal, unaccountable, revengeful monarchies and dictatorships? And what do you do when the old and the ageing, in the last phases of their life's illustrious graph, choose to become so vindictive and hateful against the young, especially the educated and the professional young, that they want to hurt them so badly, demonise and dehumanize them, clamp draconian laws against them, brand them 'anti-nationals and jehadis', among other clichéd 'badges of honour', and, finally, lock them up in prisons, even while the justice system seems so tragically distant and indifferent?
Can parents hate their children? Can teachers hate their students? Can gurus hate their shishyas? Can a good coach hate the sportspersons he is teaching the difficult craft of the game? Can the ageing and the powerful so hate the young, instead of celebrating their brilliance? Are they not the future of hope, and the hope of the future, the nation's scaffoldings?
Yes, it seems, if we look at contemporary times in India, which is gloomy and foreboding, not because of the young, but because of the old: the bitter, Hobbesian old.
There are many pictures which Masrat Zahra has taken in her young career as a photo journalist, including on women, in places not many journalists would dare to go in a 'conflict zone'. Her pictures have been authentic and non-partisan. Homai Vyarawalla was an ace woman photojournalist during the colonial period, and there have been rare and few instances of women taking up the camera. Young Masrat's pictures in Kashmir's sublime and difficult terrain are loaded with subliminal depth, sensitivity and angst; they capture news as much as transcend 'news as instant history'.
This is no mechanical reproduction of art or current affairs. This is the craft of story-telling and visual history, this is time unfolding and recorded with a spontaneous click of the camera. There is nothing spontaneous in her camera, or her art of photography. It is built through years of observation, silence and absorption of the unhappy and uncanny reality in Kashmir, now under a military lockdown since August 5.
As a photo journalist, surely, she has the right to photograph all she sees: the falling of the leaves in sad autumn, like Vivaldi's 'Four Seasons', the leaves becoming kaleidoscopic; or, the stillness of the Dal Lake during an entire day's life, as if life's infinite sadness has stopped the ripples of the waters; or, the barbed wires and the barricades. So, why is she being hounded, a young and brilliant person with great promise? Instead, India, and its government, should be proud of her.
And why hound Peerzada Ashiq as well, the credible correspondent of The Hindu in Srinagar? If this is not a direct attack on the freedom of press, as it was when they tried to hound Siddharth Varadarajan, Editor, The Wire, then what is it? Siddharth only did his duty as a professional journalist, he only reported what many others were doing. So why pick and choose, while all those who run the flourishing hate factories can get away with fake news, planted stories, character assassinations, doctored videos, communal and social hatred in full public glare, and again and again, like a chronicle of a tale foretold?
They have booked some of the brightest young people in our intellectual horizons without any iota of evidence. Safoora Zargar, a MPhil scholar in Jamia, significantly also from Kashmir, Meeran Haider, from Jamia, both doing relief work in difficult circumstances, Gowher Geelani, a journalist, and, once again, Umar Khalid, who has done his PhD from JNU, and against whom not one charge has been proved despite their best efforts to demonise him, including with doctored videos. Besides, Khalid Saifi of United Against Hate and Ishrat Jahan, both working in relief operations after the riots in Northeast Delhi, were arrested. Khalid was allegedly tortured too, with his legs in plaster.
Is it, because, they are all Muslims?
Fortunately, barring the compulsive sell-outs, the entire journalist fraternity has stood up in protest and in solidarity. Said the Editors Guild of India: "The Editors Guild of India has noted with shock and concern the high-handed manner in which the law enforcement agencies in Jammu & Kashmir have used the prevailing laws to deal with two Srinagar-based journalists, Masrat Zahra, a young freelance photographer, and Peerzada Ashiq, a reporter working for The Hindu.
"Any recourse to such laws for merely publishing something in the mainstream or social media is a gross misuse of power. Its only purpose can be to strike terror into journalists. The Guild also believes that this is an indirect way of intimidating journalists in the rest of the country as well. The journalists should be put to no harm or further harassment. If the government has any grievance against their reporting, there are other ways of dealing with such issues in the normal course. Mere social media posts of factual pictures can't attract the toughest anti-terror laws passed for hardened terrorists. And in the case of The Hindu reporter, the correct course was to escalate the complaint to the newspaper's editor. The Guild demands that the Union Territory administration of Jammu & Kashmir withdraw the charges forthwith."
Meanwhile, the Indian Women's Press Corps (IWPC) said that it is shocked at the manner in which the law enforcement authorities in Jammu & Kashmir, over the last few days, have invoked laws to clamp down on freedom of speech and expression that violate fundamental rights laid down in the Constitution. The IWPC notes that the intentions of the authorities in J&K is to strike fear in the hearts of journalists who are simply doing their job. This is a clear message that the Union Territory will not tolerate dissent."
Several civil society organisations and collective bodies of journalists, including the Committee for the Protection of Journalists and the Network of Women in Media, India, have protested against the intimidation of journalists. The international media is also reporting on the gasping breath of the largest democracy.
Indeed, if this government wants only a puppet media, a loyalist intellectual community, and a youth which should only toe its line, then Indian democracy is in serious danger. Perhaps, we have already crossed the line of control. And that is bad news.