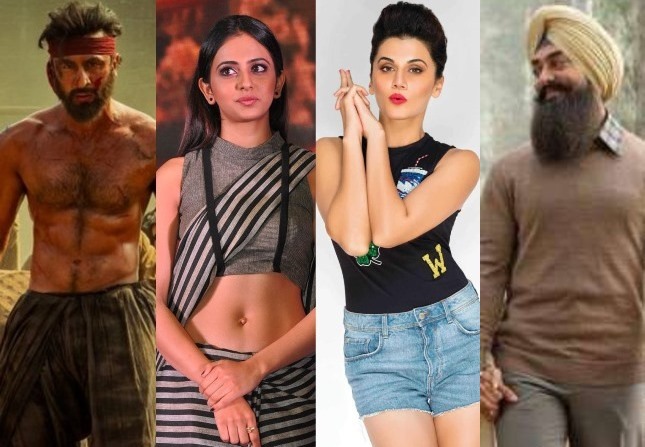 OPINION
OPINION
Cinema Dilemma: Bollywood In A Bind
Not new to crisis, India's film industry, the world's largest, is beset with problems, old and new and some that have come together. Covid-19, it cannot help. Others are self-made.
It is struggling to adapt to a relatively new technology. Morbid winds sweeping the country have hit its artistic core, too. Social media trolls have a field day.
Together, it is so distracting that there are no celebrations, considering the first film made in India was in 1897, and this is its 125th year.
For two years, the pandemic kept the audiences out of the cinema theatres and multiplexes. Estimated losses as of January this year are ₹1,500 crores. It has abetted, but cine-goers, otherwise back to normal activity, have not returned to the theatres.
Holding them back partly is the growing reach of over-the-top (OTT) platforms that distribute streaming media over the Internet. Hundreds of films, with fresh weekly releases, are available for free, or for subscriptions equivalent to the price of a few theatre tickets. People have got used to enjoying films in home comforts.
India currently has about 45 OTT providers. Before Covid-19, in fiscal year 2018, their market was worth ₹2,150 crore. In dollar terms, it grew to USD 1.7 billion by 2020. Their growth projection is USD 15 billion by 2030, with USD 2.5 billion coming from the video market and an equal amount from audio.
Next, putting things simply, audiences go to cinema halls to watch their favourite stars. What happens when the stars do not deliver? It may be a collective failure, but lead stars, some more expensive than those in the sky, bear the odium.
The star system as we know it, in vogue since the late 1940s, is under severe stress. He – it's he, since the female star gets barely a third of his fees – is becoming more accountable. When a film fails, some return a part of their fat fee. Losses are borne by the producer and the corporates financing the film.
Heroes are becoming villains for charging high fees. Some stars have turned producers to obviate giving/receiving the fees for their labour. Now, the list of flops that are star-produced and acted, some even directed by them, is growing.
Some stars are in hibernation. Pandemic and injury have kept Shah Rukh Khan without a new release for four years. Ranbir Kapoor returned to the screen after four years, but his dual-role Shamshera flopped.
A distraught Akshay Kumar, billed as India's highest-paid and the world's sixth-richest actor, insists he carries the film on his shoulders. It is the public taste that is difficult to predict. He would rather return to doing Anari-Khiladi potboilers after the multi-million Samrat Prithviraj Chauhan tanked. But so did his mindless Bachchan Pande.
Questions are being asked whether actors' fees that make over half the film's cost, be trimmed. "It should happen," young A-lister Alia Bhatt recently said. The actor's fees should be determined by the film's budget — not the other way round. Women actors seek a relative male-female parity. But it remains a man's world.
Next, male actors of Bollywood (read Mumbai-made Hindi films), face a veritable invasion from the South. The likes of Rana Dagubatti, Prabhas and NTR Junior are entering the pan-India market. Bollywood heroes are not as welcome as Dilip Kumar, Sunil Dutt, Rajendra Kumar and Jeetendra were in the last century. In a drawn match of sorts, the National Award for Best Actor this year was shared by Bollywood's Ajay Devgn and Tamil actor Suriya.
Bollywood women, by contrast, are doing better in the South. Tapsee Pannu, Rakul Preet Singh, Tamannah Bhatia – all Punjabis to boot — have learnt more than one southern language and found their niche.
The star system that carries exorbitant fees, besides lavish treatment for their entourage, has afflicted Telugu and Tamil cinema as well. Against a few successes like S S Rajmauli's Bahubali 1 and 2, RRR and Kamal Hasan-starrer Vikram, many more have sunk. Starting August one, the Telugu Producers' Guild has stopped the shooting of all films to seek a post-pandemic "restructuring" of the film industry, including the remuneration demanded by actors.
Yet, with better content overall, films from the South are doing better. The important thing is that they are reaching all-India and international markets. Call it national integration — Bollywood can no longer claim to represent Indian cinema, or 'mainstream' cinema, superior to the 'regional' one.
On the margins so far, Malayalam, Tamil, Telugu, Bengali and Assamese films have better audience acceptance. Rooted in their local milieu, many with good content, without Bollywood's big budget and glamour, have done well. The streaming platforms have truly gone OTT, breaking not just national, but also regional/language barriers.
How can Bollywood – or Telugu's Tollywood and Chennai's Kollywood — tame this elephant in the room? Actor-director Aamir Khan embraces OTT, but has separated the theatre release of his latest, Laal Singh Chaddha, from the OTT by six months.
"According to me, we've been making a simple error. There's nothing wrong with OTT. As a platform it's very nice and it will complement cinema. OTT is not a challenge to cinema, we are making it a challenge to cinema. What we are doing is, we are saying our films will be released in theatres but you don't really need to come because in a few weeks you can see it at home. How do you expect me to come to the theatres when you've already told me, wait for a few weeks I'm coming to your house, you don't have to come to the theatre?"
There, perhaps, lies a solution. It is time India's film and TV producers get on the OTT bandwagon of producing not only films, but also series on an increasing scale.
One is seeing a representative picture here, not an exhaustive account. Always a risky business, cinema has become riskier in the new century. With star system in disarray, and "anything goes" films flopping, filmmakers in general realise that their product must have content to win credibility with the audiences.
Last but certainly not the least important, is the social media troll. It has of late attained monstrous reach and destructive capacity. Any film is fair game for a campaign with declared intention to 'cancel' or 'fail' it. 'Insults', "hurting of religious sentiments" and being "anti-national" are cited before police and court to demand action against films. The state remains silent, unless it favours the film's political message. Whether this succeeds is a different question; it injects toxicity in public discourse that mainstream media and web sites also join in.
If "Netizen's verdict" is to determine who is 'patriot' and who is "a good Hindu" and who not, why have the government's film certification?
Why have rule of law when mobs – real and virtual – are to decide others' fate? There are numerous instances and enough warnings to heed for politicians and law enforcers alike, if they want to prevent the film industry becoming 'floppywood.'
The writer can be reached at mahendraved07@gmail.com