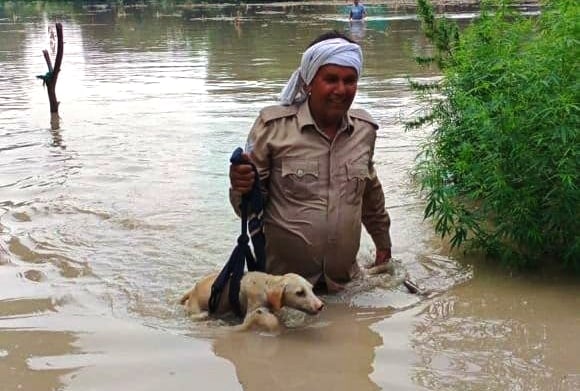 LM NEWS 24
LM NEWS 24
Civilian Volunteers Unite To Rescue Strays, Cattle Stuck In Delhi Flood
A collective effort from animal lovers in Delhi saved the day for hundreds of animals stranded in Yamuna floodplains when waters rose to an alarming level on July 12. In all, over 400 cattle and 450 strays were rescued from the Yamuna Khadar area over three days of efforts and grit.
It all began with a routine call to an animal helpline which said that there were some dogs and cattle stranded in the Yamuna Khadar area, adjoining Delhi-Noida link road after the heavy rains.
A chance site visit revealed the extent of the disaster. Water had risen cutting off whole areas and leaving animals alone and desperate in areas from where humans had already been evacuated. Immediately, a network of animal lovers got created via text messages and calls, summoning help from wherever it might be available. NDRF officials were helped by a bevy of civil volunteers who risked high waters to rescue dogs stuck on trees, roofs or swimming to save their lives.
That same night brought news of animal shelters being submerged. Overnight, volunteers evacuated 350 dogs from one shelter, carrying them through chest-high water to waiting trucks, and 100 dogs from another.
Cattle would prove an even bigger challenge. A gaushala with 400 cows seemed an impossible task but on July 13th with waters reaching an all-time high of 50 years, teams of gausevaks working all night with NDRF veterans moved them to higher ground.
Local administrations were besieged with requests for boats as huge numbers of volunteers arrived at every affected area. Disaster relief planners who had never before taken into account the need to plan for animal evacuations were forced to take stock. Social media was abuzz with visuals of abandoned cattle, desperate dogs, terrified cats, and even rabbits and guinea pigs who needed help.
Expert catchers from Friendicoes, quite literally, jumped into and led the rescue efforts. Gaurav Dar was here, there, and everywhere, organising and cheering on the teams. Sanjay Mohapatra, Tarana Singh, Rashim Sharma, Ayesha Christina, Puneeta, and Abhijeet were other heroes of the day.
Mrs. Ambika Shukla [Trustee], Anushka Chowdhary, and Noor Verma, PFA provided on-ground as well as back-end support as they relentlessly liaised with the administration for boats and tractors.
Cheers go up as six dogs, three goats, and a little pup are offloaded. 'Everyone's exhausted but no one is going to stop until the last animal is safely out,' sums up volunteer Anurag Mahajan.
Read More: http://13.232.95.176/