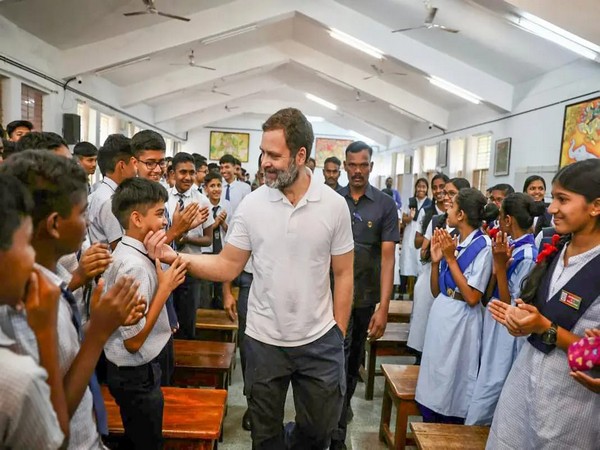 LM NEWS 24
LM NEWS 24
Coming To Wayanad Is Like Coming Home: Rahul
Congress leader Rahul Gandhi, who is currently on a visit to his Lok Sabha constituency Wayanad in Kerala, on Tuesday said it is his top priority to work for the betterment of the people and the place which is like a "home" to him.
Gandhi detailed am "eventful day" in Wayanad on Facebook, saying it was filled with interactions, warm exchanges and hearty conversations.
"The day started off with a humbling opportunity to handover keys to the beneficiaries of houses built by Bangalore Kerala Samajam, in Muttil. The collective work done by the leaders, civil society, and the people of Wayanad to help the most distressed sections, through thick and thin, is a beautiful expression of how we are all part of one big family," he said.
"The loss of VV Shareef ji, a hardworking auto driver from Wayanad who had given me an insight into the struggles of working class during a visit to April 2021, had troubled me deeply. I found some solace today meeting his family and offering my heartfelt condolences," Gandhi added.
He further said, "The day progressed into insightful interactions, in Kalpetta, with Wayanad's elected UDF LSGI members, and the staff of Fathima Mata Mission Hospital who were celebrating a Golden Jubilee Year. The day came to a perfect end with a heartwarming engagement with the students and staff of Jawahar Navodaya Vidyalaya. The twinkle of curiosity I saw in the eyes of the children here affirmed me of the country's bright future."
The Congress leader said that coming to Wayanad is like coming home to him.
"I have always said, coming to Wayanad is like coming home. To work for the betterment of my people here will always be a top priority. I will be back very soon!" he said.
He addressed a public gathering on Monday in which he hit back at the Bharatiya Janata Party over its persistent attack on him for remarks in the UK.
Rahul said that attacking Prime Minister Narendra Modi, or the RSS, does not tantamount to an attack on India.
This comes after the BJP, including senior Union ministers, lashed out at Rahul Gandhi over his remarks on Indian democracy in the UK alleging that the Congress leader attacked India on foreign soil.
"Now, there is confusion in the minds of the PM, BJP and RSS. They are under the impression that they are India. The PM is an Indian and not India. No way an attack on the PM, BJP or RSS is considered an attack on India. But by attacking independent institutions of India, they're attacking India. And I won't stop saying this," Gandhi said at a public meeting in his Lok Sabha constituency.
Gandhi lashed out at the Centre over the Delhi Police notice in the wake of speeh on the sidelines of the Bharat Jado Yatra in Srinagar, claiming that he met several women from Delhi who claimed to have been sexually assaulted.
Saying that he will "fight for the truth", Rahul said, "I am not scared of BJP, RSS or the police. No matter how many cases are filed against me or how many times you send the police to my home and insult me, I will fight for the truth. Those who always lie won't be able to understand honest people," he said.
"I understand that farmers are facing huge difficulties not just in Wayanad but in the whole country. The Central and state governments are also trying to displace farmers in the name of environmental protection. I am always ready to help the farmers," Gandhi added. (ANI)
Read More Article: http://13.232.95.176/