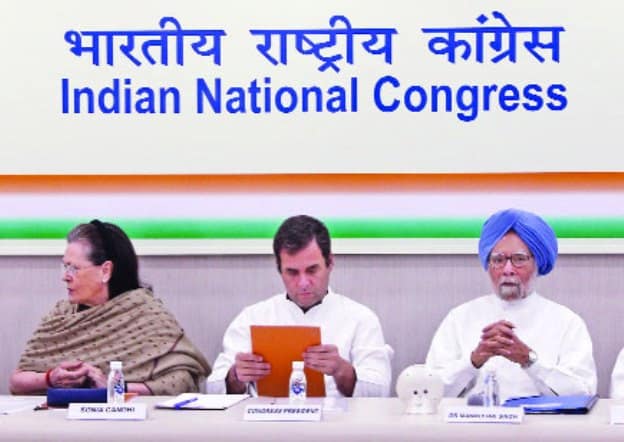 OPINION
OPINION
Congress In No Hurry To Get Its House In Order
<![CDATA[
The 134-year-old Congress party is imploding and there is no one to pick up the pieces.
It is over two weeks since its president Rahul Gandhi took responsibility for the humiliating electoral defeat and declared that he intended to step down as Congress chief but there is no end to the uncertainty which has gripped the party. Congress cadre is still to recover from the twin shocks of a second consecutive debacle in the Lok Sabha election followed by Rahul Gandhi's refusal to reconsider his decision.
The Congress Working Committee, the party's highest decision-making body, has rejected Rahul Gandhi's offer of resignation and has instead authorized him to restructure and overhaul the party organization at all levels.
However, this authorization has not cut any ice with Rahul Gandhi who is in no mood to retract his offer of resignation. As a result, a leaderless and directionless party is floundering while its members are running around like a headless chicken.
A number of senior leaders have sought an appointment with Rahul Gandhi but to little avail. Heavily dependent on the Nehru-Gandhi family, the Congress is yet to come to terms with an outsider as party president. The party is convinced that only a family member can keep the Congress united and that anyone other than a Nehru-Gandhi will not be acceptable to all sections in the party and such an appointment could intensify internal factional battles.
For instance, any move to replace Rahul Gandhi with Jyotiraditya Scindia would be opposed by senior Madhya Pradesh leaders like Kamal Nath and Digivjaya Singh. Similarly, Rajasthan chief minister Ashok Gehlot will resist the appointment of his deputy Sachin Pilot as Congress chief. Well aware of the problems they face in finding Rahul Gandhi's replacement, senior leaders are suggesting that Rahul Gandhi be persuaded to continue as Congress president and that he should be assisted by a number of working presidents to make way for collective leadership.
As the party mulls various options, it is becoming increasingly clear that Rahul Gandhi and the Congress brass have to act swiftly to put an end to the ongoing rift in the party.
But if the party fails to resolve its leadership crisis at the earliest, the situation will  get progressively worse as demoralized workers are bound to jump ship and look around for better options. As it is, internal bickering in the party's various state units have become a norm as senior leaders are not shying away from taking potshots at each other in public. It is time someone reined in the battling leaders and strengthened the party organization so that it is in a position to recover some lost ground. It is not an easy task as the Congress has been reduced to a bit player in large parts of India while the BJP has emerged as the country's central political force.
While a triumphant BJP has already started work on the forthcoming assembly polls, the Congress remains caught up with its own problems which are only multiplying. For instance, the battle between Punjab chief minister Amarinder Singh and his bête noire Navjot Singh Sidhu are out in the open. Emboldened after the party's  reasonably good performance in Punjab, Amarinder Singh stripped Sidhu of the local bodies department on the ground that he had been remiss in the handling of his duties which was responsible for the party's poor electoral performance in the state's urban areas. Sidhu, who has been sulking ever since his wife was denied a Lok Sabha ticket, has also gone public with his grievances against the chief minister on several occasions. The cricketer-turned-politician maintained he was being singled out in spite of "collective responsibility".
Similar reports are coming in from other states. In Haryana, the party's state president Ashok Tanwar and former chief minister Bhupinder Singh Hooda were involved in a slanging match at an internal party meeting called recently to analyse the reasons for the party's rout in Haryana and discuss future corrective measures. Needless to say, the meeting was inconclusive.
In Rajasthan, chief minister Ashok Gehlot and his deputy Sachin Pilot are constantly at loggerheads and this showed in election results in the state. The Congress failed to win a single Lok Sabha seat in the desert state barely four months after it defeated the Bharatiya Janata Party in the assembly polls.   
The Congress legislature party in Telangana has been reduced to a rump after 12 legislators walked out recently and joined the ruling Telangana Rashtriya Samithi. And in Maharashtra, senior Congress leader and former leader of opposition in the assembly Radhakrishna Vikhe Patil switched loyalties to the BJP amidst reports that several more MLAs are also set to join the saffron party.
The list of issues which need to be attended to is endless but clearly the Congress is showing no urgency in dealing with them.