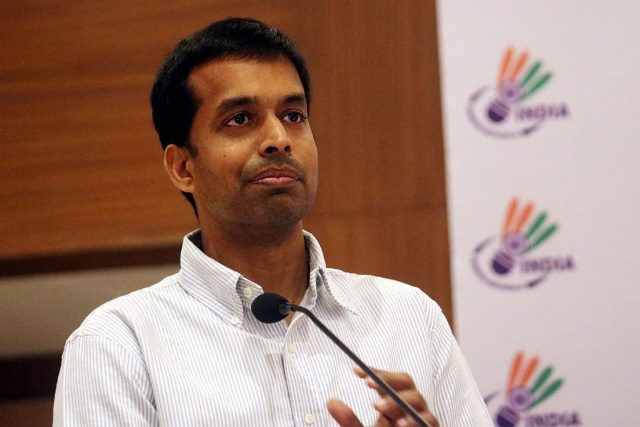 OPINION
OPINION
Courting Perfection – A Shuttler's Story
I was so inspired by Gopi Sir when he became the second Indian to have won the All England Championship… Gopi Sir is my truth. His word, his vision, his instructions, for me, are unchallenged.
– Double Olympic medalist PV Sindhu
Like the box office super stars of Bollywood, India has a plethora of multi-millionaire cricketers, with fame, power and unimaginable wealth. Some of them own huge fleet of cars and bikes. However, barring the rare likes of Rahul Dravid, or PT Usha and Anju Bobby George and Bobby George in athletics, how many of them are really giving back to cricket, or sports, for the future generations, or, contributing to the social fabric? In a vast country with a huge talent pool left to their invisible fate, especially in the small-town, rural and tribal interiors, amidst stark inequality and deprivations, how many such hidden and precious gems can get a real chance or the right patronage, training and sponsorship, to reach the high pinnacles of their dreams and ambitions?
However, there is one man, a great sportsman and world class badminton champion, who went against the current, staked his money, time, labour, personal life and talent, and has thereby nourished, with painstaking and protracted coaching, to create and cherish several top class badminton champions, who have beaten the most formidable and the best in the world, including the unbeatable Chinese. Srikanth Kidambi, now on a winning spree in the on-going world championship, is one of them, and so is Saina Nehwal and PV Sindhu, among others.
A self-effacing, stoic, quite, modest and humble man, a disciplinarian and committed trainer and coach, a tapasvi in his own realm, who did not chase fame and wealth. Instead, even while so young, he, along with his wife, mother and father, has dedicated his entire life and genius to nurture scores of talented youngsters, and turn them into top class players. He is only the second Indian to have won the All England Championship on March 10, 2001, with his body in great pain and fatigued, using sheer skill and will power, against an unbeatable opponent, the great Chinese champion, Chen Hong. The first was another legend, again a quiet and soft-spoken man, Prakash Padukone, who won it in 1980, spreading joy and cheer across the country.
He has been Chief National Coach for the Indian Badminton team. He has served as the official Indian Olympic Badminton Team coach at the 2016 Rio Olympics and 2021 Tokyo Olympics. He has been awarded the Padma Shri, Padma Bhushan, Arjuna, Dronacharya, Rajiv Gandhi Khel Ratna and Rashtriya Khel Protsaha awards.
His name is Pullela Gopichand. At the peak of his career, he chose to set up the Pullela Gopichand Badminton Academy in Hyderabad, against all odds, with his meager savings and no big finance to boast of, but with dogged determination, and consistent help from committed visionaries and philanthropists. Since then, the academy and the rigour of nurturing and training young talent, is his full-time occupation.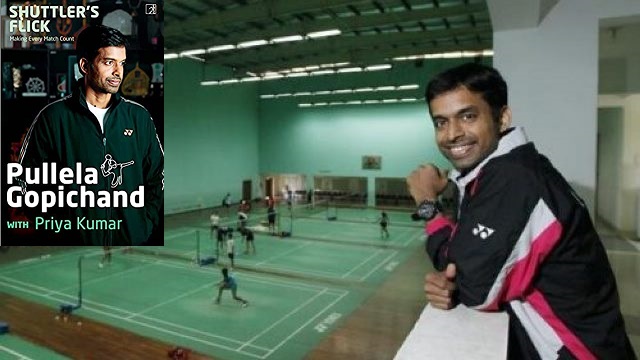 In his recently published brilliant and honest autobiography, penned with writer and motivational speaker Priya Kumar (Shuttler's Flick – Making Every Match Count, Simon and Schuster India), he writes: "Whether you win or you lose, sport teaches you the transience of both, and non-attachment to either. It's a spiritual indulgence, it's a life lesson, it's a route to happiness. Sport, any sport, takes you there, guaranteed.
Says his wife, Olympian PVV Lakshmi, "Gopi and I got married in 2002. I had known him since I was 11 years old. I have always had deep admiration for the person and athlete he was and continues to be… After practice, he would never hang around with friends. We would often to go to a tea stall to eat biscuits and have tea… But Gopi never joined us. He would pack and go home. He never ate outside, he never went out for movies, he never did any anything beyond playing badminton… He goes to the academy, spends the whole day coaching, training and working with the players and then comes home. He has never gone clubbing or partying… Once home, he makes sure that he spends quality time with us and then moves into his space of meditation, yoga and reading. We all have a great life of happiness, personal satisfaction and togetherness. But, despite that, it's tough sometimes to make peace with the long hours of absence in service of those who may or may not give the credit or appreciation…"
Among the many incredible instances of his strong belief in values, he got a lucrative offer to do a popular Cola advertisement after his world championship victory. It was a big-budget campaign. Many well-wishers, family and friends said that that this money could support him and his family after retirement. Taking up this Cola ad would also open up new doors for big budget endorsements – something A-list Bollywood celebrities and top cricketers do all the time. Gopi declined the offer without any second thoughts. Why?
In this book it is pointed out that his contention was simple. "All aerated drinks are dangerously harmful for the human body. As an athlete, he did not drink it. He knew its harmful effects. He knew the disastrous effect processed sugar had on an athletes' body, or, for that matter, on any human body. Apart from other hazardous chemicals, Colas have 46 g of sugar in one can. With that much sugar in your system, you are setting yourself up for consistent inflammations, body aches, slower healing, lack of energy and the list continues, each damaging your body, one slow death at a time. So how could he delude a whole generation in that direction for money? That was selling one's conscience."
There are many precious lessons in the book, shared by Gopichand and Lakshmi, which narrates the life and philosophy, the theory and praxis, behind Gopichand's career, his vision, and everyday existence. Among them, here are a few:
When on the pinnacle of success don't violate the very principles and values that got you there.
There is more to your passion if you care to look beyond yourself and embrace others.
You become a master when you teach others to become as good as you, or better.
Don't compromise on your purpose or beliefs. There can be delays, but your destiny will not be denied.
You passion will cost you money, that is the smallest amount you can pay for its fulfillment.
If your hardship can make the journey easier for others, then your struggle has served a karmic and spiritual purpose.
Believe it or not, your work impacts many others.
When you find yourself in the position of victory after an era of hardships, don't use your power to put others down, appreciate people and be grateful for the journey.
Don't let your success end with you. Find a way to share it with others and to make them beneficiaries of your struggle.
Says PVV Lakshmi: "It's a tough place to be in – where you understand the purpose and plight of your partner. But, then, I see my children follow in our shoes and I know that our journey of service will continue for another generation. My aspiration is for us to be great role models as players, as coaches and as human beings for our children. To pull that off on a daily basis demands greatness and gratitude…"
Writes Srikanth Kidambi: "Pullela Gopichand is one of the most down to earth people, especially in the league of champions. His accolades are legendary and yet his humility supersedes his celebrity persona. He has respect for everyone – elders, players, and coaches. You learn just by watching him."
Says Saina Nehwal: "We owe him the medals. We owe him the victory. We owe badminton to Gopi Sir."