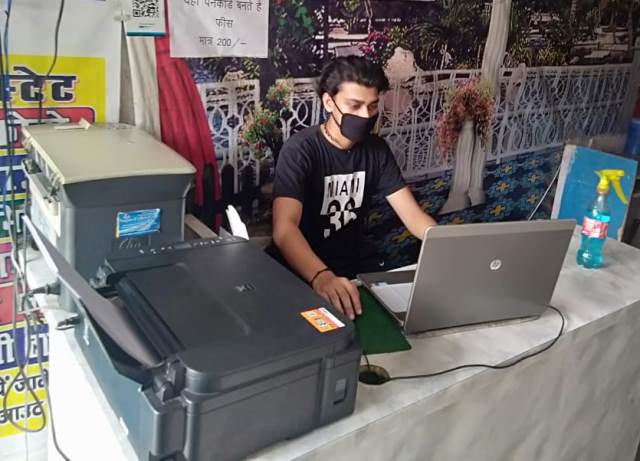 LOK ISSUES
LOK ISSUES
'Covid-19 Has Taught Us Valuable Business Lessons'
Sachin Kumar (25), a Cyber Café owner in Moradabad, UP, had to shut shop for three months after the district became a Covid-19 Hot Spot. With the start of Unlock, Kumar is picking up the pieces with hope
My business was dependent on people who wanted a secure future. I run a cyber café which also helps in filing online application in government offices for various documents. Before Coronavirus hit us, it was a hub where youngsters would come for buying and submitting exam forms. Many would apply for PAN cards after they got their first job, some applied for passports, driving licenses or its renewal. The pandemic taught me that nothing is certain. Right now, just about surviving is my only objective.
I had started my cyber café in Moradabad (Uttar Pradesh) two years ago and had even hired a person to help me out. But after this district turned a hotspot for Covid-19, strict lockdown meant my business nosedived. Now with Unlock process, we are picking up the pieces with hope. I believe things will keep getting better with each passing day. If people follow all the social distancing norms, businesses will restart again. We all need it.
I reopened my café on July 1, after remaining shut for nearly three months. Since then we have 20-25 people coming in every day. It used to draw nearly 200 people earlier. But I like to see things positively. If right at the beginning of Unlock we are able to draw 10% of the business, in a year or two we should get back to pre-pandemic level. Things never remain the same, but love and support from family means we can overcome this together. The business community too needs to come forward as a family to support each other.
I take care to practice social distancing norms in my café. Only one person is entertained at a time and only people wearing masks are allowed in. I wipe my counter with surface sanitizer after every interaction. We have bought a 5 litre bottle and though it comes at a high cost (₹900), I don't want to take any chances either for me or my customers. We mop the floor with disinfectants at regular intervals. Plus, we also have a thick plastic curtain that is being used in most shops to ensure distancing.
Earlier, the times when Board results were announced, it was brisk business for us. My shop would be swarmed by schoolchildren and their parents; this year that excitement was missing. Most of them called me on the phone to check their results or did it on their own smartphones.
We also used to earn a lot from money transfer, sale of offline forms, sale of government and private sector jobs, lamination, challan submissions, application for licenses and passports etc. Now, no one is coming to buy new forms, or filing online applications.
Yet, it is nice to see that despite the uncertainty people haven't stopped studying and many of them come for getting study materials 'Xeroxed'. I feel education is an essential thing and people aspiring for a better life will also never stop, so I feel as soon as this pandemic is under control, businesses like ours will be one of the firsts to get back on its feet.