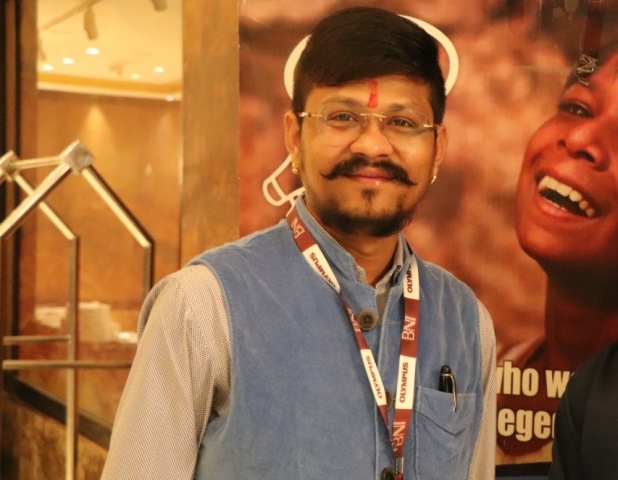 LOK ISSUES
LOK ISSUES
'Covid-19 Wreaked Havoc On Slum Children, Their Studies'
Dev Pratap Singh Chauhan, 22, who spent his teen years on platforms consuming cheap contrabands, now runs Voice of Slum, an NGO which aims to save many a childhood
I was a child when I left home and became an urchin. I would roam in trains, used contrabands and became an addict like many children you may spot on platforms across India. After spending almost my entire teenage on tracks and platforms, I got in touch with an NGO which enrolled me for detoxification, rehabilitation and education. I must consider myself lucky therefore.
Hence, as I grew up, I always wanted to give back to our society; particularly to the underprivileged children. Although I had been employed in various positions in marketing, I was not oriented towards a career there. It was my friend Chandni, a rag-picker in her early years, who suggested that we could start our own NGO and translate our dreams into reality.
We discussed a blueprint and quit our jobs. We had little savings so we connected with like-minded people through NGOs and laid bare to them our plan. Finally, in 2017, our own NGO Voice of Slum, came into being.
The original plan was to provide basic behavioural training, in some cases even elementary education, to children from poor families and then lobby with local schools to get them admission under EWS (economically weaker sections) quota mandated by the government.
During early, struggling days, sometimes I had to sleep hungry as we had a rented an accommodation and had hired an expert teacher to impart the enrolled children basics of a civil society, etiquettes and language skills so that they may fare well in their interviews for school admission.
We successfully placed many slum kids in good schools from our first batch and the work got us some attention from people with similar motivations. Some of these people offered monetary help too, and number of children in our NGO grew further. We contacted children of housemaids, security guards, sweepers, housekeepers, drivers, roadside vendors and many other such people from economically weaker sections and encouraged them to enroll with the NGO.
We had started with one rented hall for training the children two years back and now with growing numbers, we have to rent a three-storied building to accommodate all members. As our resources grow, so does the number of our enrollment.
We were charting a steady growth when the pandemic struck in March 2020. The lockdowns wreaked havoc on daily wagers. The children in my NGO mostly belong to that strata. Many parents of these children became jobless. We decided to shift gears immediately. We focusing on and provided food to the slum dwellers. We sought help from Donatekart in providing quality meal for these families.
Noida police officials also came forward to extend their help in distributing food packets. During a series of lockdowns and subsequent weeks of uncertainty, we have been able to distribute food worth Rs 50 lakh, through various donations.
I do not want to see our children begging on the streets or selling flowers and other wares on traffic signals. I do now want these children to be susceptible to same threats that I faced.
I am proud that many of the children who trained with us are also helping their parents in their work, in addition to pursuing their studies, as they have picked up hard lessons at an early age. It is a long road ahead of us, but we haven't stopped; we are marching on.