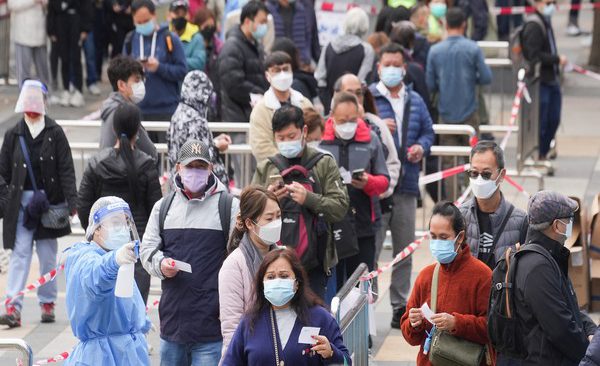 LM NEWS 24
LM NEWS 24
Covid Toll 400 Million In China, Govt Hiding Data: Report
China's hospitals are flooded with dead bodies and long queues are seen at crematoria, with 400 million people losing their lives to the epidemic, The Epoch Times reported citing the founder of Falun Gong.
Master Li Hongzhi, the founder of Falun Gong, said as many as 400 million people have been killed in China due to the epidemic and the Chinese Communist Party has been trying to cover up.
He also said when this wave of epidemic ends, 500 million people will have died in China.
Master Li said when SARS claimed 200 million lives in China, the report said, adding that many years later, the CCP discovered that the population had decreased, and immediately released the two-child and three-child systems.
Since November last year, Covid-19 cases have been reported across China and the authorities said that since December 7, the number of Covid death cases has increased.
Earlier, after lifting the Covid restrictions, the Chinese Center for Disease Control and Prevention announced that no new deaths had been reported for 11 consecutive days.
The Centers for Disease Control and Prevention announced on January 8 that only 37 people died from the epidemic between December 7 last year and January 8 this year but the new report has punctured the claim.
The CDC stated that nearly 60,000 deaths were reported in China.
The National Health Commission of China revealed a total of 59,938 Covid-related deaths were reported between December 8, 2022 and January 12 this year, claiming that the spike in cases could be attributed to lifting of the Covid policy on December 7, as per The Epoch Times report.
NHC official Jiao Yahui, who revealed the Covid-19 data, said the average age of those who died in the period was 80.3 years old, with 90.1 per cent of the fatalities above 65 years old, 56.5 per cent aged above 80 years old; and more than 90 per cent suffered from underlying conditions, according to Global Times.
Sinologist and military strategist Ben Lowsen (Ben Lawson) wrote an article in the 'Diplomat' magazine on January 5, saying that the Chinese may now face "the largest death incident since the Great Leap Forward".
Between 1958 and 1961, Mao's policies resulted in the death of 20 million or more people in famines, and amidst the chaos and tragedy, Chinese authorities decided not to provide statistics on the number of deaths in the famines, he said.
"In an ominous contrast, today's Xi Jinping administration has also largely given up on providing Covid-19 statistics," The Epoch Times quoted Lawson as saying. (ANI)
Read more: http://13.232.95.176/