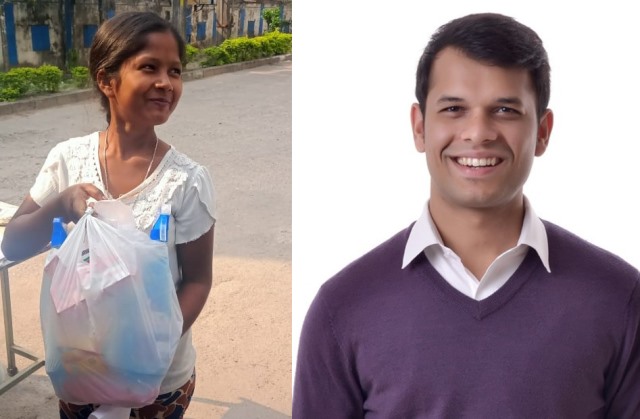 LOK ISSUES
LOK ISSUES
'Creating Jobs, Making Profit & Keeping People Safe'
Shiv Bansal, 25, a finance professional in Bengaluru, went to Siliguri to look after his parents when Covid-19 struck. In a week, he launched a start-up
I was born and brought up in Siliguri, West Bengal. But after my honours graduation from Shri Ram College of Commerce, Delhi University, I took up a job in Bengaluru with an investment bank. When the Covid-19 broke out and a lockdown was imposed, I lost no time in travelling to my native place to see my parents are not inconvenienced during this crisis; both are above 60.
I had been asked to work from home, and therefore Siliguri was as good as Bengaluru with the help of an internet network. Being at home for three days during the lockdown, I realised that procuring essential groceries was a difficult task in towns like Siliguri.
This happened when my parents asked me to get groceries from the local kirana store. Used to online delivery apps, I looked for home delivery services in my location on the Internet but, to my surprise, I couldn't find any.
I made a list of things to buy and went to the local grocery store. There I found myself surrounded by a small crowd of buyers who had laid seize to the small shop, completely defeating the purpose of social distancing and putting the buyers at a contagion risk.
This is where the idea of a hyperlocal home delivery system popped up in my head. I searched the internet and news sites to find out that multiple delivery agents in Siliguri had been dealing with unemployment due to reduced food orders. Many were contemplating going back to their villages.
This is where I saw an opportunity. The skilled manpower was available and so was the demand for home delivery. I only needed to setup a network with logistics. I seized the moment.
I pulled together a five-member team and sorted out operations. I named this start-up Janta Delivery, a hyperlocal doorstep service that would take care of the last-mile logistics of groceries and other essentials.
In small towns, the network of kirana stores is very strong. People have confidence in the quality of products supplied by their selected stores in their locality. Hence, to source our supply we collaborated with a few famous stores of the town who had the goodwill of the residents here in terms of the quality.
The model is quite simple. Customers place their order by sending a WhatsApp text on a number (+91-76022-50045, in our case) or through our website. Once the order is received, it is sent to the respective store and our team coordinates with them for order preparation. Once the order is prepared, the nearest delivery agent is informed to pick up the order along with the bill and pays for it upfront.
The agent then reaches the customer, hands over the bill made by the network store, receives the payment along with a ₹50 delivery charge and hands over the ordered items to the customer. All the coordination is done over phone calls or Whatsapp texts.
We are currently doing more than 40 orders per day. We expect this to increase as the word spreads and those who wish to stay indoors during the pandemic join our customers list. The best part is I can handle the team along with my assigned work-from-home assignments.
No, so far I have not thought about any future plans once the things return to normal. But, right now my team is focused on keeping the current operations smooth so that we can meet the needs of people in Siliguri and keep them safe. The work is monetarily rewarding as well as fulfilling. My aspiration in life is to use my skills and experience to solve problems that improve people's lives. I love plugging existing gaps to build sustainable solutions.